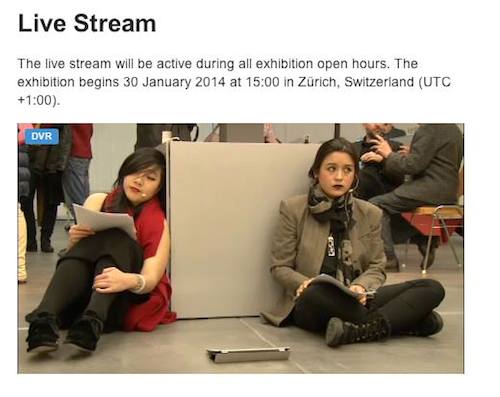 Oh, to be in neutral territory. Livestreaming now from Zurich, having begun today, January 30, at 15:00 (UTC +1:00): The LUMA Foundation's inaugural 89plus exhibition, Poetry will be made by all! (January 30–March 30, 2014) is curated by Simon Castets, Hans Ulrich Obrist, and Kenneth Goldsmith, with Danny Snelson as exhibition advisor and program coordinator, to operate as a "time capsule in contemporary poetry with renowned and upcoming poets (born after 1989) from the USA, Switzerland and all around the world." The full opening poetry program--unfurling until tomorrow night alongside film screenings, interactive workshops, and an installation by Japanese architecture firm Atelier Bow Wow--is here and includes Stateside darlings Steve Roggenbuck, Trisha Low, Andrew Durbin, Danny Snelson, Tao Lin, Mashinka Firunts, and Sophia Le Fraga, performing with the estimable Caroline Bergvall, Etel Adnan, Christian Bök, Tracie Morris, filmmaker Leslie Thornton, and artist Ed Atkins (so much good stuff here!), among many others. Also: "Archival works by Robert Barry and Augusto de Campos will be performed and displayed as part of the exhibition opening. These events will be held in conjunction with a celebration of concrete poet Eugen Gomringer's remarkably aligned 89th birthday. Gomringer will perform on 30 January and inspires a wealth of poetic works generated throughout the exhibition." Plus, 1,000 Books by 1,000 Poets:
Over the course of two months—from January to March of 2014 — 89plus and LUMA Foundation will publish 1000 books by 1000 poets born 1989 and after. Hand-picked by a group of advisors on every continent, this series will be the first-ever attempt to survey the global poetic production of an emerging generation.

Each poet will determine the content and length of their book including unpublished full-length manuscripts; cobbled together collections of occasional poems; durational conceptual works spanning hundreds of pages; repurposed texts; texts which have previously been published in book form; texts which have previously been published online; visual and concrete poems, but to name a few. All books will constitute a physical library which will travel to various sites — galleries, museums, and universities— around the world.

All books will be edited, designed, and produced by teams of 89plus poets-in-residence and designers in Zürich at LUMA/Westbau during the duration of the show, Poetry will be made by all! and made available on Lulu's print-on-demand service. All PDFs of the books will be made available free of charge to all.

Beginning 1 February 2014.
"Since we launched 89plus in January 2013, we have been in a research phase, conducting workshops and panels all over the world," say 89plus co-founders and co-curators, Simon Castets and Hans Ulrich Obrist. "We are starting to see patterns emerge, and one of them is the influence of poetry, both on and offline."
Venue details:
Poetry will be made by all!

30 January – 30 March 2014
Opening events: 30 – 31 January 2014
See program for more information

Free admission

Venue
LUMA /Westbau
Löwenbräukunst
Limmatstrasse 270
CH-8005 Zurich

Opening times
Tuesday – Friday: 11am – 6pm
Thursday: 11am – 8pm
Saturday, Sunday: 10am – 5pm
Monday: closed