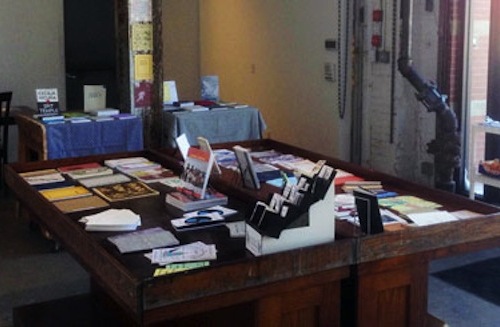 Ugly Duckling Presse has two new ventures we must put our eyes to!
In Brooklyn, they've opened up UDP's Pop-Up Bookstore: Third Factory, a temporary storefront at their HQ in the Old American Can Factory.
Third Factory will be stocked with books, chapbooks, letterpress prints, and ephemera from UDP, Archipelago, Belladonna*, Akashic, and many more local small presses; letterpress printers, including Can Factory neighbors, such as Swayspace; and book artists. In addition to serving as a bookstore and print gallery, Third Factory will function as an active workspace for the binding of chapbooks and other projects on UDP's Presse Days every Saturday. On weekdays, Third Factory's Artists-in-Residence Woody Leslie and Sarah Anne Wallen will be working on a variety of book projects, and the space will host several poetry readings, performances, and bookbinding workshops through the month of February.

The name Third Factory refers to both the Old American Can Factory on the corner of Third Street and Third Avenue, a long-time industrial neighborhood by the canal, and Viktor Shklovksy's autobiographical novel, in which the Third Factory is a metaphor for his work as a writer in the new Revolutionary Russian society.

Staffed by UDP editors and Artists-in-Residence, Third Factory will be open Thursday through Tuesday from 12-6.
Visit them and shop to mind's delight at 232 Third Street, corner of Third Avenue, Gowanus, Brooklyn.
In other exciting news is UDP:D [Ugly Duckling Presse: Detroit]!
Ugly Duckling Presse is excited to announce UDP:D [Ugly Duckling Presse: Detroit], a collaboration with Salt & Cedar, a Detroit-based letterpress shop located in the heart of Detroit's Eastern Market at 2448 Riopelle Street. Salt & Cedar focuses on the creative potential of letterpress printing, holding workshops, readings, live music, and lectures. With its focus on innovative production practices and community engagement, Salt & Cedar is a perfect match for UDP's mission to promote independent publishing and public awareness of the small press movement while drawing attention to the history and labor of bookmaking.

Matvei Yankelevich, a founding editor of UDP, will assume the role of resident director of Salt & Cedar from February to May 2014. During UDP's Detroit residency, Matvei will offer design and printing services and welcome the public to a pop-up bookshop of small press publications and ephemera (open Fridays and Saturdays from 10am to 5pm). A soft opening and celebratory reception will be held on Saturday, February 1st.

At the heart of the partnership will be a curatated series of readings and talks featuring visiting and local poets, publishers, and book artists including Aaron Cohick (New Lights), Joshua Edwards (Canarium), Ben Fama (Wonder), Robert Fitterman, Christian Hawkey, Josef Kaplan (Tea Party Republicans Press), Emily Larned (ILSSA), Holly Melgard (TROLL THREAD), Anna Moschovakis (UDP), Hoa Nguyen, Daniel Owen (Poems By Sunday), Brett Price (American Books), Emmalea Russo, Kyle Schlesinger (Cuneiform), Christopher Stackhouse, Tyrone Williams, Uljana Wolf and more.

Collectible letterpress prints and posters along with famed salt and cedar hospitality will accompany the events. Details for all events will be listed on saltandcedar.com and uglyducklingpresse.org.