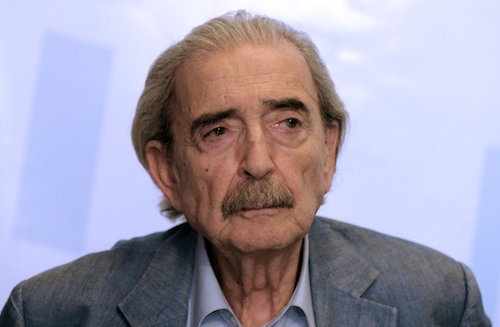 We are saddened by the news today of the death of poet and activist Juan Gelman, who was awarded the Cervantes Prize in 2007. The Guardian reports:
Juan Gelman, the celebrated Argentinian poet and fierce critic of the South American nation's "dirty war" against the left, has died aged 83.

Gelman was born in Buenos Aires but had lived in Mexican City for more than 20 years where he died on Tuesday after being hospitalised, Mexico's national art council said in a statement.

Local media reported that he suffered from myelodysplastic syndromes (MDS), a group of bone marrow and blood diseases.
Martin Chilton at The Telegraph goes into greater detail regarding Gelman's activism in the 1970s and the tragedy of losing his son and daughter-in-law during the Argentine dictatorship:
He was born on May 3, 1930, in Buenos Aires to a family of Ukrainian immigrants and rose to notoriety in the Sixties as a Left-wing activist. In 1976, after he had been forced into exile in Europe, the Argentine military dictatorship abducted and killed his son and his pregnant daughter-in-law, among more than 20,000 people alleged to die in this fashion in those years. In 1989, Gelman was able to identify his son's remains, discovering that he had been executed and buried in a barrel filled with sand and cement. He was never able to find the remains of his 19-year-old daughter-in-law, Maria Claudia Iruretagoyena. He was reunited with his granddaughter, born before the murder of Maria Claudia and taken for safety to Uruguay, in 2000.
Chilton goes on to quote Gelman:
Look, words are like the air: they belong to everybody. Words are not the problem; it's the tone, the context, where those words are aimed, and in whose company they are uttered. Of course murderers and victims use the same words, but I never read the words utopia, or beauty, or tenderness in police descriptions. Do you know that the Argentinean dictatorship burnt The Little Prince? And I think they were right to do so, not because I do not love The Little Prince, but because the book is so full of tenderness that it would harm any dictatorship.