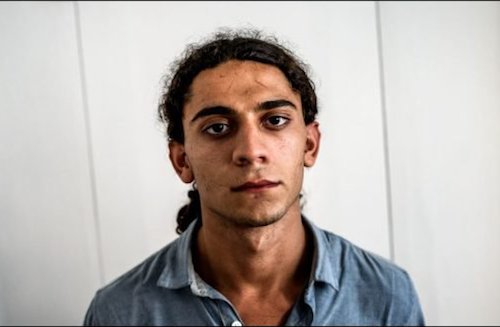 VICE Magazine's got coverage of the bestselling (as in, of all time) Danish poet Yahya Hassan, an 18-year-old Muslim Pakistani immigrant whose controversial work (he published a self-titled debut collection in October) has resulted in a media "shitstorm," death threats, harassment, and assault. "His poetry, written in all caps in Danish, is full of rage directed at his parents' generation, a group of Muslims he accuses of hypocrisy and abandoning their children. He's penned lines like: YOU YOU'RE A MUSLIM? / YOU YOU DON'T KNOW/ IF YOU WANT HALAL OR HARAM / YOU YOU KNOW YOU WANT HARAM / BUT YOU YOU PRETEND YOU WANT HALAL / YOU YOU DON'T WANT PIG / MAY ALLAH REWARD YOU FOR YOUR FOOD HABITS." More, from writer Andreas Müller Digens:
He's been a frequent guest on television programs where he debates other young Muslims, and his willingness to bluntly criticize them in front of outsiders has earned him many accolades from the media. Yahya Hassan sold 11,000 copies in the first 24 hours it was available, and over 100,000 have been printed total, making it the most popular Danish poetry publication of all time.

His fellow Muslims, however, have a lot less affection for Yahya than Danish society. "To many young Muslims, Islam is an identity marker, like belonging to a subculture, such as punk," said Helle Lykke Nielsen, a PhD in Middle Eastern studies and an expert in integration at the University of Southern Denmark. "They feel they've had their identities attacked by Yahya Hassan's poetry."

Yahya has been literally attacked by his detractors. On November 18, the poet was assaulted by a radical Muslim who had previously been convicted of terrorism under Danish law. Later that month he did a reading in Vollsmose, a poverty-stricken suburb of Odense that's home to many Muslim immigrants. The authorities had so many concerns about the event they gave Yahya bodyguards and made all of Odense a no-fly zone.
Read the full piece at VICE. The Wall Street Journal also wrote about Hassan in December.
"There's something wrong with Islam," Hassan, a self-proclaimed atheist, says. "The religion refuses to renew itself." It needs a "reformation."

His poems carry titles like "CHILDHOOD" and "DISGUSTED," dealing with issues like the Holocaust, anti-Semitism, child abuse, and the interplay between violence and religion. Profanity and vivid analogies help carry his work.

[...]

Hassan welcomes dialogue, saying he didn't become a poet to "build a career" and has "no political agenda."

As for his harsher critics who have threatened to hurt him, Hassan says "I know these people." After stubbing out another cigarette, he leans forward putting his elbows on his knees, shivering slightly in response to the cold Scandinavian evening setting in. "They can't handle criticism…they're not interested in dialogue."