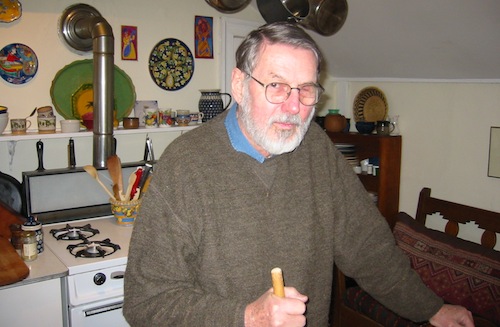 The editors over at OmniVerse are bringing out the (living)dead for this month's issue that "features works revived from lost and out-of-print publications, curated by RJ Ingram." And what a parade it is, featuring: a Creeley talk on Emily Dickinson originally publish in Ironwood in 1986, poetry by Laynie Browne from L O R E, more poetry by Molly Gaudry, and yet still more poetry by Matthew Burnside. Graham Foust introduces the Creeley talk, writing:
What follows is a transcription of the first 53 minutes of a trio of informal talks on Emily Dickinson given by Robert Creeley at New College, San Francisco in the fall of 1985 and recorded by David Levi Strauss. The transcript originally appeared in a 1986 issue of Michael Cuddihy's terrific magazine Ironwood—issue number 28, entitled "Listening for the Invisible"—that was devoted to the work of both Dickinson and Jack Spicer. Complete recordings of these talks are available online at Creeley's PennSound page.

I know of no formal essay on Dickinson by Creeley, but she remained an important figure for him throughout his life, from the high-school anecdote he relates at the beginning of this transcript to the terrific late essay "Reflections on Whitman in Age," in which he cites "There's a certain Slant of light" as a poem akin to Whitman's "Old Age's Lambent Peaks" in that both make evident "writing with a habit so deep and familiar it no longer separates from [the writer] as an art or intention."

During my time in Buffalo, Bob and I talked of Dickinson many times, though he never mentioned to me that he'd given these talks. I stumbled across the Ironwood issue shortly after he died, and I only recently noticed that the recordings had been added to the PennSound site. It's my hope that reprinting the first near-hour of Creeley's engagement with Dickinson will encourage readers to listen to his talks in their entirety.
Shuffle your dead self over to OmniVerse to read all the great offerings!