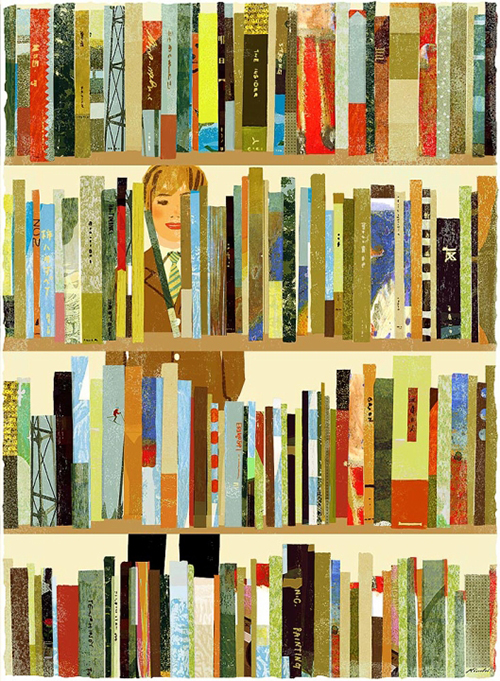 Emily Berry
I had a nightmare last night, probably because I am currently reading The Shining (the nightmare also featured cross-dressing as a means of disguise so it was a bit Some Like It Hot­-influenced, too). I read a lot of Stephen King as a teenager and then stopped for some reason (maybe too scared) but I decided to give him another go this year in honor of Doctor Sleep. Obviously, he's the master of dread.
I work as a proofreader, so read a lot of books I wouldn't necessarily choose, but one job I loved recently was Zoe Pilger's Eat My Heart Out, a pretty bleak satire about cultural elites, wrapped up in a feminist coming-of-age novel. It's dark and funny and so well observed. There's a really excellent line about a mint plant. Meanwhile I've been working my way through Missing Out: In Praise of the Unlived Life by Adam Phillips—the psychoanalyst's exploration of his idea that we are all haunted by the lives we are not leading. I like this theory and especially his chapter "On Not Getting It," which encourages us to reconsider the ways in which we seek meaning: "Not getting it might be described here as a determined, tenacious ignorance that is in the service of something better […]; that we can be fobbed off by satisfactions of getting it and oddly enlivened by the perplexity of not getting it." I think this is a good thing to keep in mind when reading poetry.
Maxine Chernoff
Fledge by Stacy Doris: the miracle of attentiveness is the book's entire project, its way of exploring error and purpose: "Let's get out of this skunk's / house, out of this old noise" restored by such lines: "Since we break things to shreds / since we clip them and spit them / we tarnish awareness. / But since acts are all love / nothing stops our fingers."
Under the Sign by Ann Lauterbach: more gorgeous and penetrating poems by one of the most clear-voiced and clear-minded poets of our day: "The morning was brilliant / but then junk / broke loose to scatter sky. / Was I meant to consult/ this tissue of meaningless harbingers?"
Grasmere Journal by Dorothy Wordsworth:
"When we were in the woods beyond Gowbarrow Park, we saw a few daffodils close to the water side. We fancied that the lake had floated the seed ashore and that the little colony had so sprung up. But as we went along there were more and more and at last under the boughs of the trees, we saw that there was a long belt of them along the shore, about the breadth of a country turnpike road.

I never saw daffodils so beautiful they grew among the mossy stones about and about them, some rested their heads upon these stones as on a pillow for weariness and the rest tossed and reeled and danced and seemed as if they verily laughed with the wind that blew upon them over the lake, they looked so gay ever dancing ever changing.
Jane Hirshfield
Over the past year I've found myself revisiting a set of translated poets, linked by their alloy of translucence and mystery, their risked rigors of direct statement and feeling, and an imaginative freedom that drinks from the provinces of the surreal. Most I have read for decades, one has been only more recently translated into English—
Roberto Juarroz: Vertical Poetry, tr. by W.S. Merwin and Last Poems, tr. by Mary Crow
Manoel de Barros: Birds for a Demolition, tr. by Idra Novey
Yannis Ritsos: In Secret, tr. by David Harsent and Selected Poems, tr. by Kimon Friar and Kostas Myrsiades
Carlos Drummond de Andrade: Travelling in the Family: Selected Poems (multiple translators)
Miroslav Holub: Intensive Care: Selected and New Poems (multiple translators)
I've also been delving the haiku of Shiki, who extended the lineage of Basho, Buson, and Issa into the early twentieth century, mixing haiku's customary speech-by-image with a more direct and personal statement—another variation of the above mix of the seemingly-simple-and-sayable with the unsayable-yet-somehow-conveyed.
Adrian Matejka
The last three collections I got hung up on happen to be the last three books I was asked to blurb. All three are exceptional in their intention and aesthetic and are worth exploring for very different reasons.
Ruth Ellen Kocher, Goodbye Lyric: The Gigans & Lovely Gun (Sheep Meadow Press, February 2014): This heady collection is Kocher's fifth, coming out less than a year after her Dorset Prize-winning domina Un/blued and it shows her to be a poet of wide-ranging game. Many of the poems the book are written as gigans—a form of alternating stanza patterns and refrains created by Kocher to address this specific material. In these elegant, interior lyrics, form serves as the means to negotiate the emotions behind violence and resistance. Maybe more importantly, the poems question why we developed these responses in the first place.
Erika Meitner, Copia (BOA, September 2014): This book is yet another example of why Meitner is a poet to be reckoned with and widely read. Her new collection explores the connections between the industrial and spiritual with a rare clarity. Meitner has complete control of her narrative moments, whether about Walmart, IHOP, or the way we deal with each other inside those prefabricated spaces. In these poems, the moments build organically, line by line, with each image hinging on the previous one, before finally spinning in wild and unexpected directions.
Willie Perdomo, The Essential Hits of Shorty Bon Bon (Penguin, April 2014): Perdomo is a poet who recognizes that the best poems have music as their engine. In this collection, music is not only the mover of his verse, but it is also the subject. The book is part myth and part allegory about an imaginary percussionist, Shorty Bon Bon. In these syncopated and intimate poems, we follow Shorty as he grows as musician and a man, and in every poem, we get to eavesdrop, overhearing the music in his head—and in the heart of a masterful poet.
Marion McCready
I am currently re-reading Michael Hamburger's The Truth of Poetry, a brilliant analysis of the forces behind modern poetry. Books lying by my bed include The School Bag edited by Seamus Heaney and Ted Hughes, which I love to dip into every now and again, and Durs Grünbein's Ashes for Breakfast, which I was obsessed with last year and also like to randomly dip into. My main obsession this year has been Sea Garden by H.D. I've found myself going back to it again and again and have been increasingly blown away by it. Other collections I've continually gone back to in the last six months have been Pascale Petit's The Zoo Father, Selima Hill's People Who Like Meatballs, and W.S. Graham's New Collected Poems.
Idra Novey
I'm in Chile at the moment so these reading choices are the ones I thought would make good company during my weeks here seeing family. I always bring some Oppen when I come to Chile and this year I brought Mary. In her gorgeous memoir Meaning A Life about her long marriage to George in various countries, she says, "we went on to tell as much of ourselves as we could…"
I also brought Susan Wheeler's singular Meme and two stunning new books out from the Cahier Series in Paris with Sylph Editions, Anne Carson's Nay Rather and Paul Griffith's The Tilted Cup. The way Anne Carson fuses writing into translation into poetry makes my brain sparkle. Jenny Browne's fantastic new book Dear Stranger and Joy Katz's All You Do Is Perceive came along to Chile this year, too.
Jenni Quilter
I'm working on something right now that has to do with the 1925 silent film The Phantom of the Opera, and so I've been reading around and under and over the film: Reluctant Genius: Alexander Graham Bell and the Passion for Invention by Charlotte Gray, Edison: A Biography by Mathew Josephson, Zizek and Dolar's Opera's Second Death, a book of conversations with Zizek and, of course, Gaston Leroux's novel The Phantom of the Opera. Aside from that, I'm reading a lot of travel literature for a course I'm teaching next spring (Michaux, Bowles, Rebecca West, Robert Byron) and because I'm in New Zealand right now, Elanor Catton's novel The Luminaries.
Danniel Schoonebeek
I've been told I read with my guts, which is not to say with courage but with instinct, and I find this makes me a chaotic reader, one who follows a trail of breadcrumbs in the woods. This never struck me as strange: when one also writes with one's guts, the books one reads ought to feed the hunger in the guts with which one is writing, no? This last year I started to feel surreal and dogged about work and jobs and capitalism, the meat and cheese and bread of America. So I needed Studs Terkel and I needed Working, because a "book, being about work, is, by its very nature, about violence." I needed to know how people in this country talk and feel about what occupies them. We tell ourselves on our bad days that poetry is obsolete, and yet poetry works outside of the "planned obsolescence of people that is of a piece with the planned obsolescence of the things they make." This word, this planned, drove itself like a worm into my head and it drove me to Nazi architect Albert Speer's "Theory of Ruin Value," in which buildings are designed in order to leave behind ruins that are pleasing to look at when they collapse. That's the plan.
It was during this time, and because of a rupture in my work life, that I headed out on a two-month book tour in America. I got rid of On the Road years ago, as it's one of the worst novels for which people will unfailingly go to war, but I knew I needed a travelogue. In our nation's capital, which was shut down on this morning, a woman showed me her worn copy of Travels with Charley. The story is John Steinbeck builds a freak of a truck and piles into it with his dog and drives across the country in search of America. You start to understand that a tour is a plan put to work and the ways in which the plan falls apart are the life you are chasing. Once I realized this I had to reread Robert Fitzgerald's Odyssey. The failed plans, the materialism and conniving, the rituals, fatalism, favoritism by the gods, these all worked well against the voices of Americans in Terkel.
Still hungry for stories of the inescapable, I began Aleksandr Afanasyev's Russian Fairy Tales, in which the decision as to whether or not a fox eats a bag of your wife's smashed bones is entirely out of your hands. These tales celebrate their own ruins and they're furthermore a kind of renunciation of the free market. Italo Calvino called this the "hard logic" of fairy tales and it's true: the law tells the story and the law is incalculable. Which means I had to keep reading It's No Good by Kirill Medvedev, the Russian poet who renounced all copyright to his poems, encouraged their piracy, and broke the laws of publishing in order to form a body of work whose poetry is indistinguishable from its politics. And then of course with my quiver in hand it was time to return home to my suitors.
Leah Umansky
As a high school and middle school English teacher, I don't get that much time to read for fun, but the book that forced its way into my schedule is technically a novel, though I find it to be like prose poetry: Kevin Sampsell's This Is Between Us.
What I'm planning to read over my winter break:
1.  Rachel Zucker's The Pedestrians: I have been wanting to read more of Rachel's work for a long time, and have been eager to have her read for my series, COUPLET. I love her poetry, especially her prose style. Lucky me, she has two books out this year, Mothers and The Pedestrians. The later focuses on motherhood, marriage, fables, and the life of an artist, and I got an advanced copy for an interview I'm working on later this year for Tin House.
2. Kristina Marie Darling's Vow: Kristina is a sister-author at BlazeVOX and one of the most prolific contemporary poets I know. Her work is always unique, interesting, and smart. I love strong women writers! Her newest book is one I've been eagerly waiting to read.
3. Lore Segal's Lucinella: I love witnessing serendipity. On a recent fall day in November, I went to see one of my favorite writer's, Andrew Sean Greer, discuss his latest book The Impossible Lives of Greta Wells (which if you haven't read, you should) and didn't realize that it wasn't a reading, but a conversation with writer Lore Segal at the Cullman Center at the New York Public Library. I was not familiar with Lore's work but was beside myself to learn about her cherished Lucinella.
4. T.S. Eliot's Collected Poems 1909–1935: I have a First American Edition of this hardback book that my friend Christopher sent me for inspiration. It sat on my desk for a few years and is now like a cherished secret. I've slowly fallen for Eliot's verbs and phrases and he has fielded me. Read my Game of Thrones-inspired poems in this month's issue, and see.