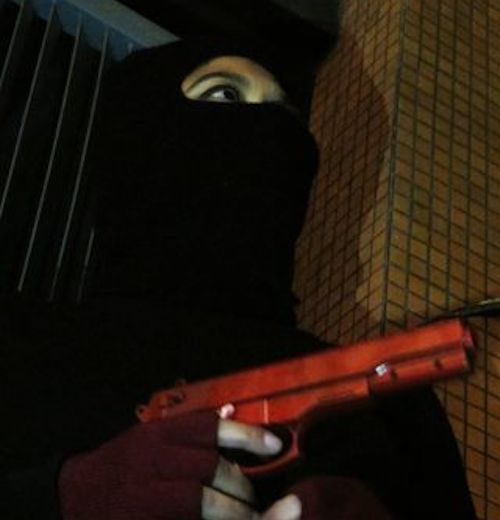 Guillermo Parra writes for the Best American Poetry blog: "In the fall of 2014, the Mexican poets Dolores Dorantes (Córdoba, Veracruz, 1973) and Rodrigo Flores Sánchez (Mexico City, 1977) will be publishing a collaborative book of poems entitled, Intervene/Intervenir (Brooklyn: Ugly Duckling Presse, 2014, forthcoming). The English translation of the collection (which hasn't been published in Spanish yet) is by the North American poet and translator Jen Hofer (San Francisco, 1971). Jen Hofer is, by far, the most important North American translator working with Mexican poetry today." Parra spoke with Dolores and Rodrigo about the upcoming book, and translated their responses. An excerpt of this great conversation:
I get the impression that Intervene emerges, partly, from the friendship between you two. How did you decide to collaborate on this book?

Dolores Dorantes: Intervene came about from an invitation to collaborate with the magazine Kaurab Online. The poet Aryanil Mukherjee wrote to me when he was editing an issue for the magazine with texts created in collaboration. Aryanil wanted three pages from each pair of collaborators and I invited Rodrigo to do something together. For me, the experience of collaborating was so new and getting to know Rodrigo's creative process made such an impact on me (this was my first time collaborating with someone): it was like discovering the mechanism that makes a flower open up, or something like that, so I didn't want to stop. I had already decided to abandon writing poetry in a formal manner, to give up writing verses, but working with Rodrigo made me see the formula for writing poetry in a different manner, I began to break many of my own rules, with great trepidation, I took up verses once again (something I haven't done since then). And likewise, with great trepidation I opened up my creative process to another writer in order to collaborate. That was fantastic.

Rodrigo Flores Sánchez: Lola and I have been friends for a while now. She proposed to me that we collaborate on something for a magazine; so we wrote two or three poems together, without any specific topic. Those poems came out in one or two days. In other words, Lola would send me a couple verses, I'd send her back a couple more, that's how the first texts were created. Then the strategy changed: each one of us wrote complete poems and we responded to each other with new texts. That small group of poems soon became a multitude.

Could you describe the process of composition for the book? Did you collaborate in person or via e-mail?

DD: For me it was a euphoric process of exchanging Word documents that we'd send back and forth via e-mail. A complete immersion. Afterwards, I can't remember specific dates, but Rodrigo might, I travelled to Mexico City and we met in the neighborhood of Coyoacán to decide what poems we'd keep for the book, and of those what other poems might survive the revision process. I think that's how it happened, but in these cases the process can always be seen differently by each person, it's like the same story told by different grandparents, there'll always be details that I carry with emotion and preference and that Rodrigo might see in a much more precise manner, he always looks at things in a more precise and organized manner than I do.

RFS: For me the process was very stimulating and disconcerting at the same time. In the case of Intervene, I hadn't ever participated in a collaborative writing project without the elements I mentioned above. You have to keep in mind that Lola was in Ciudad Juárez and I was in Chilango [Mexico City]. Lola and I have actually only met in person a few times, but I feel a great deal of affection, admiration and empathy for her. I think that without those elements I wouldn't be able to participate in a project like Intervene. I read everything Lola publishes and we've been writing to each other for years. In fact, after Intervene we began to write letters to each other for another project. For me the development of a gradual immersion in the other was quite dense. This process was a radical questioning of what identity means and of the "style" of a piece of writing. The process is the inverse of Ariadne's thread. The intention wasn't to leave the labyrinth but rather to go further in, to get lost in the questions, recurrences and stylistic marks of the other. In the end I think the writing, at least this writing, is a line, a glance toward signs that have been obstructed ahead of time, that belong to Nobody, that is, to a Cyclops, a blind man, a blindfolded man. What I mean is that you don't have any clues for deciphering a trajectory or definite a path. The only thing you can do is to thread the territory with questions.
Read the full conversation at Best American Poetry, and keep your eyes peeled for the book! Image at top: Dolores Dorantes, by Rob Ray.