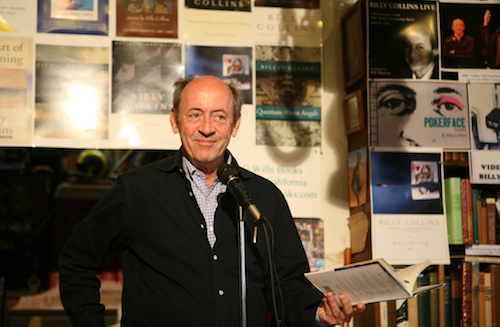 The Harry Ransom Center at the University of Texas at Austin has purchased wildly popular poet, Billy Collins's archive. The archive includes doodles, correspondences, and childhood writing. For more about the archive, here's word from the NY Times.
Billy Collins, a former United States poet laureate and the rare poet to send books onto the best-seller list, can now claim another feather in his cap: a sale of his archive to the Harry Ransom Center at the University of Texas at Austin, where his papers will sit beside collections of such greats as E. E. Cummings and T. S. Eliot. They includes dozens of notebooks containing observations, notes, doodles, clippings and extensive drafts of poems, published and unpublished. There is also wide correspondence, audio and video recordings, childhood writings, and diaries. Mr. Collins, 72, said by email that he had decided to sell his papers when he "started making a mental pile" and realized just how much material there was, including more than a few jottings on cocktail napkins, envelopes and other scraps. "I remember one occasion when the lines of a poem occurred to me while I was walking around the city with no pen and nothing to write on," he said. "So I ducked into a bank and started writing the poem, standing up, on the backs of deposit slips. I used the bank pen that was attached to a desk with a chain, all of which made for a rather short poem. I tried to look very serious as if I were making a monster deposit."
Sounds like quite a deposit indeed! For more information be sure to check out NYT.