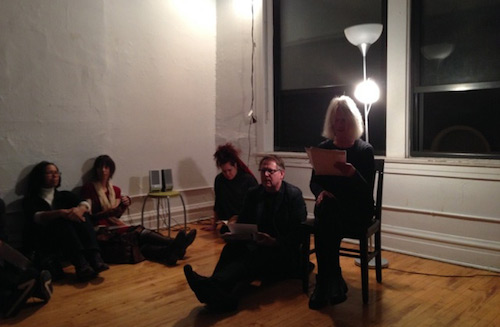 B.K. Fischer writes for the Boston Review blog about the Chicago reading and performance series Red Rover and its recent event, Red Rover Series Experiment #71 (co-curated by Jen Karmin, Laura Goldstein and special guest Laura Mullen) which "included a line-up so laden with avant-garde superstars that some questioned its veracity. But it was true: participants included Lyn Hejinian, Barrett Watten, Alan Golding, Carla Harryman, Christine Wertheim, Kazim Ali, Danielle Pafunda, Evie Shockley, Amy Catanzano, Jennifer Scappettone, and others." The Red Rover Series—as Fischer notes, comprises "readings that play with reading" and was founded in 2005 by Karmin and Amina Cain. It has so far "presented 71 evenings of language-based experimental performance in Chicago, featuring many national and international writers, artists, and dancers. Steeped in an ethic of collaboration and a strong feminist energy, the series highlights creative work that explores imperfection, awkwardness, and incompleteness as alternatives to the conventions of typically staged poetry readings. Karmin describes curating the series as 'making a live collage and witnessing the ways creative community gets formed.'" The genre of this recent event is interruption:
Each reader determined when to begin and where to stand, and interruptions were welcomed: "The evening proceeds by readers interrupting each other to take turns onstage." Other "codes" encouraged cooperative strategies:

Readers can communicate physically to determine when interrupting is welcome.
If a reader does not wish to be interrupted, shake head or make another gesture.
Readers can halt or disable their own live readings.
Duets and choral readings are divine, choosing to share the same moment together.
Strategies are encouraged that give each reader time and space for work to be heard.
Failure is also encouraged. See Judith Halberstam's The Queer Art of Failure: "Work together. Revel in difference. Fight exploitation. Decode ideology. Invest in resistance."

The aims of the event, timed to coincide with the 2014 MLA convention as an off-site reading, verged on the utopic: "at a place where no badge is required i imagined us, at last, as gathered to open ourselves to each other." In a year when the MLA Subcon assembled in the days prior to the convention to protest destructive university practices, rallying members of the profession to address the crisis of adjunct hiring and other inequities, the reading's goal—of assembling without "assumed comfort in definitions: words, titles, names of organizations"—resonated as hopeful but idealistic. Calling attention to the absence of institutional framings underscores their indelibility: many of the participants were in Chicago, and available to participate, because of MLA in the first place. Reputations preceded. No one wanted to interrupt Barrett Watten (but several people did).

The experiment was nonetheless successful in interrogating those framings and riveting the attention of an audience of almost 200 for nearly two hours: the "codes of vulnerability" effectively dismantled expectations at every turn, creating opportunities for surprise, discomfort, and recognition. Choral performances—some rehearsed, some spontaneous—provided an energetic pulse. Several invocations of Amiri Baraka, including a chair set out to mark his place, lent a spirit of tribute. There were kerfluffles and jostlings. "Should I keep reading?" someone asked after an outcry. "Yes," said someone nearby. And everyone was waiting to see what Lyn Hejinian would do and when she would do it. She appeared with a luminosity that was equal parts back-lighting, celebrity, and measured words. "Willa Cather never disappointed me," she read, and I don't care if she was being ironic or not. And later: "Cerulean, ochre, viridian, black."
Read more about the Red Rover experiment at the Boston Review blog, or check out Wattens take here, or John Keene's here.