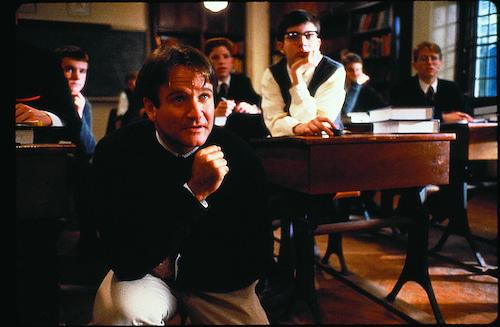 Apple + Poetry? Now that's our kind of orientation! Maybe we will show up for first period after all!
In 11 days, Apple's Macintosh computer will turn 30 years old. That machine was introduced with a 60-second TV ad that is among the most iconic commercials of all time. Yesterday, the company debuted a new spot (linked below) for its flagship tablet, the iPad Air. The ad isn't as out there as the famous "1984" one, but it continues a strategic "reorienting" Apple began executing last June: The company wants to show off why people love and use its products. They may be metal, glass and silicon, but what you're buying is experience. It couldn't be more removed from most everything the competition is doing.

As with Apple's Christmas ad, the new commercial, titled "Your Verse Anthem," runs 90 seconds. It uses Robin Williams in voiceover delivering some material older folks might find familiar. Williams quotes his own character from the film Dead Poets Society, which is only 5 years younger than the Macintosh itself. Much of the speech is from Walt Whitman's "O Me! O Life!" Wait, what? A commercial for a new tablet using dialog from a 25-year-old movie, delivered by a 62-year-old actor, quoting from a 114-year-old poem? Are they crazy?
Hm, well, hopefully Apple's nod to Dead Poets is a nod to literature and does not portend scary ill omens for poetry...
We think that we're okay with this, but we'll be hiding in our locker if you need us. (Sent from my iPad)