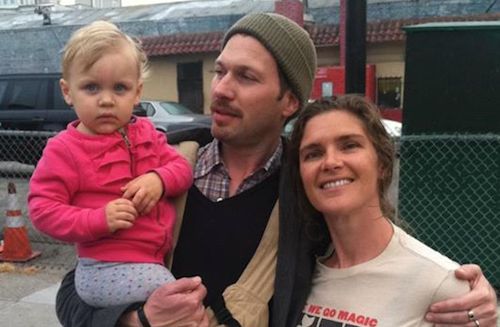 We're grateful to Guillermo Parra and the Best American Poetry blog for highlighting the great work (poetry and publishing) of Sunnylyn Thibodeaux and Micah Ballard with their Auguste Press and Lew Gallery Editions. Their books are hard to come by—distributed hand-to-hand among friends and poets—so Parra's piece gives us a unique view into their process and the beautiful books they publish. Parra sets up the interview:
I've never met the San Francisco-based poets Micah Ballard (Baton Rouge, 1975) and Sunnylyn Thibodeaux (New Orleans, 1975) in person, but we've been corresponding via letters, e-mail and telephone since 2007. I was aware of their work before that through our friend in common, the poet Cedar Sigo. Aside from being writers whose work I deeply admire, Micah and Sunnylyn are also the editors of a small publishing venture that goes by the names Auguste Press and Lew Gallery Editions (depending on what type of project they're working on at the time).

Auguste Press/Lew Gallery Editions are not sold anywhere, the only way to find them is to contact the editors directly. Each of their publications is made by hand and printed in limited editions that are sent out to their mailing list of friends and contacts across the country. While their operation is very much inspired by the long tradition of avant-garde poetry in the Bay Area throughout the 20th century, their publications have loyal following all over the United States.
They go on to discuss the process of making their books:
The publications of Auguste Press and Lew Gallery Editions are beautiful, hand-made objects in and of themselves. Where did you learn how to make books and could you describe your process as bookmakers?

MB: Thanks. Our books are really simple, both in their design and production. Most of them are obvious throwbacks from the mimeograph books/zines of the 60's and 70's. So it's not like we're Holbrook Teter and Michael Myers setting type and making linoleum cuts all night. But it does take a long time to make them. One of the main reasons is because we type most manuscripts on an old Remington typewriter, which I like to refer to as the "ghetto letterpress." If we're going to print a book by the simplest means, we might as well spend a lot of time with it to make it as alluring and elegant as possible. We try to make books that look like art objects, or little talismans that want to be picked up and experienced. We often keep our favorite "small press" books out, or propped up on the bookshelf because they're entrancing to look at and they can really charm a room as much as a painting on the wall. Especially if you really dig the poems. It's like having the poet in the room with you. What better company is there?

ST: Funny, I've never thought about how we learned. I feel like we haven't in some sense. People these days use programs for this stuff and we're all about scissors and tape. But I remember in high school working on yearbook and having to eye copy and art and work with the layout to fit things always thinking for a balance of aesthetic. So maybe there are some lessons that lingered. But I always feel like the poems dictate this more than anything. As of late we've been sticking with 8 ½ x 11 but that's not always the case. Some things want to be saddle-stapled, some trimmed. We learn something new every time we print a book. Nothing's set in stone and there're often things we toy with from spray painting staples (which wore off) to embossing the Auguste Press symbol (which curled the paper.) It's a full-blown art project— trying to put the poetry we love and respect into a physical representation that follows through to be a thing of beauty. That's our hope anyway.
Read on, and check out pictures of Auguste/Lew Gallery titles.