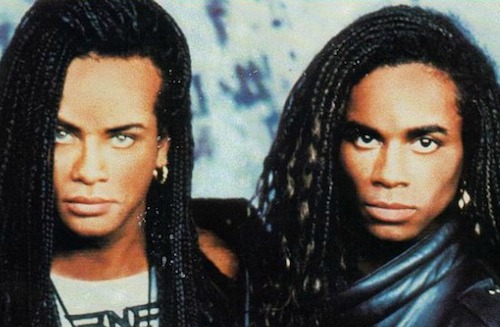 It's finally here! Artist (and International Art English expert) David Levine, poet Christian Hawkey--author of, most recently, the great Ventrakl (Ugly Duckling Presse 2012)--and composer Joe Liebes have been working steadily on their collaborative opera about the band Milli Vanilli (that's right!). The New York Times ArtsBeat reports on its first public performance, headed for us this coming Thursday, January 23, at BRIC House (through Feb. 1). More:
"Aside from their story being inherently operatic, in terms of the Faustian bargain the duo made with the German pop producer Frank Farian," Mr. Diebes said in an interview, "I am interested in the machinery that surrounded and ultimately destroyed them, and what that can tell us about our contemporary digital situation. It's significant to me that they emerged at the same time as digital culture went mainstream, and MIDI sequencers and drum machines became common."

Mr. Diebes is by no means opposed to musical technology: in his score, he has deconstructed Wagner's "Meistersinger" Prelude (the thematic connection to non-master singers is deliberate) to create a database that includes a digital image of every bar of every instrumental line. During the performance, Mr. Diebes will choose and send these images to the performers, who will read them on computer monitors in real time. He has written a software program that, he said, "essentially allows me to play the orchestra from a set of MIDI controllers not so different than what a lot of D.J.'s use these days."

Mr. Hawkey's non-narrative libretto is drawn from diverse sources — 19th century vocal training manuals, the writings of Thomas Edison and comments posted on YouTube and Milli Vanilli interviews. The singers in "Wow," unlike Mr. Morvan and Mr. Pilatus, will be required to sing. And like the orchestral players, the singers will have to be good sight-readers: though the libretto remains constant, the music Mr. Diebes sends to their monitors will change.

"I like the idea of them singing something different each time," Mr. Diebes said, "in contrast to the extreme repetition of Milli Vanilli lip-syncing 'Girl You Know It's True' again and again and again, the exact same way."
Read the full post here, and get your tickets now!