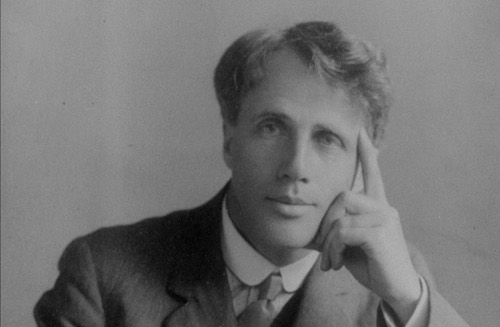 It's getting mighty frosty over at the New York Times today. Yeah, we went there! Jennifer Schuessler takes a look at the life of Robert Frost in light of the forthcoming publication of the first volume of his letters aptly titled The Letters of Robert Frost. To bring you up to speed on perceptions of Frost as poet and as person, Schuessler writes:
Few figures in American literature have suffered as strangely divided an afterlife as Robert Frost.

Even before his death in 1963, he was canonized as a rural sage, beloved by a public raised on poems of his like "Birches" and "The Road Not Taken." But that image soon became shadowed by a darker one, stemming from a three-volume biography by his handpicked chronicler, Lawrance Thompson, who emerged from decades of assiduous note-taking with a portrait of the poet as a cruel, jealous megalomaniac — "a monster of egotism" who left behind "a wake of destroyed human lives," as the critic Helen Vendler memorably put it on the cover of The New York Times Book Review in 1970.

Ever since, more sympathetic scholars have tried, with limited success, to counter Mr. Thompson's portrait, which was echoed most recently in a short story by Joyce Carol Oates, published by Harper's Magazine last fall, depicting Frost as repellent old man angrily rebutting a female interviewer's charges of arrogance, racism and psychological brutality to his children.

But now, a new scholarly work may put an end to the "monster myth," as Frost scholars call it, once and for all. Later this month, Harvard University Press will begin publishing "The Letters of Robert Frost," a projected four-volume edition of all the poet's known correspondence that promises to offer the most rounded, complete portrait to date.
The letters might finally reveal that, indeed, Frost was a complex dude:
But the complete correspondence, scholars say, will show Frost in full, revealing a complex man who juggled uncommon fame with an uncommonly difficult private life (including four children who died before him, one a suicide), a canny self-fashioner who may have cultivated the image of a birch-swinging rustic but was as much the modernist innovator as T. S. Eliot and Ezra Pound.
Head over to the NYTs to read more about Frost's life and the layers of controversy that have settled since 1963.