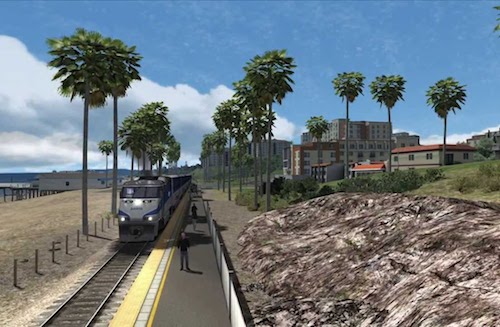 A train seems as good a place as any to get a little work done, no? After the novelist Alexander Chee, and the journalist Jessica Gross, tweeted about the pleasures of writing on an Amtrak train, Amtrak seems to have gotten the hint and is moving forward with a plan to offer free residencies to writers. The New Yorker clued us in!
In December, the novelist Alexander Chee mentioned in an interview that he likes to write on trains. "I wish Amtrak had residencies for writers," he said, referring to the programs that house, and sometimes feed, artists so that they can focus on their work. Someone repeated the quotation on Twitter, and others followed. The chorus included Jessica Gross, a freelance writer. Amtrak got in touch with Gross with an offer—a test run of Chee's idea, involving a free trip from New York to Chicago and back again.

Gross, a twenty-eight-year-old who has written for the Times and other publications, had dim but sweet memories of a childhood journey on that very same route, the Lake Shore Limited, with her father and brother. "Is this a joke?" she replied on Twitter. "Because that sounds awesome." It was not a joke. Soon, Gross was on e-mail with Amtrak's social-media director, Julia Quinn, to plan a reprise of that trip—alone this time and with a plan to spend it writing. [...]

Less than two weeks later, she boarded a sleeper cabin on the Lake Shore Limited, complete with a tabletop that doubled as a chessboard and a seat that doubled as a toilet. She slept, met some people, talked to her father on the phone. She also tweeted ("My preoccupation with whether the two people dining next to me are a May-December couple or father/daughter is troubling") and shared some photos (her cabin, some spindly trees, a snowy street corner in Buffalo).

I called Gross on Sunday evening to talk about her trip. [...] Gross reminded me that she had been interested in train travel since childhood and said she might have written about it even if she hadn't gone on the Amtrak-sponsored trip. "Everything I wrote felt very genuine," she said. She pointed out that she had disclosed to readers the nature of the trip and that her piece hadn't been wholly glowing. The trip lasted "thirty-nine hours in transit—forty-four, with delays," she wrote.

On the latter point, Amtrak didn't seem to mind. Gross sent the piece to her contacts there after its publication, and Amtrak shared it on Twitter, noting that this "all started with a simple tweet to us." Others—writers, journalists, train-travelling laymen—chimed in about how much fun this had all been. Two days later, Quinn revealed that Amtrak would continue the residency program.
Learn more at The New Yorker.