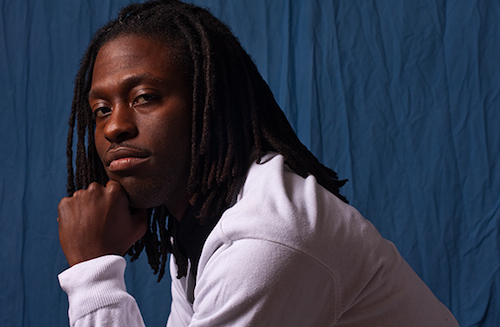 According to the Huffington Post, poet Roger Reeves will be all over this year's AWP, reading at "a multitude of off-site events," "discussing hip-hop poetry on Friday and debut-collections on Saturday." Some of the bells:
Reeves may owe some of his popularity to the fact that he balances talent with engagement in the world of poetry and politics, a hard combination to resist in a literary universe that sometimes seems too removed from the people who give it shape and reason. Reeves was awarded a Ruth Lilly Fellowship from the Poetry Foundation in 2008, and is a two time Cave Canem Fellow and an NEA Fellow in Poetry in 2013. His publications, which include American Poetry Review and Poetry, are only matched by the accolades he has received from his peers. Kim Addonizio selected "Kletic of Walt Whiman" for Best New Poets 2009, and Terance Hayes, chose Reeves's collection, King Me (Copper Canyon Press, 2013) for the Los Angeles Review of Books Valentines.
Ru Freeman talks with Reeves about the natural world in poetry, his influences, politics, Cave Canem and institutional support in general, and more. More:
RF: You write unflinchingly of politics, something many poets do not aver let alone address. Your poetry encompasses a range of injustices from poverty in Latin America, ("Samba in Sao Cristovao, or Temporary Flight," and "Exit Interview") of the rise and fall of extremism in Eastern Europe and the Soviet Union ("Of Genocide, or Merely Sound." "What Stalin Grew Tired Of,") and a multitude of sins in America ("Cross Country," "Cymothoa exigua," "1987," "Some Young Kings,") among others. In "Of Genocide," you write of the way in which the exclusivity of tragedy effectively silences those who have not themselves gone through those events, and how our separation from each others experiences ultimately beget atrocities. To what extent do you think poets should carry the burden of witness and voice?

RR: Ru, great question, because I do and don't think poets should carry the burden of witness and voice. Before sitting down for this interview today, I wrote down on a piece of scratch paper: "A man can never be larger than his obsessions." (So sorry about the gendered language, but I was kind of talking to myself, but this declarative statement might also apply for and to a woman.) I think one can only write out of one's obsessions. If one is obsessed with flowers, one will write about flowers. If one is obsessed with finger puppets, one will write about finger puppets. My obsession happens to be the intersection of politics, subjectivity, aesthetics and race. I live such a politicized life. Turn on the news, read your Facebook stream, the black body, my body is such a politicized body that it would be hard for me to ignore it and the ways that it is politicized. And in many ways, politics and poetry (aesthetics) are all about artifice. The politician and the poet both traffic in illusion, revelation, concealment, metaphor, and pathos in highly crafted ways around language and its deployment over time and space. I've been teaching Junot Diaz's The Brief and Wondrous Life of Oscar Wao. In the novel, Diaz's narrator, Yunior, argues that the dictator and writer are natural enemies of each other because they are so alike. And I couldn't agree more. However, I would like to see more poets think through the way in which their obsessions (whether they be questions about gender, aesthetics, animal crackers, or spelunking) intersect and engage with politics. We, as U.S. writers, have a great amount of privilege. Often, this privilege allows us to write about things (obsessions), write in forms that push aesthetics and the lyric in a manner that other writers in other countries, times, etc. are or were not always allowed to. Sometimes, I am amazed when writers say that they don't see a place for the political in their work because the political has seen a place for you and often circumscribes the work whether we want it to or not. You might not believe in politics, Dear Writer, but the political believes in you.

RF: It is customary, if unfortunate, that writers are wont to be critical of the judging behind the award of grants and institutional support, chalking it up to politics. Your work has been supported by fellowships from the NEA, Cave Canem, and the Poetry Foundation, and by scholarships at the Provincetown Fine Arts Work Center as well as the Bread Loaf Writers' Conference. Apart from the obvious -- your work is excellent and deserving -- is there a particular universality to your work that accounts for the way it has been singled out for recognition by bodies that straddle a varied and sometimes divergent aesthetic?

RR: No, I don't believe my work is particularly universal. I don't agree or believe in the universal. Many critics have argued this point so I will only say this: often, when we use the term universal, we secretly and not-so secretly mean white and white cultural epistemes. That's why I resist the term. However, I do believe work can appeal beyond its cultural ascriptions, can speak across borders. However, in doing that, the work doesn't lose its specificity per se. I can enjoy Emmanuel Carrère's very French fiction and nonfiction as well as Aimé Césaire's very Martiniquan poetry and prose without them having to rise up beyond their respective cultural positions to the place of the "human." I don't think culture and cultural specificity is a limitation. What I hope is that these awards recognize the way my work might seek to contribute to the better-making of poetry and art in America.