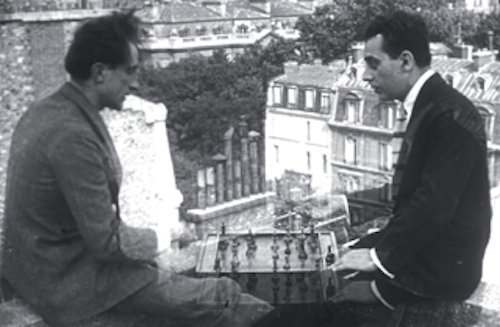 At the Huffington Post, Loren Kleinman talks with poet and publisher of BlazeVOX, Geoffrey Gatza. They discuss Gatza's new work, Apollo, a "conceptual poetry collection" inspired by Marcel Duchamp's art, life, strategies. For Gatza, the book acts as a readymade and uses the form of a ballet. More:
GG: ...At its heart, this book is about Marcel Duchamp but it is also about chess. It was thought for a long while that Marcel Duchamp gave up art to play professional chess. However, this was found to be not true with the revelation of his last major artwork, Étant donnés.

Using the form of a ballet, this work calls attention to the acts of performance, movement and choreography as well as the rhythms and balance of dance. These ideas are also found in chess. The conversation between dance and chess runs through this work. Each character is represented by a chess piece and their movements are conveyed and correlated as dance, thus the reason this book takes the form of a ballet. Marcel Duchamp, his female alter ego Rrose Sélavy, Dorothea Tanning, Leornona Carrington, and Gertrude Abercrombie perform the ballet. Max Ernst leads the orchestra and Dizzy Gillespie performs a special solo.

The ten sequences in Apollo are performed in poem sections unfolding with specific functions towards the production and appreciation of the creative act. Duchamp famously said, "The creative act is not performed by the artist alone; the spectator brings the work in contact with the external world by deciphering and interpreting its inner qualifications and thus adds his contribution to the creative act." This book establishes a more active role for the reader, who is asked to participate in creating meaning from the text. The work becomes collaboration between the audience, the poet, and the tradition that they've all inherited. The diversity of these works echoes the complexities of the subject, but together they posit something specific, the heightened relationship between the interior self and the exterior world.
Read the full interview here. They go on to discuss conceptual writing, breaking the rules, and the importance of community....
We can't get enough of black-and-white images of radical luminaries playing chess, we know, we know. At top: Duchamp and Man Ray on the roof of the Théâtre des Champs Elysées.