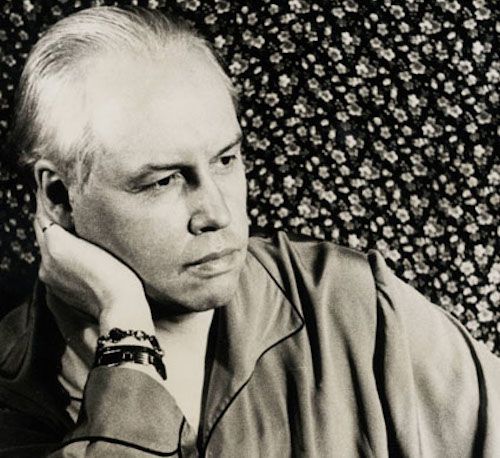 Seriously! Carl Van Vechten's photographs rule. And just in time for not-Valentine's Day, here's a nod to a new biography of Van Vechten that will knock your socks off, too-- at Jacket Copy.
Although he would hardly cause a blip on cultural radar screens today, Carl Van Vechten was, at various stages of his long and storied life, a journalist, provocateur, novelist, nightlife denizen, music and theater critic, confidant to Gertrude Stein, patron of the Harlem Renaissance, literary dandy, urban impresario, portrait photographer, archivist of Modernism and all-together man about town. A person of seemingly endless contradictions, Van Vechten was known for his many affairs with men — yet married to Fania Marinoff, a Russian actress and dancer, for almost 50 years.

In the first half of the 20th century, Van Vechten connected more cultural dots than any of his contemporaries, as Edward White points out in his fascinating and thoroughly researched new biography, "The Tastemaker: Carl Van Vechten and the Birth of Modern America." Like many legendary New Yorkers, Van Vechten hailed from elsewhere; in his case, Cedar Rapids, Iowa, a progressive Midwestern farm town around the time he was born in 1880.

"His one burning desire," White writes, "was to ditch the life of a bourgeois Midwesterner for the glamour and grime of the big cities."

He did just that: first escaping to Chicago, where he discovered the burgeoning classical music and opera scenes fresh off the boat from Europe, as well as the African American communities of the South Side, which thrived during the early years of the 20th century because of the Great Migration north from the Jim Crow South. A few years after graduating from the University of Chicago, Van Vechten left for New York, where he would live until his death in 1964 at age 84.

"Through his life of indulgence and excess, and in promoting his bespoke pantheon of celebrities," White writes in the prologue, "Van Vechten was one of the leading figures of a brash, iconoclastic generation of writers, artists and thinkers that helped Americans see that art and beauty existed amid the hum and buzz of their own cities and not just in the galleries and theaters of ancient European capitals. His life and legacy have been overlooked simply because of the extraordinary range of his interests."

Van Vechten's work as a cultural impresario took place, in many cases, at his own home. His apartment parties — most during the Prohibition years — were the stuff of legend: One night his guests might take in George Gershwin perfecting an early version of "Rhapsody in Blue" on the piano in the corner; on another night, they might be extolling the brilliance of Paul Robeson's black spirituals or an impromptu performance by Bessie Smith. [...]
Read more at Jacket Copy.