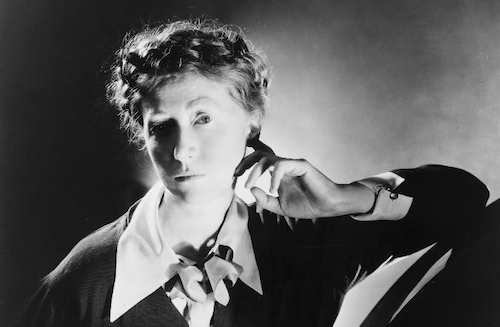 Famed art critic, Holland Cotter, reviews the new Marianne Moore biography, Holding on Upside Down, by Linda Leavell, at New York Times. This book looks so good, can't wait to read it!
Half a century or so ago, when literate Americans still read poetry or thought they should, everyone knew about Marianne Moore, the white-haired, great-auntish New York writer who loved polysyllables, exotic animals and the Brooklyn Dodgers, and turned up around town in a signature Paul Revere hat.

Her work was considered "difficult" but, at least in its reader-friendly late style, delightful. Even many nonreaders owned her 1951 "Collected Poems," with its appetizingly small format and pretty dust jacket: powder pink with royal blue type.

Then came the 1960s, steamrolling over American culture, clearing ground for a new New. Pop singers were now poet-stars. The political, personal and otherwise, was what mattered. The liberations were underway: black power, the women's movement, gay rights. Moore, who died in 1972 at 84, seemed like the relic of a repressed, elitist age.

Times have changed again. Identity politics have gained nuance. Generations of feminist scholars have reassessed their heritage. To read Moore now is to find what wasn't obvious before: her joy in vernacular language ("plain American which dogs and cats can read"); her emotional candor, oblique but true; her principled commitment to all liberations, with a bias toward the freedom in self-restraint.

In short, the moment is ripe for her to be restored to us, depixified and complex. And so she has been in a swift, cool but empathetic new biography called "Holding On Upside Down: The Life and Work of Marianne Moore," by Linda Leavell.

The book's title comes from one of Moore's classic pieces, "Poetry," which opens dismissively — "I, too, dislike it: there are things that are important beyond all this fiddle" — and goes on to define the value of a form in which the quirkiest and humblest of beings — "the bat holding on upside down in quest of something to eat" — find significance, even greatness, as existential role models in how to be different and survive.
Learn more at NYT.