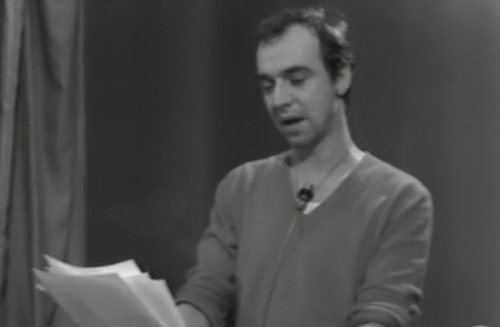 We're in debt to our friends at PennSound for posting video of Rene Ricard reading on Public Access Poetry on December 1, 1977. Ricard passed away on February 1st. PennSound writes to introduce the video:
A multifarious talent whose career evolved in several phases, Ricard got his start as a member of Warhol's factory, appearing in iconic films including Kitchen and Chelsea Girls. He put his downtown insider status and prodigious knowledge of the art world to good use, writing for ArtForum in the 1980s, championing the work of Jean-Michel Basquiat and Keith Haring (through his career-making essay, "The Radiant Child"), as well as Julian Schnabel. While mainstream audiences probably only knew these aspects of his life, he was also well-respected poet, though the majority of his books — including René Ricard 1979-1980 and God With Revolver — are out of print or difficult to locate, commanding hundreds of dollars on the used market.

For that reason, we're very glad to be able to direct readers to Ricard's December 1, 1977 appearance on Public Access Poetry, where he appeared alongside Camille O'Grady. His segment of the program included the poems "On Being Called a Dilettante," "April 29," "Caravaggio and His Models," "The Slaves of Michelangelo," and "On the Tomb of W.H.," among others. [...]
Scroll down to the Ricard segment, then watch and delight!