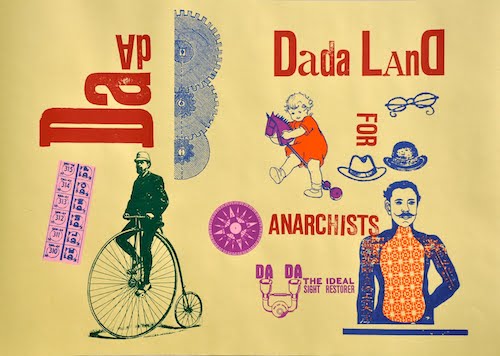 24,450 visitors?! 260 exhibitors?! Artist books, zines, catalogues, and other multiples?! Hyperallergic's Hrag Vartanian gave himself a budget of $100 went well over budget scoring oodles of great finds including the neat book of visual poetry pictured above, called Playing with Dada (Franticham Press). Whew! Delightful! See you there in 2015!
For my contribution to the artist book and zine economy, I gave myself a self-imposed budget of $100 and scanned the tables for finds to add to my (already unmanageable) book and zine collection.

While there were many high-priced items on display (one limited edition wall piece by Tauba Auerbach was price over $10,000), the vast majority were under $100 with many as low as $20.

These were my selections, which represent the variety and range of what was available at the fair.

John Altoon: 40 Drawings catalogue from The Box, LA (LACMA Museum Store booth) ($20) — This straightforward catalogue includes dozens of drawings by a prominent Ferus Gallery-associated artist that is today less known than many of his Southern California contemporaries from the 1960s. Weirdly sexual, Altoon's illustration-inspired work from the late 1960s oozes with a distinctive jittery line, enigmatic symbolism, and peculiar fantasies that float in clean white space.

Franticham's Playing with Dada (Redfoxpress and Antic-Ham booth) ($45) — A visual poem printed on old notebooks, Playing with Dada was one of the larger sized versions of Franticham's work, which is carefully bound and wonderfully tactile because of all the textures he incorporates into his work. Irish bookseller Francis Van Maele was at the fair and had a prominent and attractive display of Franticham's limited edition books (my copy came in an edition of 169), which celebrates classic typefaces, stock imagery, and colorful overlays. [...]

Artists' Sessions at Studio 35 (1950) and Subject Matter of the Artist: Writings by Robert Goodnough, 1950–1965, edited by Helen A. Harrison (Soberscove Press booth) ($10 each) — Reprints of two classic books documenting the world of the New York School of art, the Chicago-based Soberscove Press has done us all a favor by making these small books available to a wider public. Filled with insights about the mind-set of painters (mostly male, mostly straight, and mostly white) during the 1950s and 60s, these quick reads (each is less than 80 pages) are handy resources with simple, clean design.

THEM: Collectors by Jill Miller (Golden Spike Press booth) ($10) — For her Collectors exhibition at San Francisco's 2nd Floor Projects back in 2007, artist Jill Miller trained with a private investigator then spent six months spying on art collectors in the Bay Area. While the show made waves back then, the accompanying "catalogue" is a tabloid of her surveillance printed in a trashy newsprint format titled Them — an obviously play on Us Weekly. Miller's fascination with this crucial — but largely unseen — demographic of the art world is a send up of our culture of surveillance. And while she probably didn't know about the NSA back then, the recent revelations make the work even more poignant today. While I never saw the original exhibit, the accompanying publication works rather well as a standalone piece. [...]

As you can probably guessed, I went over my budget, but in a room full of art-related publications there's only so much I can resist.