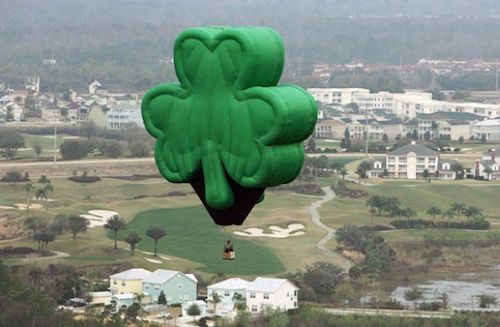 A few poetic documents of chance encounters from this year's St. Patrick's Day, brought to you by Craigslist's "Missed Connections" and The New York Times.
St. Patrick's Day, that annual excuse for overindulgence, would seem — like alcohol itself — to heighten the desire for love while lessening the chance of achieving it. But at least according to the Internet, several revelers managed on Monday to find romance in spite of their intoxication. The following poems about attraction on St. Patrick's Day were "found" this week in the Missed Connections section of newyork.craigslist.org. They are printed verbatim with only line and stanza breaks added; their titles are the subject headings.

Connolly's St. Patrick's Day

You told me I'm nice.
You stroked my beard
and told me
that I'm handsome
but you weren't into facial hair.

You told me your name
and you left. Mm, I hope you
find me.

4 or 5 Between Wall St & GCS

We shared a few glances,
possibly a million miles apart
but I thought
there was a spark of
connection.

I was the guy in the green
jacket
in a sea of green jackets.
Luckily you asked
"are you famous?"
and we chatted for seconds
before both getting off at Grand
Central Station
and going separate ways.

You're studying on the 17th
as life goes on
around the St Patrick's day
parade on 5th.
Your brown eyes were hypnotic
but I did catch a glimpse
of jet black hair
and fair/pale complexion
before having to look away
out of politeness
More memories at NYT.