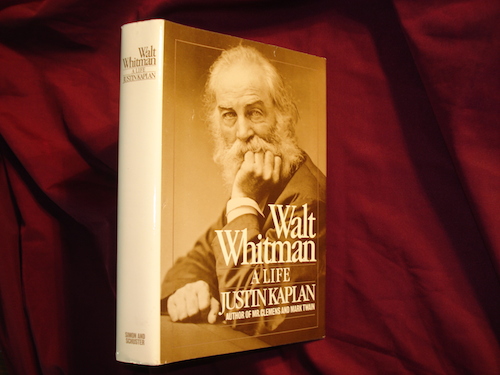 The New York Times reported yesterday on the passing of literary biographer Justin Kaplan, "a Pulitzer Prize-winning biographer renowned for his lives of Mark Twain, Walt Whitman and Lincoln Steffens, and who was later known as the editor of Bartlett's Familiar Quotations — a job akin to running the admissions committee of the most selective college in the world..." Kaplan was an innovator in the form of the biography, beginning with his study of Mark Twain that "employed an organizing device, unusual for its day, to which Mr. Kaplan would return. Instead of arranging his subject's life chronologically, he portrayed it out of sequence, opening the book with Twain at 31." More:
The decision let Mr. Kaplan start Twain's story just after the formative years of the Civil War, when Samuel Langhorne Clemens was gaining renown as a writer.

Mr. Kaplan employed a similar device in "Walt Whitman: A Life," published in 1980. In that biography, which also won a National Book Award, he began with his subject in his later years, opening evocatively:

"In the spring of 1884 the poet Walt Whitman bought a house in the unlovely city of Camden, New Jersey, and at the age of 65 slept under his own roof for the first time in his life."

Though some reviewers took Mr. Kaplan to task for analyzing Whitman's poetry insufficiently, that, the book made clear, was not his primary aim. Instead, he sought to illuminate a life artfully constructed and deliberately obscured by its owner — a life that, as Whitman wrote in "Leaves of Grass," contained "multitudes."

Among those multitudes, as Mr. Kaplan's book discussed, was Whitman's enigmatic sexual identity: Though he sometimes bragged of having fathered six illegitimate children, he described himself on other occasions as "an old bachelor who never had a love affair."

Contrary to some Whitman biographies, Mr. Kaplan's maintained that though Whitman was clearly attracted to men, he was not an active homosexual.

"The language of intimacy was different in the 19th century," Mr. Kaplan told Newsweek in 1980. "When Whitman writes in a letter, 'Last night I slept with ——,' he probably meant just that."
Head here for the rest of the obituary.