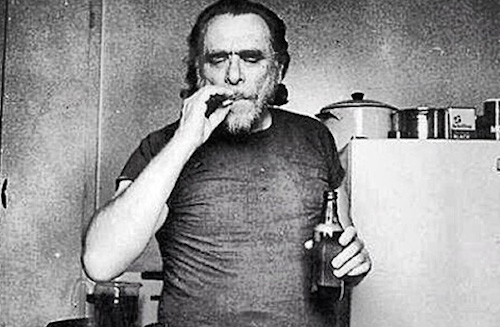 Is it possible to expand the scope of Bukowski scholarship beyond the low-life cliche that so permeates readings of his work? John Penner at Jacket Copy thinks yes, and on the occasion of this year's Charles Bukowski Memorial Celebration, he writes about a few new ways to look at Bukowski's work.
When Charles Bukowski died in San Pedro 20 years ago, the obituaries in the next day's papers typically began with some iteration of Time magazine's stock description of the writer as the "laureate of American lowlife." In the decades since, the drinking, brawling, gambling, whoring cliche has become so entrenched and widely propagated it can be hard to see Bukowski's words for his shadow.

The "Barfly" legend, sprouted from the self-mythology Bukowski cultivated in countless quasi-autobiographical works including his celebrated movie screenplay and fed by his real-life drunken bouts of abusiveness, has only grown posthumously. Hordes of websites are devoted to Bukowskiana, his poems are recited in TV spots to sell bluejeans and Scotch, and a biopic written and directed by James Franco is due in theaters this year. In December, a Bukowski-themed bar, called Barkowski, opened in Santa Monica.

Bukowski's long reign as a Los Angeles icon can lead us back to the old mythology. But, if we adjust focus, the lens of Los Angeles can bring Bukowski's work out of the haze of legend and into sharper relief.

Beneath the myth has always been the assiduity of one who'd endured torments almost too awful to recount, beginning with the frequent beatings he endured from his father's razor strap in the family's Longwood Avenue home and the disfiguring acne vulgaris the young Bukowski developed in response to the trauma. The hardship burnished his tough-guy mask and steeled him for the fight ahead. For more than half a century he wrote with a workman's tenacity, producing more than 3,000 poems, six novels and hundreds of shorter prose works in a voice of brute clarity and lyrical flourish, infused with great humor, empathy and humanity, and a blunt acknowledgment of quotidian struggle and ache.

But to a large degree, the myth has driven the message. Supporters and detractors alike feed the Bukowski cult. In the echo chamber of the Internet, the idolatry of some of his enthusiastic admirers can assume exaggerated import. This is countered by the cursory dismissal of Bukowski's output among certain critics and academics, who mistake his simple language for simplicity, his crude subjects for vulgarity.

Neeli Cherkovski, a poet and longtime Bukowski friend whose biography of the author was among the source material for Franco's film, says Bukowski's fame gets in the way of appreciating his work. "I would like people to get beyond the grime of Bukowski," says Cherkovski. A good place to start, he suggests, is "Crucifix in a Death Hand," an early Bukowski poem about Los Angeles, in which the city is portrayed as a "land punched-in, cuffed-out, divided / held like a crucifix in a death hand."

"For me, there's a lyrical gracefulness there that is a key to understanding what would become the more enduring Bukowski," Cherkovski said. "It's not about a man and a woman drunk in a dank room."

With Bukowski, Los Angeles can serve as an alleyway out of the mythology. It was on this city's streets and in its underground papers where his wildly original voice took shape. He celebrated its filth, its congestion, its smog. [...]
Continue at Jacket Copy.