The poems in our March 2014 issue come from poets who will be featured at the Split This Rock Poetry Festival in Washington, D.C. at the end of this month. Among the poets taking up the theme of "provocation & witness" are Natalie Diaz, Dunya Mikhail, Claudia Rankine, Tim Seibles, Danez Smith, and many others.
Sarah Browning notes in her introduction that the festival began in March 2008 as an outgrowth of the Poets Against the War movement. We thought this might be an appropriate time to look at Poetry's own "Against the War" issue from September 1972.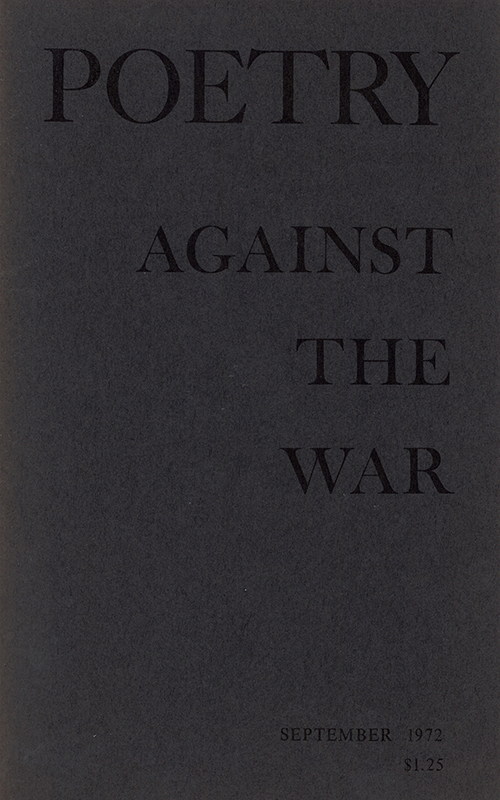 To compile the issue, editor Daryl Hine sent the following letter to solicit work: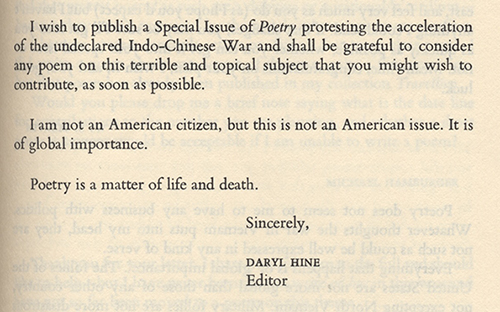 Richard Hugo, Denise Levertov, William Stafford, Philip Levine, Tom Disch, May Swenson, C.K. Williams, and many others responded with poems. The late Maxine Kumin was among them, sending in "Heaven As Anus." It ends:
And what is any of this to the godhead,
these squeals, whines, writhings, unexpected jumps,
whose children burn alive, booby-trap the dead,
lop ears and testicles, core and disembowel?

It all ends at the hole. No words may enter
the house of excrement. We will meet there
as the sphincter of the good Lord opens wide
and He takes us all inside.
Others, including W.S. Merwin, Michael Hamburger, Wong May, and Marya Zaturenska, sent letters explaining why they couldn't (or wouldn't) send poems, which Hine published at the back of the issue. Though some agreed with the issue's premise, many echoed Eleanor Ross Taylor's sentiments:
It is my notion that all poetry is against war and for man, and that any "poem" on the subject of de-escalation in Vietnam or elsewhere descends to journalism from the lofty tone I would wish for Poetry. I am sorry indeed to think you have planned such an issue.

Basil Bunting's response is similarly stinging: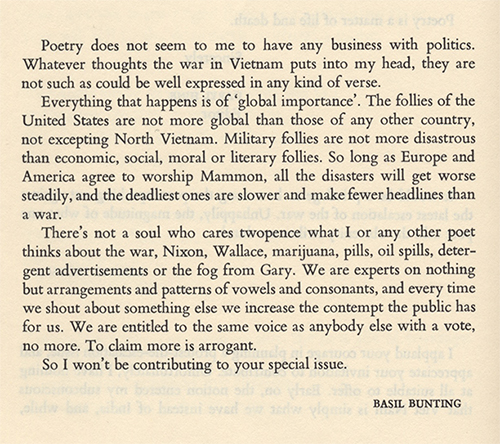 For more poems written on and against war, check out Abigail Deutsch's comprehensive essay on Poetry's editorial engagement with the topic over the past hundred years.
We'll leave you with James Schuyler's poem from the Against the War issue, "May, 1972":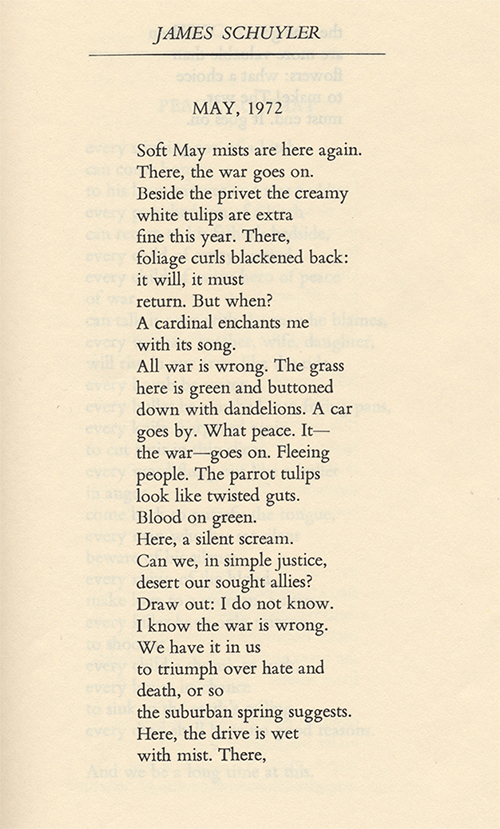 It ends:
.........There,
the war goes on. Children
are more valuable than
flowers: what a choice
to make! The war
must end. It goes on.