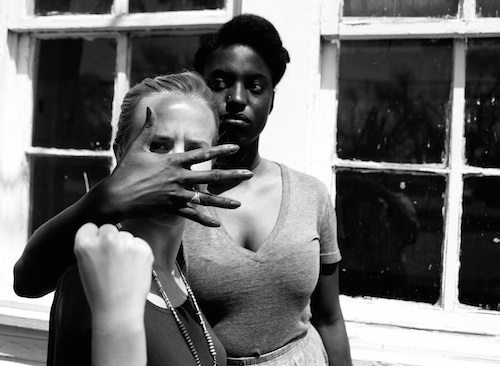 I was standing on the corner of 24th & Castro in San Francisco waiting for the Muni (bus) when I heard a man yelling from a SUV at the driver of the car in front of him for not making a left turn fast enough, and for leaving him to sit through yet another round of red and green lights, stop go, honk, patience impatience, honk. The car in front of the SUV had to wait as a woman with a child-filled stroller passed in front of it, a sort of prosody to the shouting man's prose, the long lines in his broken face. Call his profile, profanity. Drawn to the language and to the conflicting gestures of the moment, I just stared at the shouting driver who, then, turned toward me and shouted from his mobile window, "What the fuck are you staring at Nigga"
[Note: from this point on the N's will be blacked out, by marker, my own form of declassifying the non classifiable, my own form of signifying full black bodies, my own way of owning Negro-ing which is counter to the privileged strategy of poetic erasure, the color line so many poets have adopted to show and un-show, perhaps unknown to them, their allegiance to mild and moderate poetics, a kind of literary liberalism. To this --------- poet, at least, the act of drawing a line through a word in a poem on a page is the corny and bland equivalent of "just put a bird on it."]
Neither shocked or hurt (into or out of poetry) or numb, I continued to stare into the driver's eyes as the car slowed, and the driver and passenger stared two of their best, threatening stares back, their four eyes against my two—both males and both White.  Here is where I call on singer-poet Smokey Robinson to provide the back-slap soundtrack for every time the ---------- word is mentioned in this blog, "Baby, That's Backatcha, " the song that went through my mind as the SUV vulture'd the corner where I must have looked like, in afro and black glasses, easy retro, cultural prey.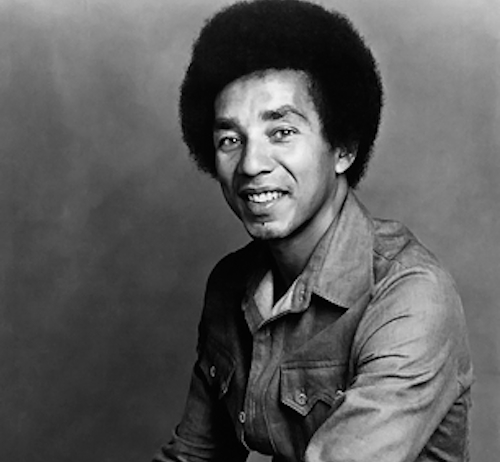 What does this have to do with poetry other than the fact that it happened to a poet, or rather that a poet was involved in its happening—as you could argue (would you) that had I not stared into the face of the shouter, then I would not have been called a ----------. Again, what does this have to do with poetry other than the second fact that I have the access and solicited power to record and post on a National Poetry site, for pay, in a prose style that relies on poetic knowledge as a means of savvy and style. Again, what does this have to with poetry. The driver of the SUV didn't actually sing the ---------- word, as I recently heard it used to create incantation and a nearly painful hypnosis, twice, at poetry readings for White audiences by a young poet whose name is -------------- and whose book is called ----------------------. The driver of the SUV only said it once. One quick anger-attempt, nothing like the crafted lyric outpour of the young poet. Again, what does this have to do with poetry? I'm not sure yet but give me a few paragraphs and holla back.
Much is often made of "tension" in poetry workshops and of "getting out of the way of the poem." Perhaps the shouting person in the SUV was a poet, an award winning, racist one—surely they must exist. Certainly if there are poets to be called ----------, there must be poets who call them ----------. Nature, also a ----------, provides the balance. Balance is the ugly private truth of the natural world poets belong to even as they play the dice-craft-toolbox game of selectivity, of what to say and what not to say, as a form moral cleansing. I would love to read an honest and creative, National Poetry Month blog post by a racist poet or by one who has just shouted —————————— out of his car window at me.  Why? Because it would be work from a world that I know exists and that I am only half of, even if painfully so. There must be reasons why those collections of poems do not exist. Where does the racism go once a racist poet begins to write poetry? The reasons for a lack of racist voices are quite simple: we, black poets and white poets alike, are too busy beating up on history and aren't brave enough to do something other than echo our own versions of what we were either taught or have come to think is literature. The honest voice in most contemporary poetry is nothing more than that of a casual and linear math problem with podiums where there were once sums. The racism is cleansed by metaphor and the spin cycle rinsing of observation poetics.
But this ain't hardly about to be an "I ain't no ways tired" confessional or exegesis on the good, the bad and the ugly of the ----------------- Word, nah, or the overtaking of American poetics by the get-a-life agents of intellectual design and co-sign. I will save all-that for another month of cruelty, but I will say that, although I was the only person of color, Colored Person, at the bus stop, I was not alone. There were at least eight to ten other people, who "just happened to be" White (or Othered Whites) there, and I looked at each of them, looked dead into their dead faces hoping to catch a hint of what they thought, felt, believed and I got nothing, not even a Post Civil Race Rights Pre Riot wink, not even a shoulder shrug. Their expressions were as unwritten-on as the pages of an opened and blank moleskin. Rewind: an "Othered White" is a white person who experiences and possibly internalizes, consciously or subconsciously, a racist interaction as a result of proximity or friendship or token-making. The Othered White is not the cause of the racist incident nor is he or she an innocent hello-stander either, but who knows whether or not the would-be poet in the SUV would have shouted -------------- if he had not seen so many other Othered Whites surrounding me. I got a feeling that he would have shouted a very different poem had I been standing with among ten Blacks. Othered Whites are good at playing-it-off or pulling the recipient of the racist act aside, later, and letting him or her know, alone, that what happened wasn't "cool." Othered Whites are really good at separating themselves from the harm-doing but not from the harm-doer. "It's hard to fight your family over a word," some say. Here is small example of poetry by dead but university-taught Othered Whites—
--------------------------------------------

--------------------------------------------

--------------------------------------------

--------------------------------------------

--------------------------------------------

--------------------------------------------

--------------------------------------------

--------------------------------------------

--------------------------------------------
We know them by their Letters and by the passionate avoidance, in their work, of the many political and social issues of their time. Now where oh where did Othered Whites learn this, that's easy, many of the Neo Othered Whites, the NOWs, (not to be confused with the NWO, the New World Order) learned this survival strategy from us, their friends in the artistic, Black middle class, out of which, contemporary and successful Black Male poets, like myself, are the chief perpetrators. Uh-oh.
The first time I was called a --------------------------------------------, to my individual face, was in 1988-ish. You see there are a lot of ways to be called a --------------. Being a Black person, I feel a kinship-solidarity to everyone who has ever been called that, but not because they were called it but because of the other facts of their lives that made it possible for them to be called it. The fiction of us created by the creators of -------------- must be met with equal creative force and simply counter-punching -------------- with more -------------- as a form of depowering it walks a line of interpretation that varies, dangerously, from audience to audience and user to user.  In other words, I stand (firmly and first) with those who have been racially persecuted off the page, and no part of my education could ever graduate me away from that stance, a stance which—in art—becomes both foundation and condition. This is, in fact, the chief impulse that the Dark Room Collective was founded out of—"to stand firmly with…", not as a glorified writing workshop or advancer of careers. In 1998 I was working as a security-guard at The Harvard Film Archive and I was responsible for making sure the building was secure while the sons and daughters of money, knowledge and luck were busy being students. One night, after a screening, I asked a young white male to leave the building because it was, then, after closing time, and in response he said to me, "You can't fool me --------------, I know you ain't from the hood."  Of course, I called him a -------------- back (and damn it felt good!) "Baby, That's Backatcha" and then I told him I could prove he was more ----------- than me. I remember his long coat, his curly hair, how it swung and hung downward as if wet from rain. Yeah I watched my back by watching his back as he left and I would recognize him today.
That incident took place in the main lobby of The Carpenter Center for Visual Studies a few feet from one of the places, a long vertical table, where we held many of our Dark Room meetings. We were much younger poets then and every time one of us was lucky enough to publish a poem it was a huge deal, well, at least it was to me. As a co-founding member, it was my self-appointed job to seek exposure for the Reading Series and for the work of the group. Whenever I heard about an opportunity such as a call for an anthology or an editor looking for poem by young writers, I tried to make sure that the rest of the Collective knew about it, but please, keep in mind that the majority of the things that came our way were connected to projects that were of non-Black origin. I thought then and do today that it is important for Black poets to share their white folks, their white resources. Every successful black poet in America, either by design or the blessing of natural (costumed or non costumed) energy, has enjoyed the supportive (if not healthy) relationship with a powerful white poet or influential white institution for poetry. If you don't believe me, then ask yourself, "Where are the talented Black poets who don't fuck with White Poetry?" Maybe my generation of Black poets, in its attempt to prove craft-Equality, has not properly nudged our white handlers in the direction of those most responsible for our successes. In that way we have, yes, let our creative parents down because, too often, there is a huge literary treasure chest of awards and publications—a smoke screen—between the work and duty of the parent poet and that of the son and daughter poet, and indeed our poems are often surface-shadows, by comparison, to that of our hidden-away elders.
I know where they are, the Black poets who don't fuck with White Poetry but I am not about to tell you, not here and not now, because you don't really want to know. It's useful, not knowing. And if you knew, guess what, you wouldn't go there, couldn't go there, because you don't have to. No one makes you. Some time ago and not so exactly in between being called a -------------- in 1998 and being called one a week ago, I was called one by a young, Black poet after a reading and at a table full of mostly white poets. The names of the poets who were at the table  are --------------. Of course he didn't mean it the same way the SUV driver meant it. The threat of him stopping and getting out of his ride and reminding the poet who is of a different generation than of the history of the action that often follows that word was, thank God, absent. Nope, no fear, I wasn't scared. The word didn't bother me but the witnesses did, the atmospheric conditions. The younger poet said ------------ with laughter and a smile, in the signature style that males born after the demise of serious Soul Music do, post Al Green's last real hit. In fact, the younger, first-book, intelligent poet said "---------" like exactly what he is: my brotha. And I heard it, heard the sideways love in it, the Let's Stay Together–ness in it, the Some of Us Don' Overcome Triumphant, Post Victim to Victim, Narrative Lyric Male Poet Club Hug in it. I heard it and so did the Neo Othered Whites, who both out-numbered us and didn't equal our ancestral numbers in this matter. Two Black poets at a table of mostly Whites with the word -------------- between us. The end of this post, then, is for the White publisher at the table who came to his defense. I am certain I gave her the same look the SUV driver gave me, -------------- and then I turned to the Black poet and said, "These are not my White folks!" Otherwise I "like" his work even though "like" is a low and overrated height when it comes to poetry.
Thomas Sayers Ellis grew up in Washington, DC, and earned his MFA from Brown University. He is the author of Skin, Inc. (2013) and The Maverick Room (2005). He cofounded the Dark Room Collective in Cambridge, Massachusetts, and received a Whiting Award in 2005. Ellis has taught at Sarah Lawrence College, Case Western...