The fifth and final in a series of posts featuring editors and publishers discussing their projects. Today: Patricia No and Giancarlo DiTrapano.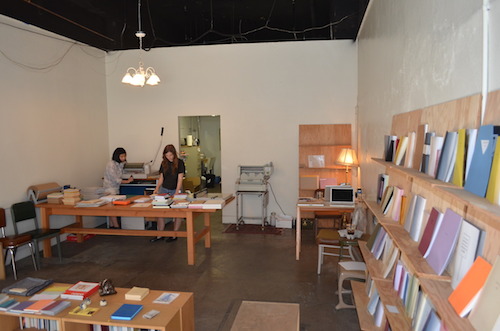 Publication Studio was founded in 2009 in Portland, Oregon. The idea started with a conversation about the "future of books" (which at the time, was a pretty hot topic), and there seemed to be a gap in both the marketplace and the philosophical discourse in publishing. What if we could create a direct economy around books by producing them one at a time, only when one was bought? It was an exciting concept, to eliminate the risk involved with buying a print-run, to give agency back to a meaningful economic transaction—one that directly affects the author and publisher—to focus on publishing books that we loved and believed in, and to create a social life for the book.
We then decided on our material practice of using file folders as covers (utilizing the original purpose of the file folder) and rubber stamping the title on the cover; these were economic decisions at first, but quickly turned into our aesthetic and "brand." We bought simple machines within our financial means and learned how to use them. We decided to call it Publication Studio because we wanted to "create a public out of publication" (instead of just publishing) and "Studio" because we were physically making the books. All our books are available as a soft cover (which we make and ship when purchased), as an e-book, and to read for free in its entirety on our "free reading commons" (our attempt to create an online reading group where anyone can annotate in the "margins").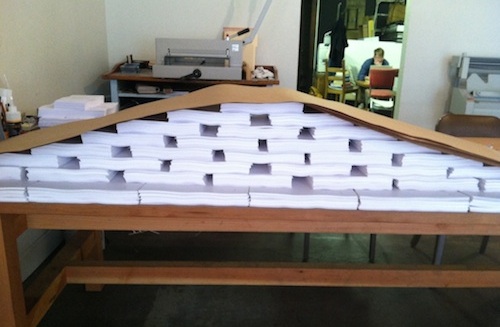 When we started Publication Studio we already had it in mind that we would try and form a network of a dozen sibling studios around the world. We hoped that this would create a consortium of publishers, all with their own individual publications and communities, but all of whom share the same philosophies and methods of production. We all need to make books the same way with the same materials so that we can share and produce each other's books. This aids with the circulation of our titles, which helps immensely in international distribution. Someone in Sweden orders a book that originated in Portland, Oregon? The Malmö studio will be able to make that book in Sweden! We love how diverse our catalog becomes with all the different studios publishing their own titles. Each sibling studio works autonomously—what they publish, who they work with, when they publish, is totally up to the director of each studio. The economies are also autonomous, with the sale and profit of each book going to the originating studio. This creates a very diverse catalog, very diverse conversations and connections. A few of our founding principles are to try and give up a level of control, to be transparent, to trust the other, to be democratic. These are umbrella principles which all the studios hold; of course, we do have our taste and our desires which motivate and inform our decisions in what we publish.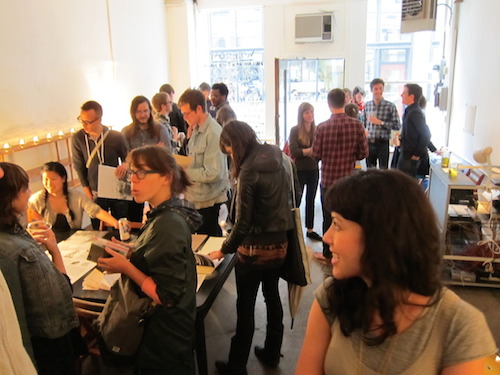 In 2010, we moved to a studio/storefront. Having an architecture—a visible and permeable space—is crucial to our practice. It's part of our making a public. We invite anyone to come and hang out and use our wifi, work on personal projects, eat lunch. Having an open space fosters conversations, which is how all of our projects start. Being open is a way to be receptive and attentive to what the community is up to and to participate in it. Having a space also allows for us to host a variety of events—not only for our own agenda, but we open up the space to people who don't have one but are hosting an event (we had a dance performance for 2 weeks, different poetry reading series have used our space, film projections, etc.). Being generous with the space is part of our desire to constantly be exchanging ideas, to see the possibilities of collaboration and experimentation. We host dinners here, music shows, dance parties, lectures/presentations/discussions/panels, readings and book launches. The space is a living participant of PS. We use it as a studio to make books, but we also have a public reading library. And, of course, occasionally it functions as a storefront to sell our own books. A future project will be to invite different small presses who don't have a visible space to move into our storefront to sell their books/chapbooks, hold their own events, and potentially collaborate with us on a project.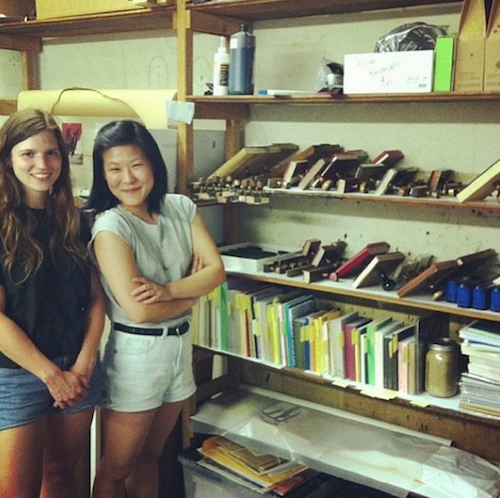 Publication Studio, Portland, Oregon is the full-time and sole employment of both Antonia and myself. Our wages are paid through the sale of books! It has been my full-time job since 2009 and Antonia's since 2011; we work 5 days a week in the studio and various other days for events, book fairs, residencies, workshops, etc, which helps our income through distribution and outreach, but it also really enriches our work. We also founded and organize the annual Publication Fair which is going into its 6th year as a small press and bookshop book fair.
Many of our sibling studios launched after we visited a city to partake in residencies, workshop or lectures; the people or institutions bringing us in would buy the same machines we use so that we can make books on-site, on-demand. Because they then own the machines and understand Publication Studio, there always seems to be a fellow traveler interested in continuing the program within that community. The studio's structure and pedagogical philosophies are fairly simple to be taught. I think it makes sense to have a community built into the studio environment—interns, volunteers, loafers, people who just hang around the studio. This allows multiple people to understand how the studio functions and how to make books. Antonia, for example, started off as an intern at PS, Portland, Oregon and stayed on as an intern for a year. She learned the ins and outs quickly and was hired as part-time, to full-time, to becoming the co-owner with me. Hopefully each studio is fluid and flexible, which allows others to take over if the founder ops out.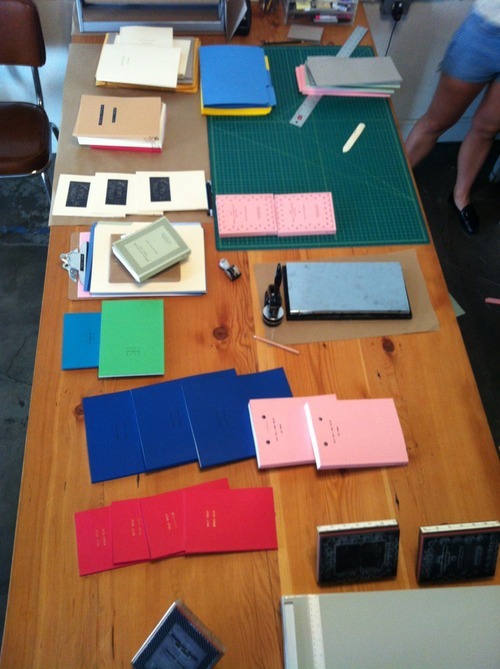 The machines we use to make the books are incredibly simple. The basic machines are a bone folder and a straight edge. The binder we have is a perfect binding hot glue machine, which we recommend on the basis of it being extremely affordable and pretty easy to use. This machine runs hot glue over the spine, which is a huge step up from the machines that use glue strips. However, because the machines still uses hot glue, the longevity of the spine's integrity is not perfect. There is a method which uses cold glue, PURR, but it is not within our budget. There are other options that we would love to have, but can't afford. We have a guillotine paper trimmer which we love. It's an Ideal 3905 and it's wonderful. We use a digital printer for printing, but collaborate with screen printers, letterpress printers, and offset printers for certain projects.
***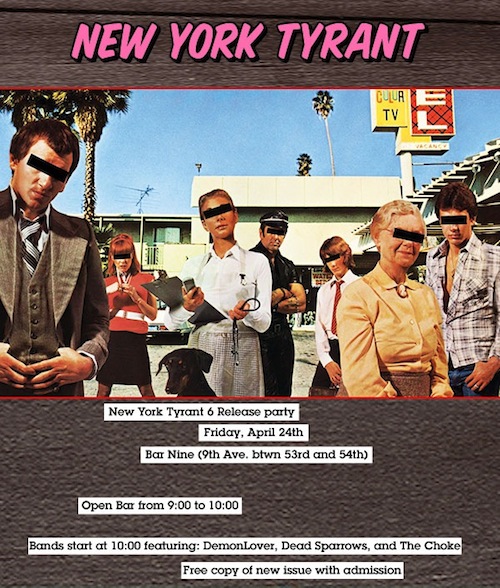 Giancarlo DiTrapano
I started the literary journal in 2007. The book arm came a couple years later, launching with the title Baby Leg by Brian Evenson. Why? I don't remember exactly, but it was probably a mix of dissatisfaction with journals at the time and some extra money I had that I wanted to put to use. It was supposed to be fun, and has been at times. I feel intoxicated when I publish a book and it does well and I know that I helped a talented writer get to their readers. I know what a good book does to me and I know what it does to other people. Being a part of what's causing readers to get to a good book is real nice. But the more I work on books, the less I like books in general, or the less I enjoy reading. I think that's one of life's many traps. Involving oneself professionally with something one loves, you're robbed of enjoying that thing in some aspect. Some of the mystery dissolves. Before I had met any real writers, I used to think they were special.
My editorial commitments are to publish a book in its best form. Some authors need editing. Others do not. I'm not an overly aggressive editor trying to leave my trace on the books I edit. I only suggest changes when necessary.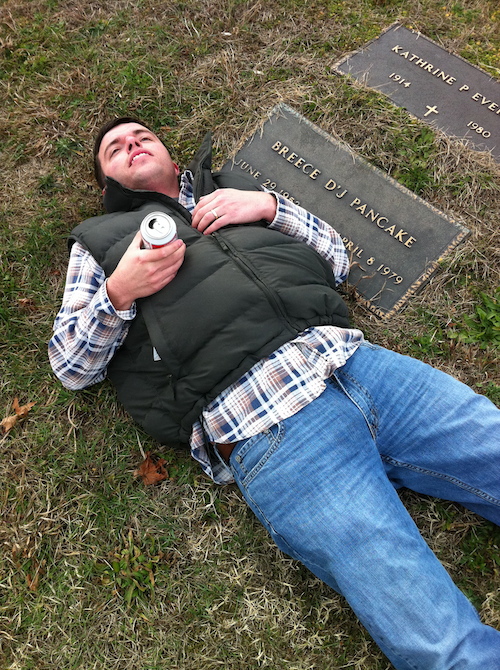 On the economics of the press: I pay an advance to the writer for their manuscript, I edit the book (if necessary), come up with idea for cover, print galleys, hire a publicist, send galleys to reviewers, print the final version of book (usually 2,000-5,000), send those to my distributor who places them in stores while I hope for good press and reviews and sales.
Since I started Tyrant, indie presses are selling more, I think. The internet has leveled the playing field a little bit. A person can grow up in Manhattan, study writing at Princeton, make the connections and grease the wheels of getting published. These people were the majority of authors being published in the past. With the internet, an 18 year old from Hawks Nest, WV can, if their writing is good, get their foot in the door online and get a book deal that way now. The quality of books will improve in the future. The bullshit will finally have its back against the wall, and greater writing will prevail.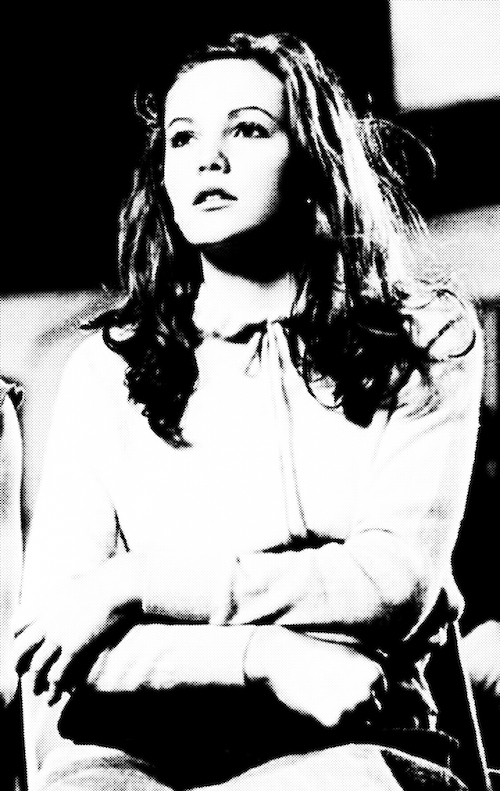 Communities the Tyrant is in conversation with? I guess the scene in New York, since I live here, but online it's probably those who were around the early days of htmlgiant.com. The writers I feel closest to are my the ones who I know to be good people like Blake Butler, Michael Kimball, Adam Robinson, Tao Lin, Scott McClanahan, Megan Boyle, Mira Gonzalez and all those guys. Whether it's online or not, it's them who I understand and admire and who make me laugh. But in the end, everyone talks to everyone. I feel like the clique mentality doesn't thrive as much online as it does on the outside, which is great. When you have access to so many, it doesn't make sense to only communicate with a few.
My books are for anyone who can get a hold of one, start to read it, like it, continue reading it, and finish it having enjoyed it. (That was 5 "it"s.) Some stuff I publish may be a little less approachable than most literature, but most of what I publish is for anyone. And yes, I've put out some iceboxes (iceboxes that I've loved) but I've also published some warmer texts. This year though, Atticus Lish's novel Preparation for the Next Life (Tyrant Books, Nov '14) is what people will be discussing. Mark your calendars for a true literary event.
Stephanie Young lives in Oakland, California. Her collections of poetry include Telling the Future Off (2005), Picture Palace (2008), and Ursula or University (2013). She edited the anthology Bay Poetics (2006) and is a founding editor of the online anthology/"museum" of Oakland, Deep Oakland. Young and poet Juliana Spahr coedited...