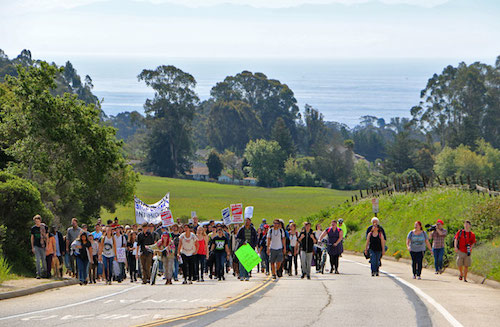 Strike Days
Big tree, small axe. When the immigrant rights movement is the only active political struggle in the rest of the country, at least you can count on students at UC Santa Cruz for an anti-austerity strike, which began with a police showdown. The earliest moment of the UAW Teaching Assistant strike on April 2nd brought 20 arrests. Donning riot helmets and gear, with nightsticks, stun grenades, and zip cuffs at the ready, the assembled fuzz impeded UAW 2865 leader Josh Brahinsky, a graduate student in History of Consciousness, from entering the crosswalk with his picket just after six in the morning. Video of Josh, a father and a terrific musician, has surfaced showing the cops enforcing their normal and cowardly cruelties. (Anyone who's been at a demonstration in the last fifteen years knows the cops act with a confidence covered by blanket political support. They even have their own grim shirts for such occasions.) Twenty students, mostly undergraduates, were arrested in short succession. Civil disobedience by students and their supporters pushed back against the attempted strike breaking on the part of the University.
The legal picket over unfair labor practices (which included threats to the visa statuses of international students who participate in union activities, unlawful police videotaping, intimidation, and surveillance) began in the dawn twilight of Santa Cruz's meadow microclimate with a show of force on the part of the University. UC Santa Cruz Police, Santa Cruz city cops, and California Highway Patrol massed at the West Entrance to campus in preparation for the graduate student-led initiation of a legal picket. But at UC these days, the legal is "illegal." As graduate students, Erin Rose Ellison and Rachel Fabian point out, this escalating use of police force on the part of UCSC administration seems itself strategic. The era of labor peace is broken. Facing another round of contract negotiations, UC is trying to send a strong message: no more gains for UAW. But there's momentum going for the TAs. Over the course of two days, there were some 500 participants at both rallies and pickets at either entrance. The base of campus to the West Entrance is quite a trek—up Empire Grade, past the arboretum and a few different signs warning about mountain lions. One of the big marches took over both sides of the road.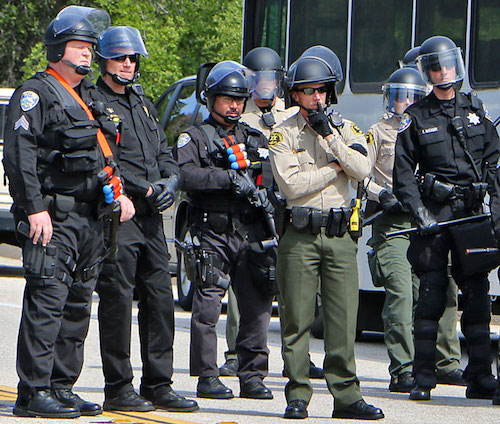 That first morning wore on and more demonstrators arrived. A struggle ensued throughout that day and the next to establish a picket at the west entrance, where traffic was being diverted from the main entrance to campus, which had been successfully closed down by the strike. Heavily armed police were prepared to use force against the unarmed demonstrators to keep the West Entrance road open. A tense mood cut through the atmosphere among the strikers and supporters. They were determined to see all charges dropped against the arrestees. This led to a snake march to Kerr Hall, a building that had been occupied for a weekend in November 2009. Traffic was an off-and-on nightmare. The long crawl to campus began all the way back on Mission Street. Campus roads were stalled out too. And that's what you get for crossing a picket. All those arrested were out by evening.
<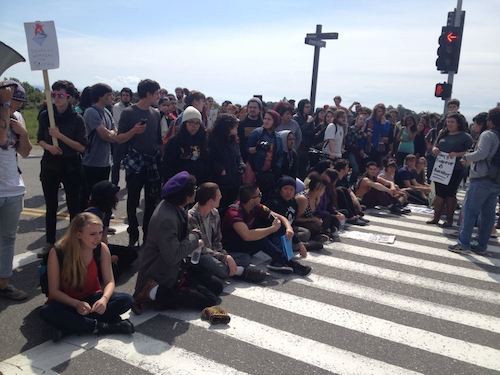 The second day of the strike saw redoubled efforts on the part of the campus unions and supportive students, with another dawn initiation of the picket. But the administration was taking a hard line. Dawn picketing attempts at the west entrance saw two more arrests, and this time there were far more serious "charges" involved, including battery on an officer, for what campus spokesman Jim Burns alleges was striking an officer in the head. Witnesses on the scene reported a female student trying to prevent a cop from repeatedly touching her. She reportedly pushed away the officer's grasp. Welcome to the legal world of the trumped up charge. The strategy here is simple enough. Give activists court problems to thin out numbers and they will be forced to focus their energies elsewhere. (The UC Davis Dozen, for example, endured a lengthy court battle with the Yolo County District Attorney.) But it is also likely that the defense campaign of the UC Santa Cruz 22 defense campaign will generate new momentum for student groups and the TAs. Fundraising activities for their legal aid already include a big cookout on April 13th. (You can donate to the legal defense fund here.) The privatization, militarization, and securitization of UC have created a self-reinforcing dynamic. Patrick Madden recently argued that only a radical movement of the tenured faculty could reverse the Napolitano-led course.
The Language of Saxophones 
Santa Cruz, live music town. Every band, group, or act making their way between San Francisco and LA finds a venue here, some kind of coffee shop, Jazz club, drum circle, reggae night, or living room to play in year round. From Don Quixote's up in the hills of Felton to the famous Catalyst downtown on Pacific Avenue, Santa Cruz hardly ever wants for a show, especially during the Cabrillo Music Festival in early August. Improbable locations figure in too: about a year ago, Trash Talk and Odd Future played a garage in the industrial area near the Santa Cruz Costco.
Great shows over the years: Ariel Pink at the Rio, where Maya danced like it was Granada in 1935; Animal Collective at the Catalyst, where I saw so many former students, I felt like I should put the band on an upcoming exam; Eighth Blackbird at the Civic Center, holding down the Cabrillo Music Festival; and Little Wings at the Crepe Place, where Jo, Laura, and I weighed the anxious and inventive lyrics. On campus at the Music Center I heard Will Alexander read from The Sri Lankan Loxodrome as part of a many-musician forest of a composition by Carlton Hester. I've probably missed a hundred or more great acts, including Los Lobos (several times), Lee Scratch Perry, the Bay Area Flamenco Festival, Snoop Dogg, and Damien "Jr. Gong" Marley. Sun Araw played the Church House when Tino still lived there, but I couldn't make the local neo-psychedelic band playing the homie's house party. I even missed a last minute, semi-secret Lauryn Hill show at the Catalyst about six years ago. Her band supposedly sounded like a reincarnation of Miles's in the Bitches' Brew era. Upcoming shows include Ras Attitude at Moe's Alley, and Devin the Dude bringing the Lacville 79 to the Catalyst.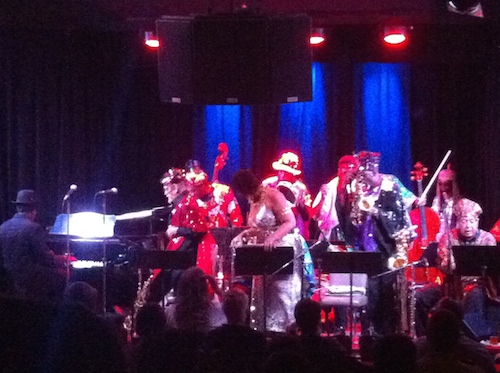 Perhaps our most singular venue here in Santa Cruz is the local jazz club and veritable cultural center, Kuumbwa. I worked for them writing ad copy when I first moved to town. Rashied Ali and Sonny Fortune, Charlie Hunter and Scott Amendola, Roy Hargrove with a quintet, and the Pharoah Sanders Quartet have all put on incredible shows downtown for the warm, intellectual as well as dance-ready crowd. Summer 2013, Sun Ra's Arkestra under the direction of Marshall Allen came through Kuumbwa; they were just back stateside from shows in Russia and Siberia, and Santa Cruz was their first stop. Black Spirituals, a free duo, widened the insides with some extended, way-out tunes. Marshall Trammell's aggressively sensitive drum work matched Zachary Watkins on computer and guitar-synth effects in the confident, reluctant lead. I can also remember catching up with Nathaniel Mackey at a William Parker Quartet show back in 2006. Parker brought two of the living greats to town that night: Hamid Drake on drums and Rob Brown on alto.
Santa Cruz, radio town. At that particular William Parker show, Nate Mackey introduced me to Larry Blood. Larry continues to host a jazz radio program on the public station KUSP. These days with Nate gone to Durham, and with him his legendary music show Tanganyika Strut, Larry's Tuesday evening radio show, Out Front, Out Back, is now the thing on the nightly jazz airwaves. I've made countless discoveries by way of Larry's show over the years. As the title of the program indicates, he plays the totally adventurous, "out" strains of jazz and associated music that first emerged in the middle part of the 20th century. His shows, like Nate's, have an almost sculptural quality, with each choice feeding off, reiterating, and differing from the previous composition. Selections evince a reverence for Ellington: complex orchestration, one-off ensembles, longer narrative and storytelling forms.
Programs are based around several musicians, or a confluence of groups. One of my favorites from recent years was a program dedicated to John Coltrane's album Ascension and its remarkable reinterpretation by Orkestrova, Electric Ascension. Larry Ochs talked between tunes about their Kickstarter campaign. Orkestra planned to shot a DVD version of their upcoming Gelph performance, which was an update of the Coltrane classic of choiring, quarreling horns.The rest of the radio show itself then worked in and around Rova Quartet and Coltrane tunes and affinities: Paul Dunmall and Tony Blanco's "Thank You to John Coltrane" from Living Space commingled with Rova & the Nels Cline Singers' "Whose to Know (for Albert Ayler)" off their The Celestial Septet. Larry slipped in one of the late Coltrane tunes, "Dearly Beloved," from Sun Ship. Out Front, Out Back has also introduced me to several younger European players, like Wacław Zimpel, (the Polish Eric Dolphy) and his many-layered, no-identifiable-time-signature, large-extinct-reptile, bass-clarinet deep song. (Zimpel records frequently for Multikulti Project.)
One semester a couple of years back I was driving home from teaching at Saint Mary's College on Tuesday nights. I would always pick up Larry's shows on my way into town—a Steve Lacy setting of a poem by Nanni Balestrini, or Kamau Daáood leading an LA-based group, or a rhythmically unpredictable selection from 60s-era Muhal Richard Abrams, one of the Delmark Albums. As the signal came in, I knew I was nearing a charged micro-atmosphere. Anthony Braxton's many-shaded concept "Triaxium" would come to mind. As I descended down the wooded mountaintop of Highway 17, I could feel in the airwaves a certain ascending vibe.
Poet David Lau grew up in Long Beach, California. He has described his family as a "Chicano-Chinese and Anglo household." He earned degrees from UCLA and the Iowa Writers' Workshop. The poems in his first book, Virgil and the Mountain Cat (2009), were described by the Believer's Dominic Luxford as...