"I have a confession to make: I'm a little frightened. For I don't know where my freedom will lead me. It is neither arbitrary nor libertine. But I am unbound."
-Clarice Lispector, Agua Viva
I unintentionally opened Clarice Lispector's Aqua Viva to the above quote. At a café, a cool wind shifts the russet paper lanterns on new spring's bare trees. Cigar smoke wafts around me.
I like second hand smoke. It is a rare delicacy these days. It's a kind of toxic intimacy: the smoker's breath is made concrete and the other as ether is made my own; some aspect of their dying resolves itself with me.
I should admit, I've been reading Proust (pretentious, I know) and his style of sentence has infected my own languaging like the cigar smoke. I'm not frightened by the inevitability of death, secondhand or otherwise, nor of my languaging becoming infected by other writers.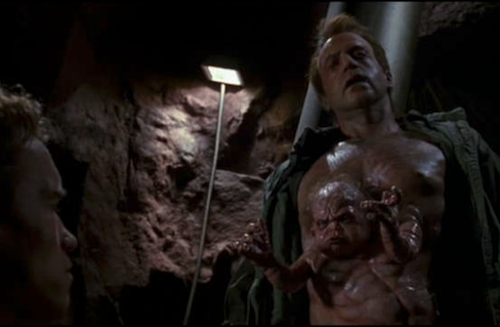 Language is a species of infection. A symbiosis not unlike that mutant Kuato in Schwarzenegger's Total Recall.  Language is also, like Kuato, capable of performing revolutionary clairvoyance. Foretelling while forestalling heaven, language extends from our lungs, a perpetuation of lovely infection, a desired and desiring "disability."
I am reluctant to write. I too, like Lispector, am frightened. I, too, allow myself to become unbound in the face of the promising word. I am frightened of disabling the structures and commitments that organize my reality i.e. my politics.
In the inaugural horizon of the poem, I choose a place outside refusal. Outside morality, ethics, or any political commitments, my language is not yet a poem, perhaps not yet language. Unbound, I am frightened of what I'll encounter for it IS neither arbitrary nor libertine. In the initial writing I don't believe in morality or any ethical stance. I allow language to emerge heterophobic, homophobic, sexist, misogynist, feminist, racist, racial, et al. I allow what I refuse to have its day, political correctness be damned.
I adhere to that tenet that the work will reveal something to me of myself, of my future, that the language emerging acts as both confession and confessor. When I began to write, seriously write, it was in letters to a estranged beloved. I wrote and withheld nothing. Language was then and still is, for me, the place of disclosure where love is total. Language, here, was denuded of any social pledge except that of trust. I could trust language to help me admit to myself my own internal boundaries and bias; in exchange, I could grow, for better or worse, as a person and citizen.
I am a slow writer. I write a poem everyday. I edit poetry everyday. I will never publish the majority of my work. I don't write for the public. I don't write for publication. I write for discernment. However, over the months, years, editing and reworking the language of a poem I make a decision. A decision that must be made if I wish to participate with the community of writers. I publish. A vast disparity exists between the act of creation and it's potential public display: publication is always knowledgeable of its social exchanges. I am deeply self-aware of the language I submit to public scrutiny.
I am a "slow" writer because it takes years for me to edit and inaugurate a poem to the public in journals, in a collection. I am self-aware of my participation and the poem's participation, through the act of publication, in the creation and cultivation of the community's identities. I am aware of my own desire to enter history. A damage occurs to the initial unbounded space of the word. Restricted, hemmed by public discourse, its virtues and vices, its aesthetic regimes, we sadomasochistically inaugurate the poem to society.
This last sentence came to me not as an abstraction but as beautiful and beatific transvestite, dressed as a ballerina, behind a cliché velvet theater curtain. I used to dream of being of the ballet. My transvestite binds her own feet, cord taut, disabling the dance, enabling the ranges of inhibition. S/he pirouettes into the spotlight.
Publication, the choice to enter the public record, is the choice to perform the wounding necessary for language to enter history. It is an act of eroticism, of sadomasochistic wish, an act of blood, body and flower. "Aesthetic purity" exists only in the lonely vacuum where the subject and her subjectivities are allowed all, that is, outside community. However, again, when I publish, I make a very conscious decision to commit and participate with the economies and politics of the publication process, of the rewards and slights in "poetry world," to the identities my poem will become burdened by in the social apparatus.
The transvestite I am and is my poem pirouettes onto a stage not of her making. She/I consciously partner/s with the stage in a complex political blossoming. I dance and become Chican@, become Latin@, become minority, become an exhibition of my choices and allegiances. My published work "is" "minority writing," "is" "name-your-school-of-poetics." I don't believe in any "school" of poetics. I believe that people attempt to coordinate the historical for attention. The decision to publish is a discernable boundary where each art object, each poem admits innocence or indifference is an illusion, a playful fantasy some like to employ to avoid scrutiny of their political allegiances.
Conceptual, surreal, narrative, avant—each of these styles or modes, in publication, when submitted to the public, contribute to and confess their political aims; those who publish, as consequence, are responsible for those politics: they made a decision to admit that object into social purview. It is an umbilical responsibility, a toxic intimacy.
Not every poem is "political." Every published poem is. It can't not be.
I know we, published or seeking publication for our work, make a conscious decision to become bound.  To deny this is an anachronistic piece of theater.
J. Michael Martinez was born in Greeley, Colorado. He earned his BA from the University of Northern Colorado and his MFA from George Mason University. His first collection of poetry, Heredities (2010), received a Walt Whitman Award from the Academy of American Poets. Judge Juan Felipe Herrera chose the book...