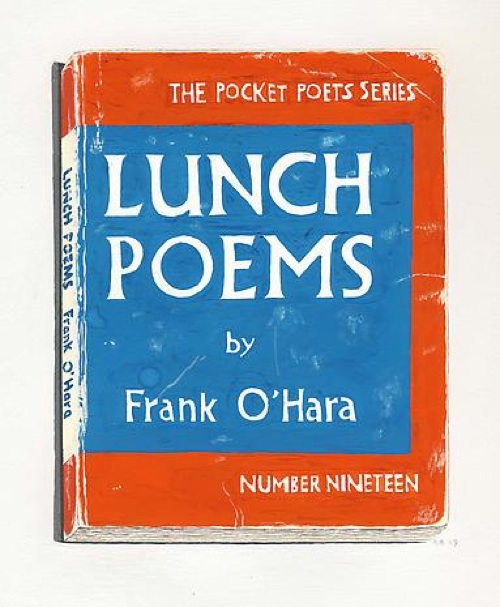 Where would we be without this tome of tomes, this bastion of observations that hums like the comfort of an AC-unit in summertime, this artifact of one of America's most revered and well-embraced poets? I'm talking about Lunch Poems, by Frank O'Hara, of course! Here it is, turning the big 5-0. Oh, Lunch Poems, we adore you, sung with the croon of Billie Holiday, Marilyn Monroe, and Lana Turner combined.
From The Atlantic:
Some poets shape how we speak. Others use an idiom that, through some combination of chance and insight, anticipates changes in a language. Frank O'Hara is in the second group: When O'Hara's Lunch Poems was published 50 years ago, novelist Gilbert Sorrentino wrote that it had a "strictly New York joie de vivre: slightly down at heels and rumpled, but with the kind of style always a step above current 'style'."

With its references to Park Avenue, Times Square, Pennsylvania Station, liver sausage sandwiches, the Five Spot, the Seagram Building, the opening of the American Folk Art Museum, and much more, it is a very New York book. O'Hara walks around the buzzing city, buys "a chocolate malted" or "a little Verlaine," remembers a friend's birthday, and talks to the Puerto Rican cabbies before rushing back to his desk at the MoMA with a copy of Reverdy's poems in his pocket. Born in Baltimore and raised in Grafton, Massachusetts, O'Hara moved to New York in 1951 and stayed until his untimely death in 1966. The city offered freedom, possibility, movement, all of which O'Hara associated with life. "I can't even enjoy a blade of grass," he once wrote, "unless I know there's a subway handy." It also offered him a community of fellow outcasts, poets, and artists who became, as Lytle Shaw notes, a surrogate family.
Here's to liver sausage sandwiches, the Five Spot, and Lunch Poems at 50! Join the party-- at The Atlantic!