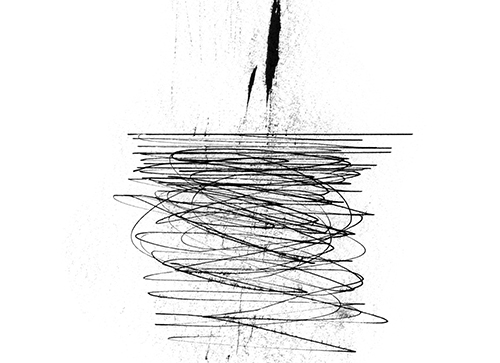 The May issue of Poetry opens with an excerpt from Caroline Bergvall's "Drift," a poem that visually and aurally renders the experience of being lost at sea. The poem is the centerpiece of her book of the same name, published by Nightboat Books, but it's more than just a print publication—it's a reading, sound piece, and video work, too:
Bergvall includes a description of the larger project on her website:
Drift invents a language of connections and of extremes: from Anglo-Saxon and ancient Nordic seafaring literature to rare pop songs to human rights reports of contemporary sea migrants' disaster. A complex and haunting meditation on sea travel, exile and history. A contemporary elegy.
Here is another section, "Shake," which has a echoey underwater sound (you may want to watch this one in full screen):
Bergvall works with percussionist Ingar Zach, visual artist and programmer Thomas Köppel, and dramaturge Michel Pralong to create these pieces. They have given live performances of the work at the Shorelines Festival and elsewhere.
If you're eager for more on "Drift"—what does the Old Norse "hafvilla" mean anyway?—read our discussion guide for the May issue. (Ezra Pound's "The Seafarer" is a good companion text, too.)