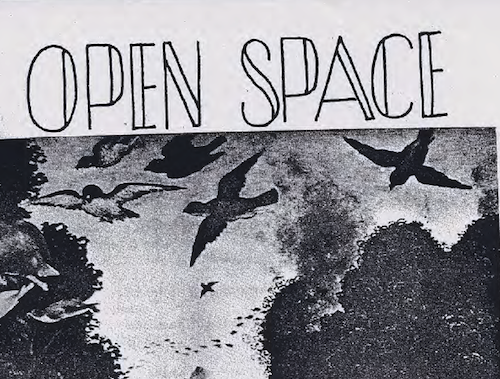 We were wrong! Thankfully, Ben Hollander caught a little (big?) error in our post "Open Eyes, Open Space," wherein we said "Kyle Schlesinger just posted the complete set of Stan Persky's 1964 mimeo magazine, Open Space, onto the Cuneiform Press website!" Turns out, Schlesinger posted the COVERS of each issue (which themselves are great—thanks, Kyle!). But, Ben pointed out that you can find all the contents of Open Space at Flying Object (thanks, FO!). From their introduction to the mag:
Open Space, published by Stan Persky, appeared monthly (with 3 bonus issues) in 1964. It's fifteen issues document a year of activity (literary or otherwise) in the Spicer circle. (Spicer would be dead less than nine months after the final issue.) Famously, submissions were accepted via a mailbox inside of a favorite North Beach bar, Gino & Carlo's. The poem above, for being chosen as the winner of the Open Space Valentine's Day contest, apparently won Spicer five free drinks. From the start, Persky intended the magazine to serve as an "actual working place" for his friends and as a vehicle for discovering interesting new work from the young poets flocking to San Francisco. While latter goal proved a continuous struggle, Open Space saw a tremendous amount of work produced on its pages.
Phew, glad we cleared that one up. Enjoy the covers and content. Onward!