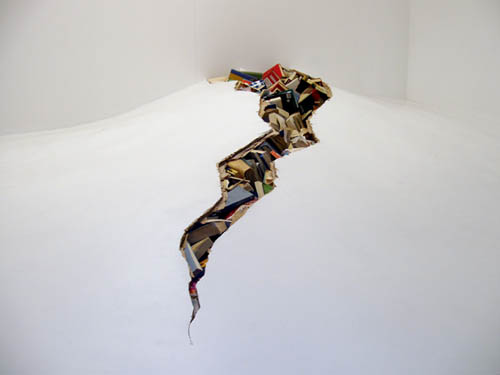 The Reading List is a feature of Poetry magazine's Editors' Blog. Since Harriet was occupied by guest bloggers to celebrate National Poetry Month in April, we're publishing this installment today. Here are our April contributors on some texts that held their interest recently.
Kim Addonizio
I've been reading Blues and the Poetic Spirit by Paul Garon. Surrealism, imagination, eros, African-American history, and occasional diatribes.
I'm sinking nightly into Donna Tartt's The Goldfinch. Warm, deep water.
Jo Ann Beard's The Boys of My Youth—where have you been all my life?
Also reading William Matthews's one-line poems. Love his work and plan to tweet a poem a day for National Poetry Month. It's really hard to write a short poem and I am terrified.
But mostly I am watching "House of Cards" and saying "Oh God, Oh God" after the first episode of season two and writing a lot of essays about writing, one of which should probably be about how I am watching TV more than I am reading books, especially books of poetry, and if I feel like that what hope is there for poetry? And now spring is coming. April is the coolest month.
The last book of poems that woke me up was John Beer's The Waste Land and Other Poems.
Samiya Bashir
I must begin with a new book from Kwame Dawes's recently minted African Poetry Book Series which, beginning this year, promises to publish four new titles by African poets annually. An interesting twist, particularly related to access when it comes to international titles, is that the book is also published in a simultaneous e-book edition. So, while I wait for the new collection by 2014 Sillerman First Book Prize winner Ladan Osman, The Kitchen Dweller's Testimony, I have been sinking further and further into The Promise of Hope: New and Selected Poems, 1964-2013, by the late and marvelous Ghanaian poet, scholar, and diplomat Kofi Awoonor. Awoonor was killed last year in a terror attack at Westgate Mall while in Nairobi for the Storymoja Hay Festival. His loss is incalculable, and the release of this grand edition of his work last month comes just in time for us all to mourn and to find consolation, as here, in his beautiful poem, "To Feed Our People"—
Do not dress me yet
lift me not
unto that mound before the mourners.
I have still to meet the morning dew
a poem to write
a field to hoe
a lover to touch
and some consoling to do
before you lay me out.
London-based Somali poet Warsan Shire's collection, Teaching My Mother How to Give Birth, also available as an e-book, came out last summer and has been tearing me to bits ever since. I returned to it after missing her read while she was in the country for AWP—silly, silly, scheduling—and where do I return? To the devastating prose poem, "Conversations About Home (at the Deportation Centre)"—
I want to make love, but my hair smells of war and running and running, I want to lay down, but these countries are like uncles who touch you when you're young and asleep. Look at all these borders, foaming at the mouth with bodies broken and desperate.
Shire's poems speak of war and immigration sure, but beyond abstraction into their tangible tendrils, into the refugee experience, into and through the Somali diaspora, as no other contemporary writer is doing right now. She's not to be missed. She will not be ignored.
Also not to be ignored: Dawn Lundy Martin, whose new chapbook, The Main Cause of the Exodus, has been giving me life since I snagged a hot-off-the-press copy from her a few weeks ago; and r. erica doyle, whose 2013 book, Proxy, just won the Norma Faber First Book Award. I can't stop rereading this sexy, wretched, loving, quantitatively resplendent journey through prose poems, no matter that my fingerprints are now visible on the opposite side of each page.
For those who love a good performance, I'm also looking eagerly forward to the release this month of my former student, Annelyse Gelman's, first book, Everyone I Love is a Stranger to Someone, from Write Bloody Press. Working with Annelyse on some of these poems was a wild carpet ride that blew my hair back just right. "Shit," exclaims her poem, "An Illustrated Guide to the Post-Apocalypse," faced with the sudden shock of realization. "The world is ending. We should've done more meth."
I'll close my list with francine j. harris, whose 2012 book, allegiance, I found myself wrapped up amidst again recently. During this past weekend's Split This Rock gathering, Tisa Bryant, Reginald Harris, John Keene, and Kevin Simmonds, presented a breathtaking panel entitled "Gathering Forces: A Living Anthology of Black LGBTQ Poetry" where they read selections from the past century, including a choral reading of June Jordan's "Kissing God Goodbye" that had the room enraptured. So when I found myself back in the arms of harris's poem, "would like to first thank god," which landed me here—
like god was sitting in the audience wearing god's sexiest dress that god bought
just for this night, just because things have been tense between you
and because god wanted you to know that you're still the one,
the one god's always waiting for to come home with
flowers and say I'm sorry every once in a while.
it wouldn't kill you.
—I felt the tether that binds us across generations, across centuries and it felt good. It felt rapturously, wickedly good.
Charles Bernstein
Arkadii Dragomoschenko, Endarkment: Selected Poems, ed. Eugene Ostashevsky: Arkadii Drogmeschenko is one of the great poets of the last fifty years, a poet who has transformed Russian poetics by exploring a meditative and introspective approach to both rhythm and content. The constantly metamorphosing detail is his constant companion through the often harsh times of the Cold War and what came after. This superb selection reads like one long, wild, sublime poem. It is a small opening onto the vast treasure of this poet's imagination.
Lauren Shufran, Inter Arma: Lauren Shufran's meter-making argument stings with ludic blows bent to send the line aquiver. Weaponized with duck soup and chicken rimes (a baker's dozen haptic hexes of heptameter), Inter Arma is the neo-classical nude formalism that the times demand. With searing wit and virtuosic élan, Shufran's epic lyrics hit homers every time.
bpNichol, a book of variations:  love – zygal – art facts, edited by Stephen Voyce: This is bpNichol at his young, whimsical, charming, sweet, magical, formally inventive, child-like, zany, fecund, h-h-h-heavenly best. A total delight from beginning to beginning again.
Maria Attanasio, Amnesia of the Movement of the Clouds and Of Red and Black Verse, tr. Carla Bilitteri:  These spiked, analytic lyrics are coiled against the turbulence of everyday life: talismans of acidic cognition against a culture that rewards forgetting. In this bilingual edition of two books of Maria Attanasio, Carla Bilitteri hews to the poet's knotted chiaroscuro, giving us a labyrinthine series of viscerally charged, haunted studies.
Tom Beckett, Dipstick(Diptych): Tom Beckett's stubborn refusal to turn away from the trips, traps, and trusts—disabilities and resistances—of everyday life produces poetry of epigrammatic wit and syncopating rhythms. Parapraxis here becomes a gateway to the bathetic sublime
Danniel Schoonebeek, American Barricade: These structurally perspicacious poems are possessed of equal measures wit and precise diction, eeriness and preternatural force; as if surrealism had melted into propositional logic.
Terence Winch, Lit from Below: In these delightful foreshortened sonnets, Terrence Winch makes poems that leak with lucent dreams, dissolving midsentence into reversals, somersaults, and whimsy: counterfactuals that are as solid as the band that is your mind playing favorite songs in an old movie. "The crowd exploded.  The room cheered." And now back the poems, already in progress …
Mei-mei Berssenbrugge, Hello, the Roses: My poem in the April Poetry ends with a quote from this book.
Gabrielle Calvocoressi
Everyone told me it would be Spring in Carrboro, NC by now but there's nary a bud on the branches except for the ghosty ghostly Bartlett Pears, which I hear any decent Southerner can't stand because of the smell (is that true?).
Thank goodness I have a number of books blooming and steaming up the hothouse of my skull.
First, there's Kevin Young's newest wonder, Book of Hours, a long meditation on the death of his father, the blessings and limits of baseball, food, and honestly the best poems on the constant becoming of parenthood this non-parent has read. I sat on a bench to force the season and couldn't get up from this book even though my hands went numb. I love the sheer length of the book, the fact that Young has an editor who clearly sees he is making what I am thinking of lately as large-scale poems.
Speaking of large-scale poems there's the Spiral Jetty of poetry that is Ronald Johnson's, ARK. The new edition from Flood does it justice visually, texturally, and textually. It will lead new readers to his other countries, namely towards, Radi Os, his masterful and just gorgeous excision and re-visioning of Paradise Lost.
I feel grateful for the bright blooms of:
The promise of Claudia Rankine's new book, Citizen: An American Lyric. Until then I will keep learning from everything she's given us.
Elisabeth Gilles's memoir performance of her mother in, The Mirador.
Rebecca Solnit's, The Faraway Nearby, which I keep reading over and over delighted and amazed by all it asks of me and gives me in return.
I think Nautilus Magazine is the most interesting quarterly in print right now.
Tarfia Faizullah, Vievee Francis, Dana Levin, Alan Shapiro, Bhanu Kapil (good God), Allen Ginsberg's Collected Poems, Jamaal May, Matthew Zapruder, Sampson Starkweather, Sean Hill, Jennifer Chang, the music of David Lang and Max Richter (both of which I'd argue, can be "read"). I guess it's spring after all.
Michael Earl Craig
The Dwarf (1945): As I scanned the shelves recently in a used bookstore, my eye landed on the spine of a book called The Dwarf. The title intrigued me so I pulled it from the shelf. Nice cover!—blood red with dwarf in helmet in profile ($1.95). I opened the book thinking: so who is this Par Lagerkvist…. I figured I'd read the first paragraph; maybe this would kill my mounting curiosity. And here is what I found:
I am twenty-six inches tall, shapely and well proportioned, my head perhaps a trifle too large. My hair is not black like the others', but reddish, very stiff and thick, drawn back from the temples and the broad but not especially lofty brow. My face is beardless, but otherwise just like that of other men. My eyebrows meet. My bodily strength is considerable, particularly if I am annoyed. When the wrestling match was arranged between Jehoshaphat and myself I forced him onto his back after twenty minutes and strangled him. Since then I have been the only dwarf at this court.
My Poets: A remarkable book by Maureen N. McLane. She blends literary criticism with memoir and poetry. She moves back and forth through all this terrain bravely, having a blast actually, and a complex community of voices/influences gradually (and lovingly) materializes. Difficult to sum this up in a few sentences, but definitely check it out if you haven't already.
The Waitress Was New: A French novella by Dominique Fabre about fifty-six-year-old Pierre, a long-time bartender in Paris, with his spotless bar rag and his Bic lighter in the pocket of his black vest, who has been carefully watching all people and things for decades and now has your ear for a while.
Dolores Hayden
I am reading poets who take pleasure in delving into archives and walking through historic landscapes. Tess Taylor's The Forage House carries the reader from her suburban childhood in El Cerrito, California, to plantations owned by her slaveholding ancestors where "I climbed through the remains of your oak forest/& passed again our gated family graveyard." Martha Collins's brilliant Blue Front takes place on the waterfront in Cairo, Illinois, where the Ohio River and the Mississippi River meet, and she asks herself about a brutal lynching her father may have witnessed as a child in 1909. Natasha Trethewey's Bellocq's Ophelia uses the epistolary form of "letters home" to convey the New Orleans as experienced by a "very white-skinned black woman" who works in the Storyville red-light district in 1910-1912. (This wonderful book is less well-known than Trethewey's more recent Native Guard and Thrall.)
Writing about the late twentieth century, Jehanne Dubrow details the Cold War landscape of Poland in Red Army Red, emphasizing a political economy of deprivation that pits military spending against consumer comfort in poems like "Eastern Bloc" where "The stores ran out of butter every day." Yet once in the United States, the speaker is skeptical about the consumer opportunities represented by "Bag 'N Save" or "eBay Item: Number 360236731935." Also on my list is Lesley Wheeler's fantastical novel in terza rima, The Receptionist. The setting is a campus where administrators and professors need to be reminded that Title IX prohibits sexual misconduct in all its forms.
I am also enjoying British scholar Jo Gill's critical study, The Poetics of the American Suburbs, which decodes a surprising diversity of suburban landscapes in the poetry of Josephine Miles, John Ashbery, Louise Bogan, Donald Hall, John Updike, Phyllis McGinley, Howard Nemerov, and many others.
Ishion Hutchinson
Geoffrey Hill, Broken Hierarchies: Poems 1952-2012: The leviathan of the English language; this body of work is fully a "part of the nervous system of true polity." It is a bewildering consolation.
Gjertrud Schnackenberg, Heavenly Question: She writes—to tweak what Edward Thomas once said about Blake—as a seraph for seraphim. Sublime.
Derek Walcott, The Poetry of Derek Walcott 1948-2013: This edition allows us to live through the world in the morning light of Walcott's earliest (rare in some quarters) poetry, right up to now, the radiance unlike no other, burning a steady beacon for so many.
Kwame Dawes, Duppy Conqueror: New and Selected Poems: The conscience-gong of contemporary Caribbean poetry, singing and wailing, "Jah see dem a come, but I & I a conqueror."
I am waiting impatiently to read the following forthcoming debut collections: R.A. Villanueva's Reliquaria  and Malachi Black's Storm Toward Morning.
Dorothea Lasky
There are lots of books that have been holding my attention lately, but one in particular is a book I picked up at The Museum of Jurassic Technology last August, Hilda M. Ransome's The Sacred Bee in Ancient Times and Folklore, which is part mythological text, part science experiment, part hymnal, part very strange set of poetic divination principles on the animal we cannot get enough of—the bee! I really can't get enough of this book, as it is so rich with the history of the bee and it has made my poems of late overpopulated with these unearthly creatures—their syntax, their grandeur, their health.
Another book that has stayed with me all this past fall and into the spring is the new edition of Giacomo Leopardi's Zibaldone. I guess I have always been a bit of a thought voyeur into the thinking of poets, and this book gives me everything I have ever wanted. Nowhere else (expect maybe Plath's diaries) have I felt so closely alive and connected to a poet and this book just won't quit giving me new things to think and feel each time I open it.
A book of poems I am in love with is Lonely Christopher's Death and Disaster Series. This book takes the idea of a dark destiny of being and throws a ton of black clouds on it and black paint on top of that and then makes it into a book of really really pretty songs that break my heart and head open again and again with Plath's blood jet, the dialectic of Tsvetaeva, and Stein's thump, all wrapped up in the sad birds of Yeats. Everyone needs to read this one. Tell the poem "Black June" that I sent you.
One last book that I am really into is Marianne Moore's translation of The Fables of La Fontaine. Among other things, immense things, and so many, I can't get enough of its line breaks, all the line lengths culminating in breaks that always seem inevitable. And I have been thinking, even though this is just her translation of this classic, that still, that maybe it's not the inevitable image that Moore teaches us in her work but the inevitable break. That, maybe that is the final, most important gift that all of poetry gives us.
Karen An-hwei Lee
American Canyon by Amarnath Ravva: A global mytho-travelogue of lyric meditations, interviews, and beautiful film stills.  "00:03:00:00 / The water stains the edge of my towel green. I splash it three times at my face. There is no way I will put my head under this water. There isn't even a lotus flower in the tank."
Infamous Landscapes by Prageeta Sharma: Anti-lyric in ideology, eloquently versing its own unique hermeneutical turn. "Candor may have indeed arrived, / after years of mistrust, / persisting on my part, / as to what exactly is. / Above the water, I have loved so much / that it is unbearable to divulge / any method of explanation that's unmediated…./ So here I am, in response to excess…
Notes from the Mosquito by Xi Chuan, trans. by Lucas Klein: Hybridizes worldviews and heritages to explore the "oxymoronisms" of modern China. "I demand that turnips, bok choy, and I all be in thought together; I demand that chickens and ducks and cows and sheep and I all be in thought together. Thought is a kind of desire, and I demand all ascetics admit it, and I demand all hedonists accept it."
Seasonal Works with Letters on Fire by Brenda Hillman: Devotion to social justice purifies our fallen world with elemental fire. " '1. the miracle of language roots' – to return with lexical adventures / 2. 'the miracle of perception' – to honor the senses / 3. 'the miracle of nameless feeling' – to reflect the weight of the subjective, the contours of emotion / 4. 'the miracle of the social world' – to enter into collective bargaining with the political & the social."
Sarah Lindsay
A few of the books that lie within reach near my kitchen chair:
A Mind Like This, poems by Susan Blackwell Ramsey, is such a pleasure—from the pickled heads on the first page on through Brahms, the bladder, Kalamazoo, and karaoke with Virginia Woolf—that I am making it last as long as I can. I want more. But I had to finish Alice Oswald's Memorial: A Version of Homer's Iliad, which speaks for the dead, although the thing in me that imagines it's my heart was cracked clear through.
Things That Are, by Amy Leach, is a gift in which one marvelous sentence follows another, encompassing, for instance, time travel, transoceanic avian migration and how many blackpoll warblers to the pound in two pages and being funny as well as amazing. For more amazement, in a lovely volume with line drawings and red marginalia, The Book of Barely Imagined Beings: A 21st Century Bestiary, by Caspar Henderson, proceeds from Axolotl to Zebra Fish and contains material for approximately 4,548 poems.
As for Hyperbole and a Half: Unfortunate Situations, Flawed Coping Mechanisms, Mayhem, and Other Things That Happened, by Allie Brosh, words fail me. Come for the bizarre drawings, stay for the words.
Just add fiction, such as Haints, a novel by Clint McCown. (Full disclosure: He's my second cousin.) When a particular line of dialogue makes me laugh out loud with delight, and every bit of the book is why it's so delightful—that's a good day. Tove Jansson's The Summer Book may be "about" a girl and her grandmother on an island in the Gulf of Finland, but it is not sweet. It's spare and tart and, as it says of something else entirely, it "glow[s] beneath the surface like an apricot from Paradise."
Sheryl Luna
I am reading The Prophet by Kahlil Gibran (Knopf, 1923). In the book Almustafa, the chosen and the beloved, gives advice to villagers he meets. They ask questions such as: 1) Speak to us about giving 2) about freedom 3) joy and sorrow, and 4) pain. There are no quotation marks, only paragraph breaks and long monologues after each question. Gibran explores wisdom and its necessary opposites. Central to Almustafa's speeches is the concept of acceptance. He questions things such as the sharp division between good and evil and examines how we are good despite our foibles.
Another book I am reading is T.C. Boyle's The Tortilla Curtain which can be viewed as problematic in terms of Boyle's appropriation of the Mexican culture. Yet I find the book intelligent and intriguing. The book opens with a liberal man dismissing a Mexican man he has hit with his car and left for dead in the desert, relieving his guilt by passing on a twenty dollar bill to the bleeding man who is left with a caved in cheek and possible broken hip or pelvis. The liberal man basically wants to run away. Boyle deals with this type of hypocrisy head on, and the fact that the culprits claim to be liberal is key.
Martin Balgach's Too Much Breath (Main Street Rag) is a phenomenal chapbook which addresses love, loss, language and humanity. With quirky language and constant surprise, Balgach keeps me entertained and learning to become compassionate. For instance he writes, "We won't ever reconcile/ the voices we use for orgasms/with the voices we use to talk about the weather./Maybe we don't have to." And later he pens, "Telephone words unfolded into the music of breaths and I knew our conversation had become a quiet mirror."
Christina Pugh
Right now, I'm having the distinct pleasure of reading Linda Bierds's brand-new Roget's Illusion. These poems are a marvel to me.  In each of her books, Bierds has inhabited a certain tenor of historically-based phenomenology with astonishing lyricism, mathematical precision, and a generous heart. (How often do you find all of those things in one poem?) Roget's Illusion is structured by the famous thesaurus-writer's fascination with an optical illusion: why do wheels, on film, always look as if they are turning backward, or standing still, rather than turning forward? Here, as always in her work, Bierds seamlessly animates her historical subjects' cognition and placement vis-à-vis the material world, uncannily revealing the lyric poem as the most natural of vehicles for experiencing the energies and wonders of the past. Her poems show how much sheer brain power can go into the lyric –and, in a more local way, I always learn so much about the adjective from her. Bierds's work reminds me why I read, and write, poetry in the first place.
Another book I've loved over the last month is Angie Estes's Enchantée, which is polyglot in the very best sense of the word: Estes takes us through the idiosyncratic sounds of the French and Italian languages, showing how her exquisite feel for them inflects her relationship to English. This is a book of wide-ranging linguistic imagination and glorious surfaces—architectural, ekphrastic, and otherwise. Like Bierds, Estes casts her own particularized "spell" that, far from teasing us out of thought, shepherds us elegantly into it.
Matthew Sweeney
What I've been reading recently includes a look at what some of the younger poets are doing. The Dickman twins in the US, for example (I have a copy of Matthew Dickman's Mayakovsky's Revolver, which I picked up in Strand books when I was in New York in November but I couldn't find any collection by Michael Dickman, and have been making do with I've found in periodicals. I've also been looking at 81 Austerities, a debut collection by a young English poet called Sam Riviere. I'm also co-judging a short story competition so have to read loads of story collection. And every issue of The New Yorker that arrives (I have a subscription) has at least one riveting article—this morning's was on an exhibition focusing on the Nazis' Degenerate Art exhibition of the late 1930s.
Liane Strauss
"I'll hit you! I'll cut you up in little pieces! I'll—I'll—I'll explain it to you!" That this outburst, transcribed in Stone and Church's classic 1957 textbook, Childhood and Adolescence, which I nicked from my mother's bookshelves when I left home, and included to demonstrate the efficacy of adults' well-intentioned attempts to reason with toddlers, has stuck with me all these years, undoubtedly says as much about the enduring stature of my inner toddler as my abiding horror of explanations. One of the things I find that I'm enjoying most about Hermione Lee's biography of Penelope Fitzgerald (a writer drawn again and again in her works to representing the uncompromising perspective of children as well as, in her own words, the "weakness of the strong"), published toward the end of last year, and which I am currently bang in the middle of, is the almost total absence of explaining. We are in fact subjected to so very little of it that to come across the almost idle aside, "Perhaps these characters disappeared, not just because cuts were required, but because they were too close to Fitzgerald's feelings about her son," is to be positively disconcerted, like a stranger asking you a personal question on a Greyhound bus. But such moments are rare. Lee doesn't seem all that interested in the explicit and implicit whys and wherefores that drive so many biographies, as if biography were a Freudian edition of Clue and you could solve the mystery of what made someone who they were any more than you could have predicted it. By and large, she sticks to the much more rewarding and demanding business of interpretation: painting in transparent prose a formidable narrative portrait of a woman who was "evasive and reserved," about whom she was inspired to write a biography "out of love and admiration for her work, curiosity about her life, … a belief in her genius" and the desire to provide a satisfactory answer to the question that a mention of Fitzgerald's name increasingly brings to the lips of younger readers, presumably some of Lee's more recent students at Oxford: "Who?"