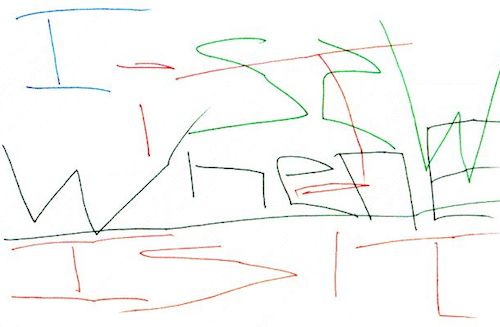 Jacket2 has posted a lovely essay by Norman Fischer on Philip Whalen, Robert Grenier, and Hank Lazer's visual poetry and its influence on his own writing. Fischer spends a moment to introduce each writer's unique style: a great intro for the unfamiliar!
From the beginning of my writing, I have been concerned with (floored by) the fact of a word, or a letter, as a thing, a physical, elemental, thing — and the act of contemplating such a thing. In the late '60s, I noticed the poems of Aram Saroyan — one word, say, "crickets" — printed repeatedly in a single column, in Courier type, down the page. My first works were less poems or writing per se about something than memorials to the fact of words, that they appear and seem to signify. Three poets who have been over many decades important to me have developed this material aspect of writing considerably: Philip Whalen in his doodle poems, Robert Grenier in his poem scrawls, and Hank Lazer with his shape poems.

Whalen studied traditional calligraphy with Lloyd Reynolds at Reed College. Accomplished with specially nibbed fountain pens, and written in traditional alphabet styles, such calligraphy is an art form itself, originating in the Middle Ages, for hand-copying sacred texts. Whalen used the pens and the alphabet styles, but was never serious about fully developing his hand — though he did spend many hours, over years, in repetitive practice. An inveterate doodler, he couldn't help himself from fooling around with pen and ink and paper. Many of his printed poems are doodles of the sort someone might make when talking on the phone or waiting in a doctor's office, full of curlicues, little drawings, various sizes and styles of lettering. Most of this is lost in the printing, although almost all his books make an attempt to indicate the feeling of the actual notebook page with use of capitals, various sizes and styles of type, etc. Several of his books reproduce pages in facsimile, and there are many such pages in his Collected Poems.[1] Whalen's original notebooks are available for viewing at UC Berkeley's Bancroft Library, and Brain Unger is doing a scholarly edition of some of the notebooks. [...]
Educate thyself! Continue reading at Jacket2.