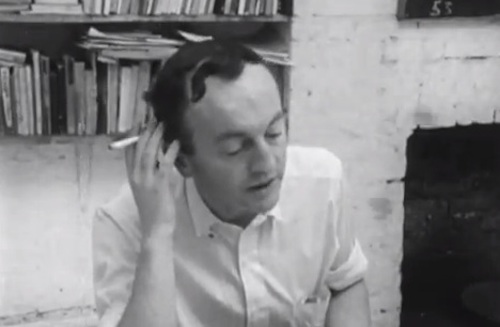 If you're lucky enough to be in New York tonight, celebrate Frank O'Hara and the 50th anniversary of the publication of Lunch Poems at the Poetry Project. "Frank O'Hara's Lunch Poems, first published in 1964 by City Lights Books as number nineteen in the Pocket Poets series, is being reprinted in a new 50th anniversary edition. We love a big group reading almost as much as Frank O'Hara. So, to conclude our 47th season, we're hosting a reading of the entire book." The lineup is outta sight!
Justin Vivian Bond, Peter Schjeldahl, Hettie Jones, David Shapiro, Tony Towle, Michael Lally, Edmund Berrigan, John Godfrey, Trace Peterson, David Henderson, Patricia Spears Jones, Edwin Torres, Charles North, Karen Weiser, Simone White, Adam Fitzgerald, Vincent Katz, Erica Hunt, Andrew Durbin, John Coletti, Nicole Wallace, Jacqueline Waters, Bruce Andrews, Sharon Mesmer, Vyt Bakaitis, Stacy Szymaszek, Arlo Quint, Lisa Jarnot, Lee Ann Brown, Kimberly Lyons, Marcella Durand, Rangi McNeil, Guillermo Filice Castro, Krystal Languell, Betsy Fagin & Bill Kushner.
And if you'd like to whet your palate, head over to the Paris Review today to check out some archival material comprised of correspondence between O'Hara and his publisher Lawrence Ferlinghetti, courtesy of City Lights. Nicole Rudick writes:
City Lights' new reissue of the slim volume includes a clutch of correspondence between O'Hara and Lawrence Ferlinghetti—we've reproduced five of these letters below—in which the two poets hash out the details of the book's publication: which poems to consider, their order, the dedication, and even the title. "Do you still like the title Lunch Poems?" O'Hara asks Ferlinghetti. "I wonder if it doesn't sound too much like an echo of Reality Sandwiches or Meat Science Essays." "What the hell," Ferlinghetti replies, "so we'll have to change the name of City Lights to Lunch Counter Press."
We can't get enough O'Hara today!