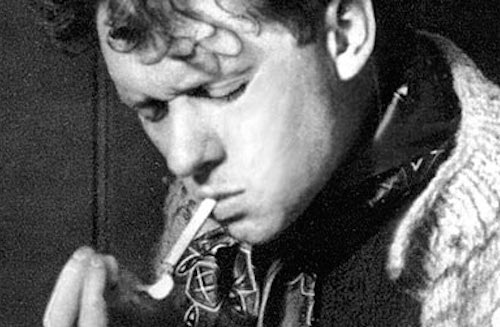 From London's Express: Dylan Thomas's early notebooks are being featured in a new exhibition, shedding some light on the poet's teen years! "The exhibition's supporting material includes the flirtatious correspondence between Dylan and Pamela which began in 1933 when Pamela sent Dylan a fan letter following the publication of his poem That Sanity Be Kept in The Sunday Referee newspaper." More:
Marking the 100th anniversary of Dylan's birth, the exhibition reveals a hard-working, ambitious and playful teenager whose thirst for language flows on every page.

There are flashes of his humour with cartoons, a self-portrait drawn on the back of one letter with an obligatory cigarette hanging from his mouth (already the image of a louche poet had registered with him).

"From a young age, Dylan absorbed and experimented with words and discovered the magical secrets they held," says his granddaughter Hannah Ellis, daughter of Dylan's late daughter Aeronwy.

"His thirst and passion for language is so beautifully demonstrated in his notebooks: there are word lists, drawings, rhyme schemes, annotations, doodles, underlinings, crossings out, use of coloured pencil, ink blots and practice signatures as well as a few cigarette burns and coffee stains."

Dylan began writing the first of the five notebooks in 1930 when he was still at school. Born on October 27, 1914, he had a thirst for literature and was very well read.

He would retreat to his tiny bedroom at 5 Cwmdonkin Drive in the Uplands suburb of Swansea and toil away at poems and prose in the hope that he would one day be a published writer. In all, he filled four notebooks with some 200 poems and one notebook with prose. The last notebook was completed in 1934.

Exhibited for the first time and on loan from the University of Buffalo, USA, with the assistance of the National Library of Wales, the notebooks are a precious insight into the early days of the fledgling writer.
If you are in the UK, the Dylan Thomas Notebooks Exhibition is open daily until August 31.