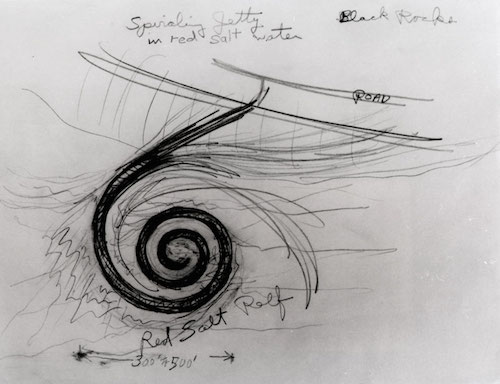 Who knew that two of our favorite Jersey Boys knew each other at all!? The architect of "Spiral Jetty," Robert Smithson, was influenced by William Carlos Williams: his pediatrician! Learn more at The New Yorker.
In 1959, Robert Smithson, a young abstract painter who would eventually become known as a pioneer of land art, went back to his boyhood home, in New Jersey, to visit his pediatrician. Smithson was twenty-four years old and living in New York City at the time but knew the route out of Manhattan and across the garbage-covered Jersey Meadows by heart. His parents had driven him regularly to the Museum of Natural History, in New York, as a child, and, during high school, he often left early to take classes at the Art Students League, taking a bus back and forth to New Jersey, past smoldering dumps, through fields of rubble-strewn reeds. "Those landscapes embedded themselves in my consciousness at a very early date," Smithson once said.

Smithson had skipped college for the Army, where he worked as an artist on a base in Georgia, and, after his discharge, had driven across the country several times, hiking and camping, and investigating geology. By the time he was returning to his hometown to see the retired family doctor, he had shown his paintings in New York galleries but was about to take a profound new direction with his art, one that would take him out of the studio, and out of the gallery and the museum itself. His break from painting would eventually lead him to construct—with the help of bulldozers and pilots and his wife and collaborator, the late Nancy Holt—"Spiral Jetty," his best-known project, completed in 1970. It'sa fifteen-hundred-foot-long, fifteen-foot-wide spiral of stone that extends out into the Great Salt Lake, in Utah. According to the catalogue for an exhibition at the Montclair Art Museum, entitled "Robert Smithson's New Jersey," it was Smithson's visit to his pediatrician that helped steer him toward that new work, and began a new chapter for American landscape art. His pediatrician was William Carlos Williams. [...]
Spiral further into intellectual bliss at The New Yorker.