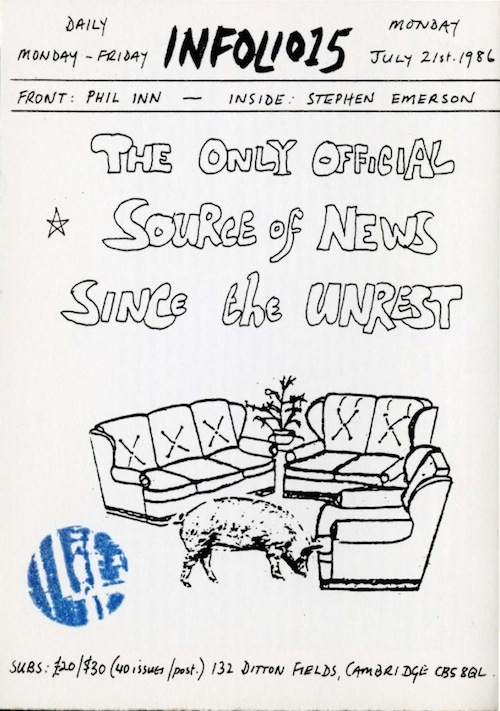 Danny Snelson has reissued for Jacket2 again, this time slowly killing us with Tom Raworth's excellent magazine, Infolio (1986-91). Snelson writes:
Few magazines have exploded the periodical format like Tom Raworth's remarkable Infolio. The magazine was published in Cambridge, UK, at three distinct intervals (daily, weekly, and biweekly) across 116 issues from the summer of 1986 until the fall of 1991. In each issue, the cover features a work of art while the interior features a spread of poetry. For both cover and interior, Raworth reproduced submissions of original manuscripts. In this way, from a media archeological perspective, the magazine records the writing tools of each of its contributors — or, as Raworth notes, "strange now to think there was a time when one could recognise a friend's typewriting." The back covers ... contain editorial notes, bibliographic information, collages, and colorful cork-stamps by Raworth.
So incredible. "Concertedly international, Infolio features 209 contributors from over a dozen countries. This reissue updates Raworth's own online index to Infolio as an aid to navigate its formidable roster of poets and artists." Go to Jacket2 to download the complete set of 116 issues!