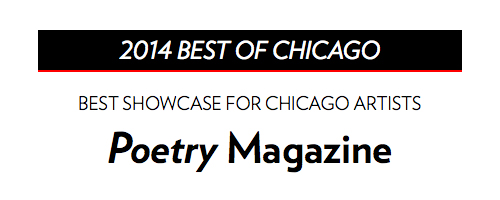 We were honored to learn that Chicago magazine awarded us "The Best Showplace for Chicago Artists" in their 2014 Best of Chicago issue.  We want to take this opportunity to highlight and thank the wonderful artists we've featured over the past several months. We're glad that Chicago magazine noted how often hometown artists appear on our front page (so to speak). With the abundance of talented artists in this city, we never have to look far for work we love. Or as Fred, our art director, said so well: "Our heart is in Chicago, and lately we've been wearing it on our sleeve."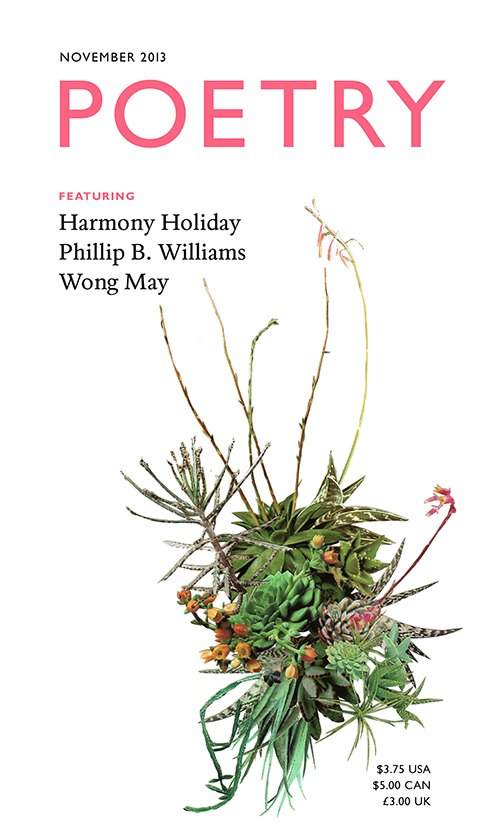 November 2013: Stephen Eichhorn, "Cactus Cluster I," 2011
Stephen Eichhorn wowed us with his meticulously collaged flora and fauna. Cacti and cats, for example, have been a regular combination. A Chicago resident, Eichhorn received his BFA from School of the Art Institute in 2006. Check out his rad Tumblr for more work.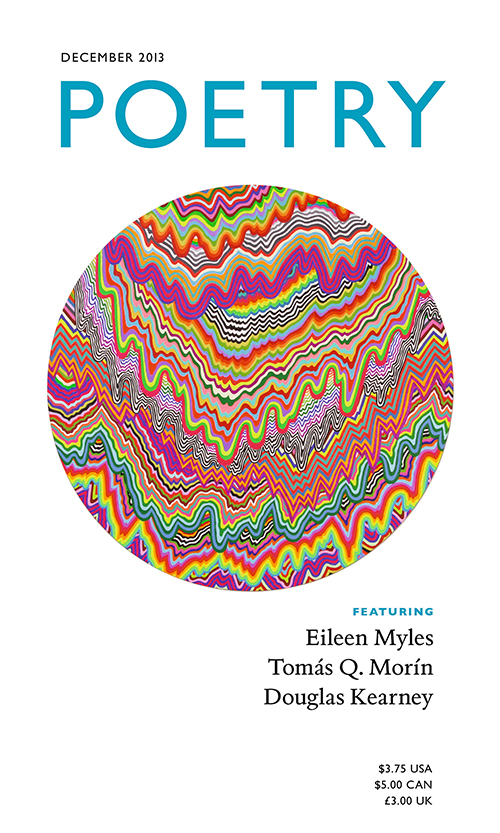 December 2013: Jen Stark, "Psychedelic State," 2012
Jen Stark's mesmerizing psychedelic pieces pack a kaleidoscopic punch. Born in Miami, Stark is now based in Los Angeles. Her work mirrors diverse influences: fractals, rainbows, geodes, topographic maps, mandalas, and sacred objects. Beware: you can lose hours on her site. We sure did.


January 2014: Jessie Mott, "Janet," 2013
Jessie Mott's gouache-and-ink menagerie of fantastical creatures was almost too enticing—we had trouble choosing just one four-legged creature for the cover. Mott earned her MFA from Northwestern University in 2009 and lives in Chicago. Her collaborative animations with Steve Reinke recently appeared in the 2014 Whitney Biennial. She also created a beautiful children's book with Soberscove Press, Animals Dreaming.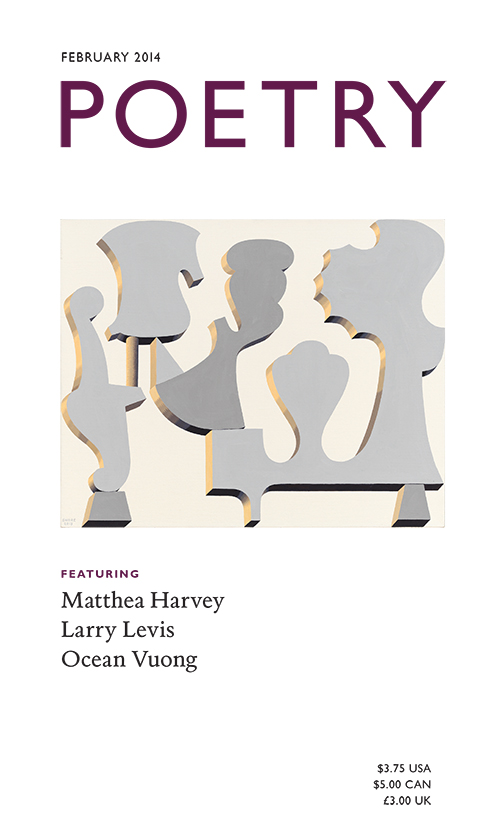 February 2014: Rebecca Shore, "Untitled #08," 2013
Rebecca Shore, another Chicago artist, studied with some of our favorite hometown surrealists—the Chicago Imagists. Her paintings are often created from photos of anything she finds formally interested, from architecture to woodpiles. She teaches at the Art Institute of Chicago and is represented by Corbett vs. Dempsey.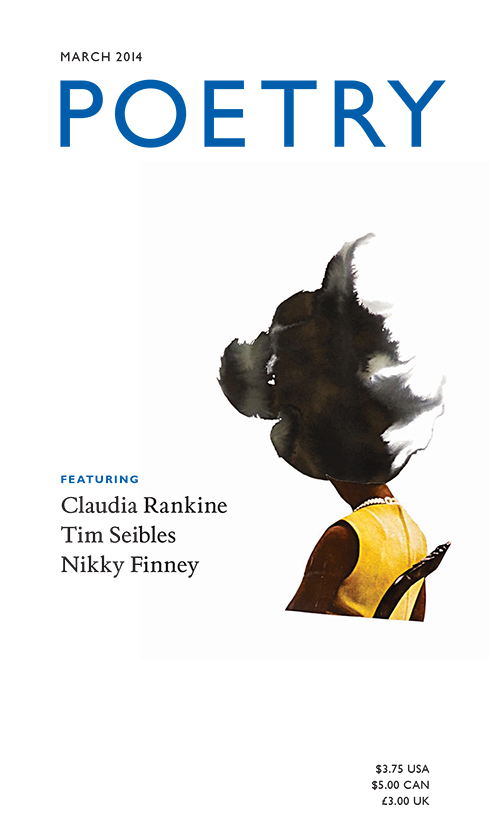 March 2014: Lorna Simpson, "Back of Yellow Dress," 2013
We've admired Lorna Simpson's work for a long, long time. Her photograph-and-text works, videos, and drawings contend with gender, identity, culture, and history. We choose cover artwork independent of an issue's content, but there is a nice connection between Simpson's artwork and the "Split This Rock" focus in our March issue. Simpson's work can be found everywhere from art history textbooks to museums around the world. It's often on view here in Chicago at the Museum of Contemporary Art.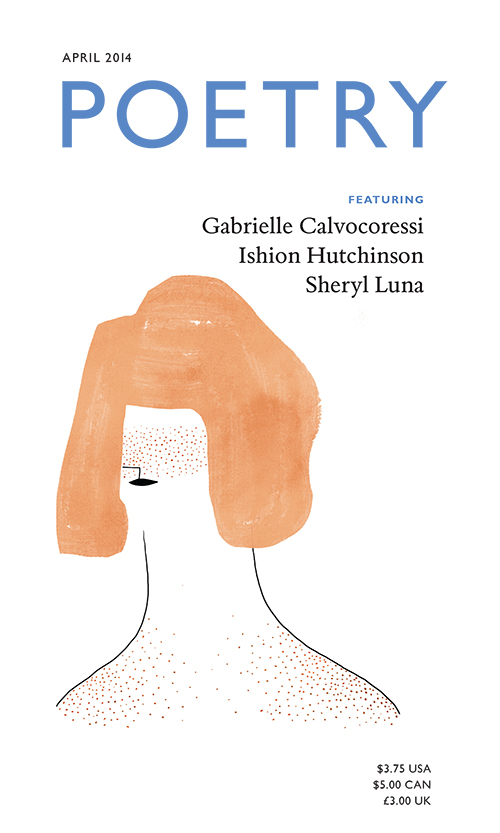 April 2014: Lilli Carré, "Freckled," 2014
Lilli Carré is a dedicated talent in Chicago's art and animation scene. She makes her own animated films, comics, drawings, and ceramic sculptures, and also co-directs the Eyeworks Festival of Experimental Animation. Keep an eye on her Tumblr for updates on her illustrations, "moving drawings," and exhibits, like her recent solo show at the MCA Chicago. And speaking of the Chicago Imagists, check out the documentary Hairy Who & the Chicago Imagists, which features animated segments and titling by Carré.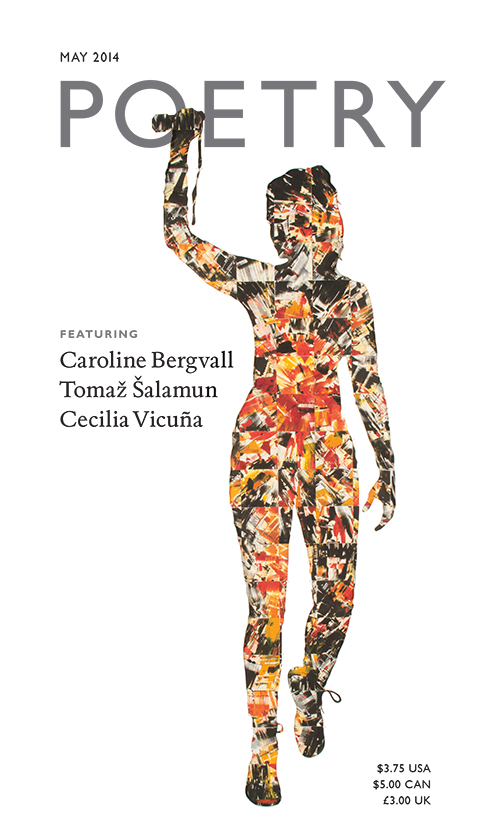 May 2014: Kate McQuillen, "Torch," 2013
We first met Kate through the Chicago Printers Guild. Her artwork on our cover is actually a larger-than-life portrait made of collaged monoprints, part of her series of "Body Scans." Her recent work focuses on "the particular relationship Americans have with power and warfare, and discusses these themes through depictions of surveillance imagery, hidden weapons, and explosions." McQuillen also makes installations from her prints and works on paper.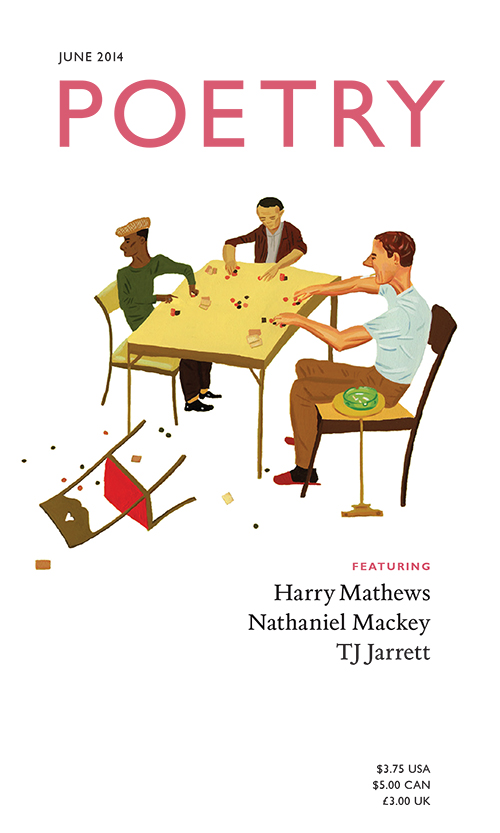 June 2014: Juliette Borda, "Take It Easy My Brother Charlie (detail)," 2001
We've published Juliette Borda's work once before, on the cover of our December 2011 issue. "Take It Easy My Brother Charlie (detail)," was actually the longtime favorite of Valerie Johnson, our former managing editor who left in June, and so we chose this cover as a fond farewell. Borda is a brilliant illustrator whose work is often a slyly humorous take on everyday activities. She lives in New York (with Brian Cronin, who has also appeared on Poetry's cover).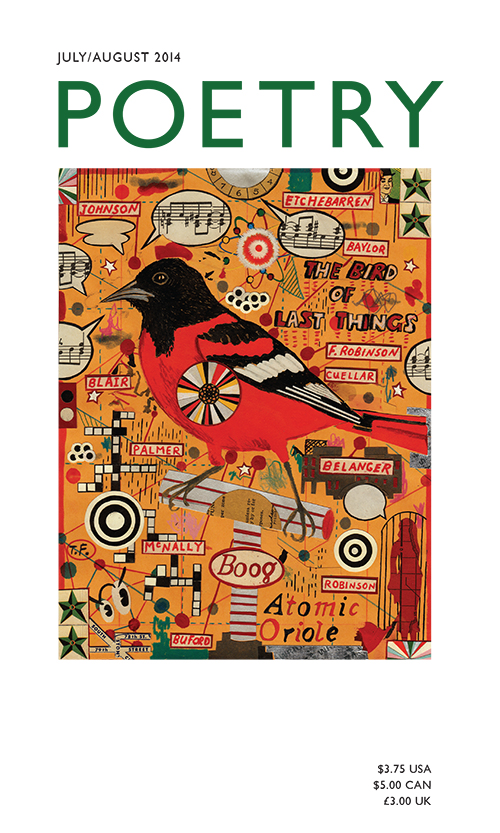 July/August 2014: Tony Fitzpatrick, "The Atomic Oriole," 2014
Last but not least, Tony Fitzpatrick has appeared on our covers twice this past year. First, for Don Share's inaugural issue as editor in October 2013, and then again on our July/August issue in conjunction with a portfolio of his drawings, "The Day Lou Reed Set Me Free." Fitzpatrick's artwork appears all over the Chicago, from Newcity columns to the logo above Big Star's patio. His work is also on display in our gallery this summer. We'll give you more on that next week.
Our love and appreciation to the artists who have so kindly shared their work with us! And, of course, our covers wouldn't be possible without the amazing talents of our designer, Alex Knowlton, to whom we give our hearty thanks.