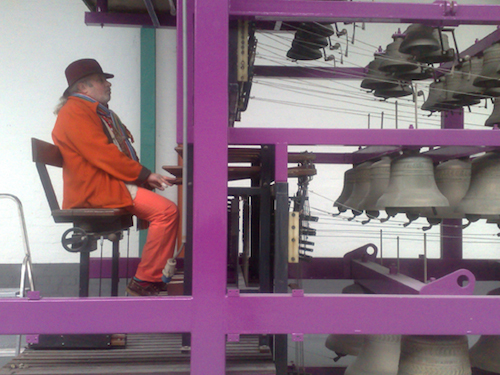 Putting together your summer playlist? Look no further than Charlemagne Palestine and Steve Dalachinsky's tre cool duet recently published at BOMB. Start here with Dalachinsky's intro and be sure to read their conversation in its entirety.
I knew that interviewing Charlemagne Palestine could be a very difficult task due to his exuberant, independent spirit. Pinning him down took almost a year. But after some preps and with the good fortune of having Charlemagne back in New York more often, we finally got it done. This is an excerpt from a longer conversation that took place in his hotel room on April 16th, 2014 after his performances with Simone Forti at MoMA. In the fall of 2013 I had the privilege to share the stage with him and Joe McPhee at Issue Project Room.

Though my initial reaction to Charlemagne's art was ambivalent, my love for both his work and him, a "fellow Brooklyn Jew and misfit," as the New York Times put it, has grown exponentially over the years. Our dialogues continue via email as he keeps adding to the conversation with delightful bits such as: "conga drumsszzz,,,,I met Burroughs too, lots of weirdo poetsss and other weirdoo artists drinking espresssooo (but i was a little tiger orange catepillar then)." And, "As to when I invented the 2 piano Golden Mean. That occurred at Pro Musica Nova in Bremen started by a guy named Hans Otte, who's dead now, in 1976 i think!! He commisssioneddd meee and Mighty Joe Youngg,,,, ndd Rileyyy and some othersss."

Charlemagne Palestine: What's an interview? Let's call it a splinterview.

Steve Dalachinsky: A splinterview?

CP: Fuck interview. Do a splinterview.

SD: We will think of it as a dialogue—

CP: —and a schmialogue. This way we don't have to have any preconceptions. I am trying to confuse your neuroses.

SD: (laughter) Exactly. Do you consider yourself a non-neurotic? Sorry BOMB people if you don't like this four-letter word but I knew it would be fucked up to begin with.

CP: We are in Scorsese territory. If you don't use fuck at least every three or four words it's considered watered-down.

SD: Earlier you had mentioned your raison d'être, being introduced to Stravinsky. I think that is a nice story to start with. [...]
Ever onward! Read more at BOMB!