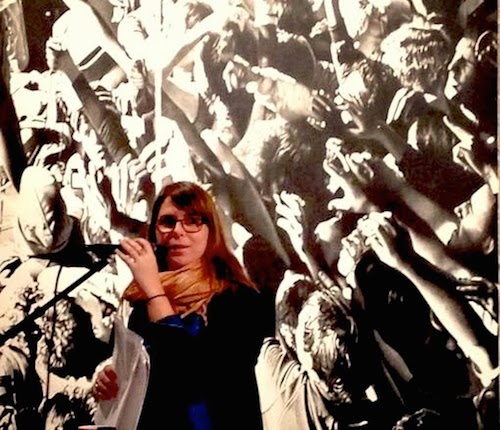 Jackie Clark's full-length debut collection of poetry is here! Read Douglas Piccinnini's response to her collection at The Volta.
Jackie Clark's full-length debut, APHORIA, dwells in "the pleasure of creating condensation where none should be"—as if somewhat abashedly, the speaker of these poems confesses. As if poetry—a kind of condensation, a possible pleasure would be—could be—otherwise denied.

Clark's APHORIA is fitted into three sections: WE GATHER AT NIGHT, THE CITY SALUTES ITSELF and I LIVE HERE NOW. Each section sequences through poems whose titles are empty/emptied parentheses. The emptying is the condensation and seeks to work out an "overflow" of stimuli.

the repository gathers
thick water,
a falling in public
of private space engaged with surface areas
even with labels, each retelling discloses pent up attributes
it is vague
it is a story of my person, my compass

Between people, between things, Clark's speaker navigates the visible and invisible constructs of urban anxiety and the speculative currency of selfhood. [...]
Learn more at The Volta.