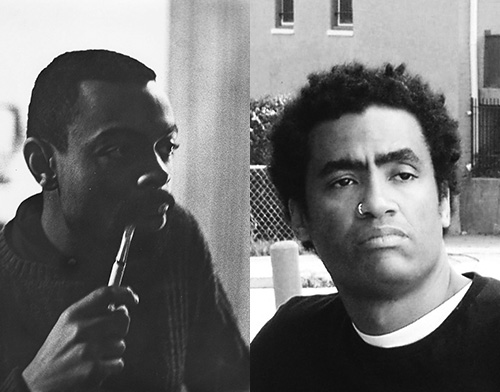 It's hard to believe that Amiri Baraka passed away six months ago. The many readings and remembrances that followed his passing attest to his lasting influence. But how does one write a poem after, and for, Baraka? Thomas Sayers Ellis wrestled with the task. The powerful result is "Vernacular Owl":
Somebody had to clean that shit up.
Somebody, some love who raised you, wise.
Feathered razors for eyebrows,
alto,
tenor.
Wasn't no branch.
Some
say
a tree,
not
for rest either.
For change.
—From "Vernacular Owl"
Perhaps you've already read Ellis's elegy for Baraka in our July/August issue, but you're missing out if you haven't heard Ellis read it himself. Ample time on this month's podcast goes to Ellis reading the poem, with James Brandon Lewis on saxophone. Ellis begins by explaining the title (around the 9:30 mark):
This is not the first time Ellis has paid tribute to Baraka with the aid of a saxophone. In April 2013, in honor of Poetry magazine's centennial, the 92nd Street Y hosted a reading in which Ellis read Baraka's poem "Valéry as Dictator," originally published in Poetry in December 1963 (under the name LeRoi Jones). Then Ellis read his own poem "Or," also published in our pages. Both poems are accompanied by Lewis. You can watch the performance in the video below (we've set it to start when Ellis and Lewis come onstage, at 20:25):
Ellis advocated for an alliance between the page and stage back in February 2009. He called it "The New Perform-A-Form":
The performance body, via breathing and gesture, dramatizes form. It makes it theater. It makes it action. It makes it living, alive, as in "get live," as in "all the way live," as in lyric. The idea body, via text and thought, flattens form. It makes it fixed. It makes it language. It makes it literature, an imagined living, as in artifice. The work of the performance body is not without craft, control, or form. It is not lowly. The work of the idea body is not without attitude, improvisation, or flow. It is not closed. A perform–a–form occurs when the idea body and the performance body, frustrated by their own segregated aesthetic boundaries, seek to crossroads with one another. This coupling, though detrimental to aspects of their individual traditions, will repair and continue the living word.
Although Ellis doesn't mention him specifically, it's not hard to imagine Baraka as an inspiration for this kind of performance. In "Balboa, the Entertainer," Baraka wrote: "It cannot come / except you make it / from materials / it is not / caught from." It seems only right to end this post with Baraka at the mic: