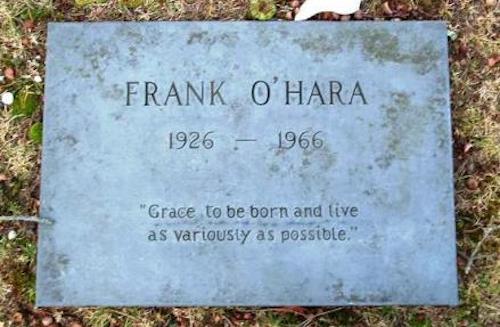 We're always saddened to remember that day in July when Frank O'Hara died, which Andrew Epstein at Locus Solus reminds us was 48 years ago today. Epstein writes:
48 years ago today, Frank O'Hara died in a tragic accident on Fire Island, New York. Last year at this time, I wrote a post about the wealth of fine elegies for O'Hara that appeared following his death, by poets like Allen Ginsberg, James Schuyler, David Shapiro, Ron Padgett, and others.

Today, I thought I'd put up a copy of the obituary that ran in the New York Times on July 26, 1966, a document that is not so readily available. As I always point out to my students, the headline tells you quite a bit about O'Hara's reputation at the time of his death: "Frank O'Hara, 40, Museum Curator," with the subheadline "Exhibitions Aide at Modern Art Dies – Also a Poet."

"Also a poet" indeed. Although it may be hard to believe now, at the time of his sudden death, O'Hara was better known as an art-world figure than a poet...
Head over to read the obituaries Epstein has kindly posted. And go here to read James Schuyler's elegy for the Poet.