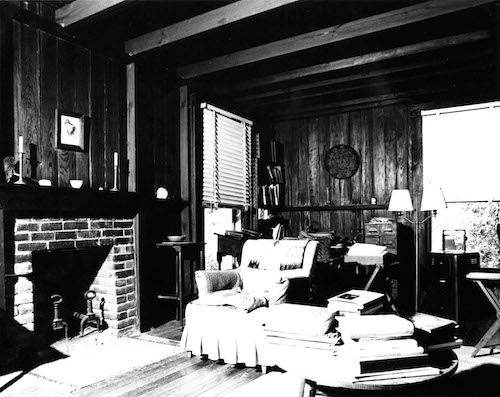 Who was (Mrs) Laura (Riding) Jackson? In this web-exclusive article published at Brooklyn Rail, Benjamin Hollander remembers searching for Jackson, from the Jamaica (Queens) of his youth.
Andrea Rexilius's excellent piece on Laura (Riding) Jackson, "Against the Commodity of the Poem," published in Coldfront, makes me wonder how far or how little we have come over 40 years, in terms of the questions: what is the role of poetry and whom does it serve? Rexilius's piece makes me wonder how poets used to be and perhaps still are segregated: who is the anti-social poet, who is the people's poet? Who writes for the art, who writes for the audience, and how are these distinctions made?

I first absorbed Riding's poetry—against all odds—in Jamaica, Queens, in the early 1970s, the moment her Selected Poems in Five Sets appeared: a first book of hers to come out since 1938, three years before she renounced the writing of poetry. Poetry as "craft" could not be true to its creed, Riding believed, the creed which "offer[ed] hope of a way of speaking beyond the ordinary." For a young poet, I was more than willing to romanticize the reach of poetry into the cosmos and out of the Jamaica Ave. Union Hall Street Station at the Long Island Rail Road. I was more than open to transcending Self and speaking beyond the ordinary. It was the Age of Siddhartha.

But the reach of poetry always had its limits: a poet could only be a misunderstood, isolated creature. This was the existential pose young poets mimicked. Riding's work offered that guise as well. It is in the first (prose) poem of hers I read: "Poet: A Lying Word": "It is a false wall, a poet: it is a lying word. It is a wall that closes and does not." Here was a poet who offered me even more of an island to escape to than rhymin' Paul Simon, who told me he had his poetry to protect him. ("I am a rock / I am an island / I have my books / And my poetry to protect me," Simon sang). It was comforting. Yet as Simon said "no" to John Donne's "No Man is an Island," Riding went further and said "no" to Simon's privileged role for poetry on his island, which was appealing to me, a young poet caught between Long and Manhattan islands. Riding asked "what's the point (yes, even) of poetry if the poet gets caught up in the mechanics of its own making and can't truth-tell?"

Finally, there was the appearance of Riding's book after so many years of her silence, with a preface in which she addressed her sudden withdrawal from poetry, as she asserted that "no poet before [her had] gone to the very breaking point." Her dramatic articulation of this gesture made her work that much more captivating. It recalled affinities with Rimbaud's escape from poetry into gunrunning and his "abandoning of the poet-role" (a parallel, I should say, Riding put to bed quickly). Not bad, I thought at the time, she's badder than Rimbaud. Of course, no one else thought so, or if they did, it was not flattering (Williams called her "a prize bitch").

I say I read Riding against all odds because of the prevailing attitude towards her work: she was accused of being difficult, abstract, insular (poetry qua poetry qua language), philosophical, formalist, theatrical. Her work was tonally in a wholly other "higher" register than the poetry of people who were taking it to the streets. [...]
Stay awhile and learn more with Benjamin Hollander and Brooklyn Rail.