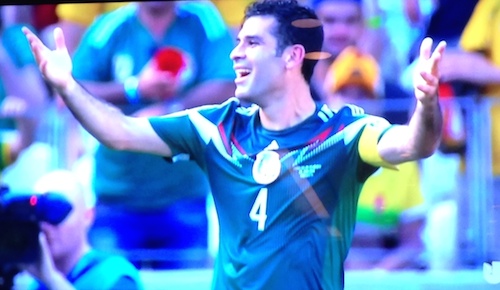 "The time you enjoy wasting is not wasted time."
I stumbled on this Bertrand Russell quote after having spent many, many hours—comfortably, sometimes edgily—in the role of spectator of a gorgeously telegenic sport (despite its particularly complex politics).
As probably millions of people the world over, the past few days I unmistakably went through some form of withdrawal syndrome after the World Cup's final match last Sunday. That Argentina lost to Germany, and all the teams I had rooted for were defeated one by one, didn't help my mild anxiety and agitation. If I also suffered from increased yawning on Monday—what could possibly come close in excitement to what I'd witnessed the day before in tandem with one billion other viewers around the globe?—I was spared of other typical symptoms including muscle aches, insomnia, and sweating.
You might think I speak in hyperboles, but at least numbers-wise, I'm telling the truth. Just in the US, the final match was watched by a record 26 million people plus entranced by the unabashed display of multiple forms of male subjectivity deployed in the service of at least one 20th-century carryover: the nation state.
More than once throughout the tournament, I thought of Lisa Robertson's The Men, wanting to go back to its pages to find the words to articulate the spectacle of virility I was temporarily giving myself over to:
Men deft men mental men of loving men all men
Vile men virtuous men same men from which men
Sweet and men of mercy men such making men said
Has each man that sees it
Cry as men to the men sensate…
[…]

Each man—I could write
His poem. He needs no voice.
Even typing this excerpt prompts a free association. Crushed by a rival team, seriously or bogusly injured, overcome by excitement, plotting a comeback, dignifiedly contained, baring their teeth and ready to bite, sobbing blatantly, releasing the unimaginable amount of pressure they were under, or ecstatically proud, close-ups of Neymar, Lionel Messi, James Rodríguez, Guillermo Ochoa, Arjen Robben, Luis Suárez, Tim Howard, Gonzalo Higuaín, Keylor Navas, Mario Götze, and countless other remarkable players flash through my mind's eye.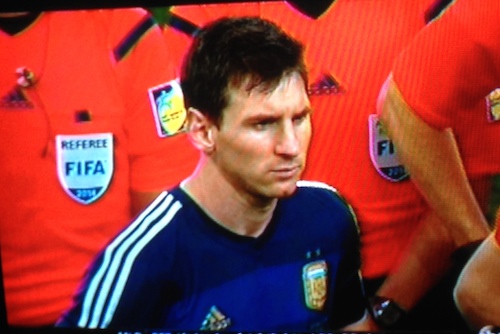 Yes, hyperbole does come with the territory, as those who enjoyed the spirited quips of the Univision commentators are well aware of. In a Spanish as diverse as the makeup of many participating teams—some sportscasters referring to goalkeepers as guardametas (which sounds like a literal, wooden translation of the English), others as arqueros, and a minority as porteros, more common to my Mexican ears—they'd produce, on the spot, one witticism after another. During the Switzerland vs. France match on June 6, which Switzerland lost 2-5: "¡Pobres suizos, su defensa tiene más hoyos que sus quesos!" (Poor Swiss, their defense has more holes than their cheeses!) Or, better yet, when in the Argentina vs. Nigeria match, on June 25, Messi scored a goal at minute three, followed by Ahmed Musa's at minute four, the voiceover carried a felicitous analogy: "¡Bienvenidos a la sintonía visual, al poeeeeeeema escrito con un balón!" (Welcome to the visual harmony, to the pooooeem written with a ball!)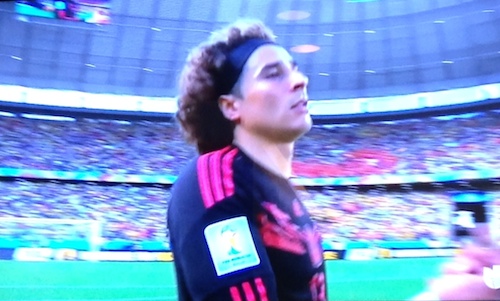 An analogy that Décio Pignatari, co-founder of the Concrete Poetry movement in Brazil, alongside Haroldo and Augusto de Campos, would have found apt. Not only was he a declared soccer fan, he also devoted at least one poem and, in his prose volume Contracomunicação (1973), around a dozen chronicles to the sport. One of such chronicles is a mash-up of the Iliad: "The two armies, at the start of the battle, have already covered the same territory. The warriors come face to face, they confront and get shuffled amongst each other. Here they advance obliquely, thrusting themselves, their stiff shields banging against the others'; from one arc to another they narrow themselves in a furiously awful embrace, their guarded chests creaking, everywhere pricking and piercing each other with their bronze edges and tips." (my translation)
Brazilians have a long-standing tradition of radical political art that engages spectacle, folding it into a voraciously syncretic high culture, exploding its contradictions while avoiding didacticism or the soporific. Take Tropicália's 1968 concept album, titled Ou Panis et Circencis (Of Bread and Circuses) after all.
Besides the Beatles's Sgt. Pepper's Lonely Hearts Club Band, the Tropicalista musicians—Gal Costa, Gilberto Gil, Caetano Veloso, Tom Zé, and Os Mutantes—had assimilated the Concrete poets' legacy as well as that of their modernist forebears Mário and Oswald de Andrade (no relation, as opposed to the Campos brothers.) The album's "Bat Macumba," by Gil and Veloso, for instance, is a spellbinding concrete poem whose syllabic patterning melds American superhero Batman, Brazilian Macumba (bá, obá), and Brazilian rock (iê-iê-iê), accompanied by, well, of course, conga drums and electric guitar.
It does not seem coincidental that the only time that the Brazilian Concretistas were published in a mainstream international publication, their poems concerned soccer. As with the sport, with Concrete poetry there are clear parameters but unknown results. Hierarchies are detrimental; no team player or component of the poem is unimportant. The surface and the writing, the players and the field, are inextricably integrated. Not only is soccer the world's most popular sport, but up until last week, on an infamous July 8, when the Brazilian team suffered grotesque humiliation at the hands of the Germans in an appalling 1-7 final score, Brazil had a proven competitive advantage when it came to all things soccer.
One of Concrete Poetry's main premises was to develop a "poetry for export," by which they meant "a poetry capable of creating new techniques valid internationally." At the core of their poetics was an economy attuned to a dictum Pound outlined in "A Retrospect": "That part of your poetry which strikes upon the imaginative eye of the reader will lose nothing by translation into a foreign tongue; that which appeals to the ear can reach only those who take it in the original." Accordingly, in the early phases of Concrete poetry, during the late '50s and the early '60s, the text to image ratio was reduced to a minimum to facilitate the poetry's international flow.
The Brazilian Concretistas were featured in one of two issues of the Times Literary Supplement devoted to "The Changing Guard," published on August 6 and September 3, 1964, respectively, with contributions by figures in the international Concrete Poetry scene, such as Ian Hamilton Finlay, Anselm Hollo, Emmett Williams, and Dieter Rot, as well as Lettrist Isidore Isou, Dadaist Raoul Hausmann, and many others. The poems by the Brazilians appeared in the September issue. I cannot imagine how the poem "Brazilian 'Football'," which Augusto de Campos penned for the occasion, could pack a punch more succinctly:
1958: Goal! Goal! Goal!
1962: Goal! Goal! Goal!
1964: Gaol! Gaol! Gaol!
As opposed to many concrete poems printed with translated keys to help decipher them, this one was left untranslated. Here's an hypothesis as to why: in 1958, thanks in part to Pelé, Brazil won the World Cup in Sweden, against the host team, by a victory margin of three. This remains the only instance in which a non-European team won the tournament in Europe. In 1962 the story repeated itself in Chile, with the Brazilian team, minus an injured Pelé, winning the tournament, this time against Czechoslovakia, 3-1. The poem's patterns are scrambled in the third line, which has two glitches. The World Cup is celebrated every four years, not two, and the vowels in goal are transposed to gaol, the Portuguese word for prison. In 1964, Brazil's armed forces, backed by the United States, overthrew João Goulart's left-leaning presidency. Perhaps this explains the poem's title, with a foreign "football," instead of soccer, within quotations, subtly pointing to the US's involvement in a coup that Campos could only repudiate in code to avoid censorship. Auspiciously, and lamentably too, this type of critique was consistent with the Concrete program.
Pignatari's semiotic poem—if the medium is the message, then TV is the message—does without words but not without an explanatory key. I leave it here for you to ponder, not without summing up its basic equation: given a television set and Pelé, all's well that ends well. There's a problem, though, and the tattoo on Neymar's neck says it all: Tudo Passa. (All happens, all passes.) Pelé is no longer, Neymar might have gotten crucially injured but he's no Pelé, and last Sunday the only thing that could clear up the air after the booing of President Dilma Rousseff at the Maracaná stadium in Rio was cheering for the Germans. Bye-bye to another ideal from the 1960s: Pan-Americanism.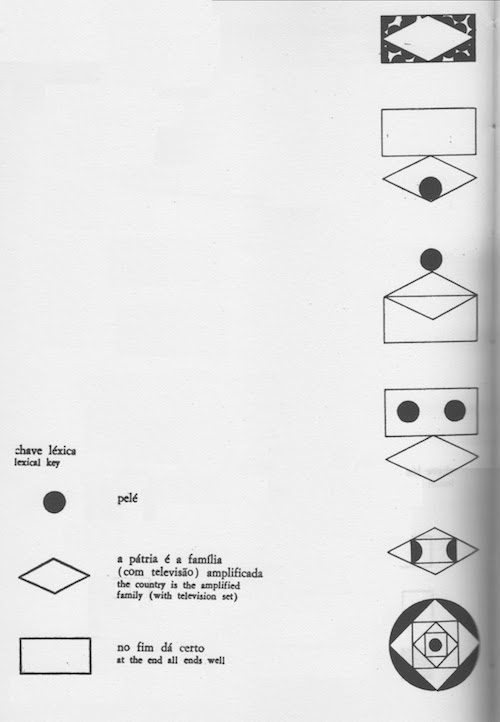 Photos above by Mónica de la Torre
Poet, translator, and scholar Mónica de la Torre was born and raised in Mexico City. She earned a BA from the Instituto Tecnológico Autónomo de México and, with the support of a Fulbright scholarship, relocated to New York in 1993 to pursue an MFA and a PhD in Spanish literature...