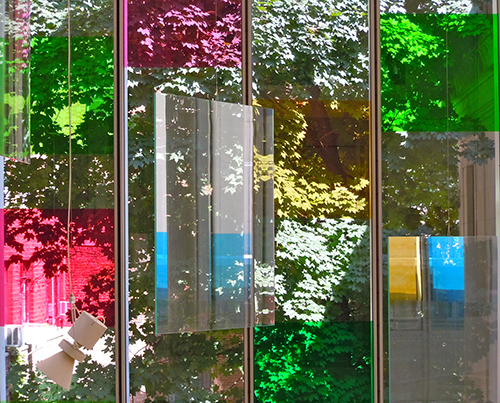 Each month we feature a guest post from a contributor to Poetry's current issue. Elaine Equi's portfolio of poems, Local Colors, appears in the July/August 2014 issue. Previous posts in this series can be found on the Editors' Blog.
As a poet, one of the main reasons I take photographs is that it allows me to interact with color more directly than writing does. Usually, there's a sense of separation between me, as the subject, and whatever colorful object has caught my attention. In other words, I'm used to looking at color, not through it. Recently, however, that boundary was delightfully played with when I happened upon "A Certain Slant of Light," Spencer Finch's new installation at the Morgan Library.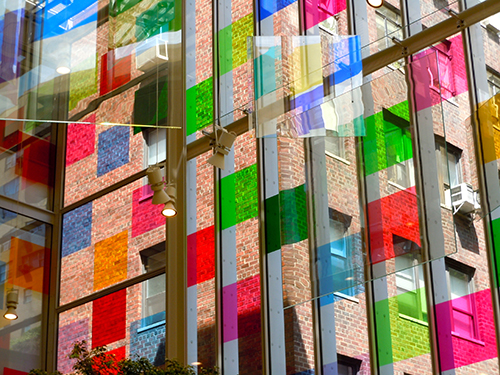 I had gone to see another show there and wandered into the atrium, when I was, I want to say ambushed, but that sounds a tad violent, so instead I'll say pleasantly overtaken by a luminous array of jewel-toned shapes and shadows. In this site-specific work of art, which takes its name from Emily Dickinson's poem, Finch has covered the floor to ceiling windows with a grid-like pattern of different colored theater gels. Inspired, in part, by the model of medieval Books of Hours (many of which are part of the Morgan's permanent collection), the artist has, in essence, created a calendar of color which changes according to the movement, quality, and intensity of the sun's light.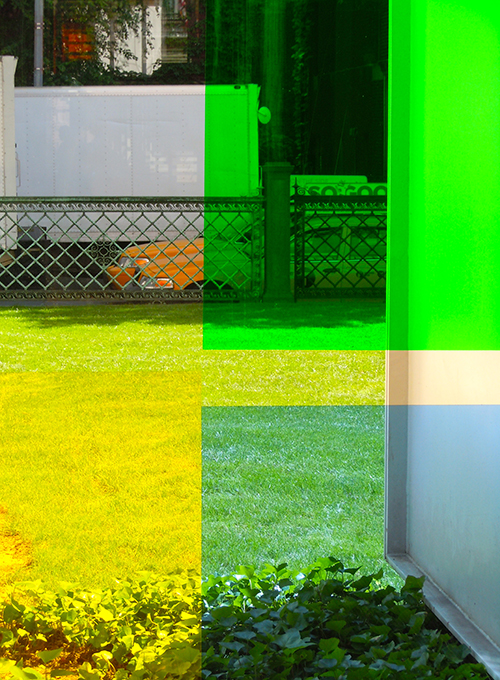 To further heighten the sense of motion and mutability, Finch also hung large square panes of glass from the ceiling in the center of the room. Stirred by natural currents of air, these panels function as visual wind chimes whose gentle movement continually makes the reflections bounce off each other, and the colors rhyme in different ways. As I stood there, I was elated and intrigued. First, I walked around looking at things from various angles and directions. Then I went upstairs to check out the view from the second floor. Wherever I turned, something interesting was happening. What could I do? I took out my camera and started snapping pictures.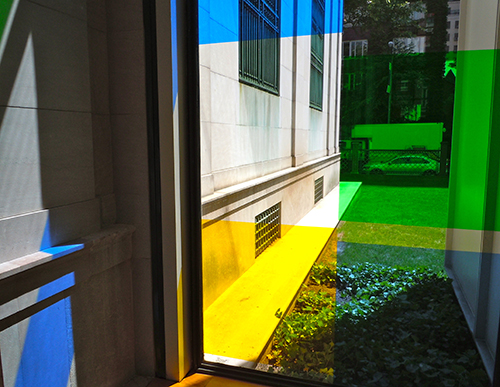 I want to emphasize that these photos are not meant to be representative of the work itself. Its scope is far too big and uniquely experiential to capture. For that, you'll have to go yourself. My pictures are just a record of what I found to be fortuitous intersections of color and architecture, inner and outer worlds. When thinking of Finch's work, I flipped through my mental rolodex of color memories for correspondences. As someone raised Catholic, the obvious image of stained glass windows came up. I also flashed briefly on the psychedelic light shows that accompanied rock concerts I attended in the seventies. But his piece carries neither the heavy moral baggage nor the primal hedonism of either of those reference points. For me, it was something totally different—more like a very lucid, clear-headed encounter with color on an abstract plane. Yet because it allows for the presence of trees, bushes, traffic, and people walking around, it was also sensual. The marriage of color, light, and glass is a happy one—made even more so here by the way the artist uses it to fuse the world inside and outside of the museum at the same time. It is this aspect I tried to focus on in my pictures.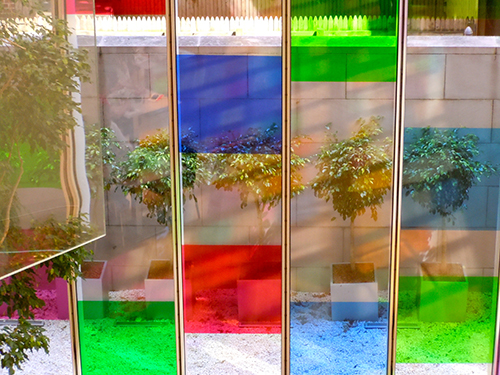 Anyone looking to have their color receptors ratcheted up a notch or two would do well to get to the Morgan Library. "A Certain Slant of Light" is on view until January 11, 2015.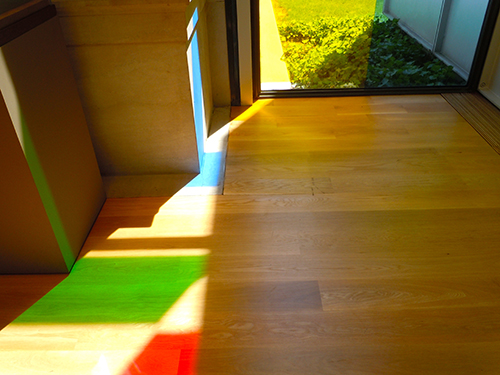 For more on Spencer Finch, view this audio-visual slideshow of his work inspired by Emily Dickinson, from the Poetry Foundation's 2013 exhibit, "Forever – is composed of Nows –."
Elaine Equi's most recent book is Sentences and Rain (Coffee House Press, 2015). She teaches at New York University and in the MFA Program at the New School.