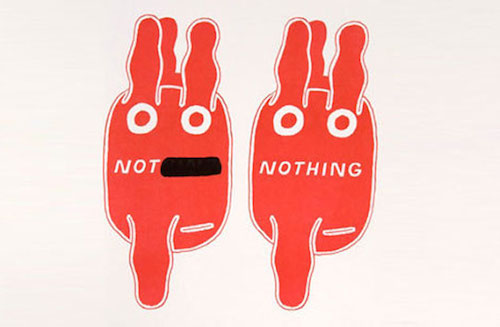 Bookforum editor Albert Mobilio takes a sneak peek at two Ray Johnson books recently published by Siglio Press: The Paper Snake and Not Nothing. Ray Johnson, an intermedia artist who trained at Black Mountain College before taking New York by storm, is known primarily for his mail art and in particular, a project called The New York Correspondence School. Among the likes of artists like Joseph Cornell and Andy Warhol, Johnson also corresponded with Marianne Moore.
[...]Johnson's fascination with authors is no surprise given his own prodigious writerly proclivities. Not Nothing offers a small portion of his mail art—a conceptual project that remains his signal accomplishment. The process—one public yet intimate—by which Johnson put his collages and letters into circulation embodied his core aesthetic of motion and mutability. He dubbed his collages "moticos," an anagram of osmotic, and thought of them as recombinations designed for further recombination—by him (he constantly altered his own work) and his correspondents. A sampling from a mail-art list titled "102 Moticos" from the early '50s gives some sense of the deeply poetic, unsettling ambiguity of the notion: "machine for them," "two pound one," "Australian contemplating a ladder," "the fan can name," "bearer away," "the Zebra feet girl," and "used Switzerland."None of these, or any of the other items, in any way define a moticos, and indeed they can each (and in aggregate) be regarded as antidefinitions. The move is characteristically Johnson's—he also staged Zen-inspired events called "Nothings" in response to the '60s vogue for Happenings.

This oppositional impulse guided Johnson's approach to his letters, which are in fact metatexts, letters that parody and undermine not only the genre's forms but the very notion of person-to-person communication. The New York Correspondance School (Johnson's spelling) was the official-sounding name he gave to his postal round-robin; the moniker mocks the idea of artistic "schools" while alluding to actual correspondence schools, institutions that once offered high school degrees or certificates in, say, appliance repair. (The ritualized impersonality of sending homework back and forth between students and instructors no doubt intrigued Johnson.) His correspondents were artists and writers (Joseph Cornell, Christo, Marianne Moore, Andy Warhol, Lynda Benglis, James Rosenquist) who were teachers of sorts, providing him with inspiration (he asked to trace Moore's tricorne hat; she declined) and encouragement. [...]
Learn more at Bookforum and get ready to make some room in your bookshelf!