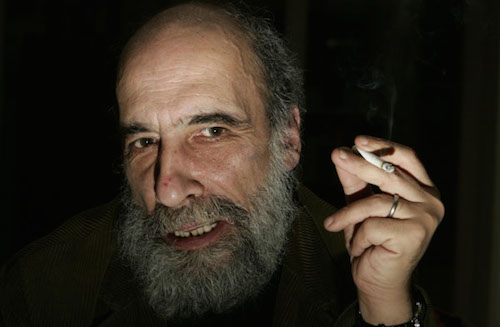 At The Millions, Magdalena Edwards introduces readers to the life and writings of Chilean poet Raúl Zurita, who persevered throughout his childhood and adolescence after the deaths of both his father and his grandfather, defended his poetry while living under the grip of the Pinochet dictatorship, who published 20 books of poetry and has won countless honors and prizes.
Raúl Zurita, born in Santiago in 1950, has published more than 20 books of poetry and received countless honors and prizes including Chile's National Literature Prize in 2000. When he was two years old, his father died, leaving him and his infant sister in the care of their mother and maternal grandparents, who immigrated to Chile from Italy. The morning of Zurita's father's funeral, his grandfather died of a heart attack. His mother worked long days as a secretary while his grandmother looked after him and his sister. She spoke to her grandchildren about Genova and the Rapallo Sea, the Italian painters and musicians she admired, and, most of all, The Divine Comedy. In a recent interview in Uruguay's El País with Ilan Stavans, Zurita says, "Instead of stories, [our grandmother] told us passages from the Inferno, which both terrorized and fascinated us."

Zurita's first book of poems Purgatorio was published in 1979 during the early years of the Pinochet dictatorship. An engineering student at the University of Federico Santa María in Valparaíso when the coup took place in 1973, Zurita was arrested, detained, and tortured. He spent six weeks incarcerated aboard a military ship holding 800 prisoners cramped into a space with the capacity for 100. As told to Daniel Borzutzky in a 2009 Poetry Foundation interview, Zurita was carrying a file, the poems that would become the book Purgatorio, when he was arrested the morning of September 11, 1973, and the arresting officers suspected his papers might include coded messages. The senior military officer who made the final decision about Zurita's potentially subversive writings threw the poems into the sea. [...]
Read on at The Millions. And to up your understanding of Zurita and his work, check out this great interview with Daniel Borzutzky we published a few years ago (and mentioned in the article), along with this podcast featuring Zurtia and Forrest Gander.