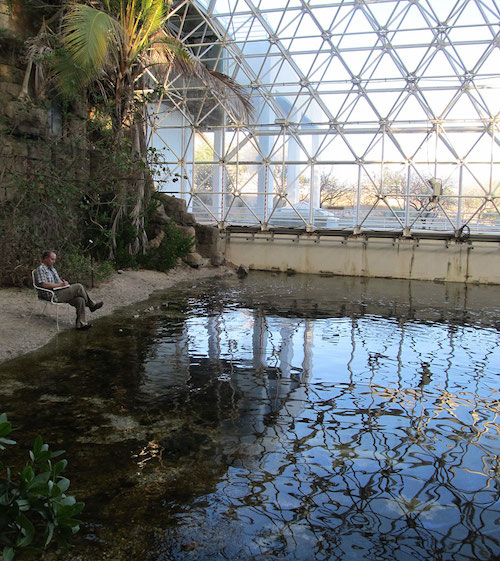 If you remember way back to February this year, we posted this item about the University of Arizona's Biosphere 2 project. Now, the fruits of their experiment, of welcoming poets to the Biosphere to draw inspiration for their writing, are being reaped at Terrain.org. Eric Magrane writes:
Biosphere 2 holds many narratives. It's the dream of living on Mars and it's an embodiment of the importance of taking care of the Earth. It's an audacious performance with many acts and characters, including an experimental theater troupe and multiple universities. [...]

And Biosphere 2 is in the midst of another transformation.
Those transformations include the 676,000-gallon ocean being morphed into a virtual Sea of Cortez, new testing in the Biosphere rainforest, adding new sensors to the agriculture biome, and (of course) cultivating poetry.
In February 2014, I invited a group of poets to spend a weekend there with me and to write from specific locations within the site. The project echoes work that brings scientists and writers together such as the Spring Creek Project's H.J. Andrews Experimental Forest or their trip to Mount St. Helens. At Biosphere 2, the group received an in depth tour, met with researchers, and then took writing shifts at select locations.

Dubbed the Pilot Poetic Field Research Weekend at Biosphere 2, I wrote my initial reflections on the project for Proximities, a blog on art-environment I write for the University of Arizona's Institute of the Environment.

Now, Terrain.org is featuring a series of the poems from those who took part, including poems from Alison Hawthorne Deming, Christopher Cokinos, Wendy Burk, Arianne Zwartjes, Joshua Marie Wilkinson, and myself.
Head now to read the rest of Magrane's post, but also check out some of the poetry written inside the Biosphere. We're certainly inspired!