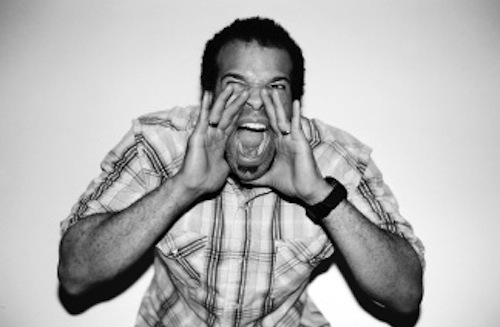 Hello! Greet your week by reading a few tips from a champ--a poetry reading champ, that is! Yes we're talking about Douglas Kearney: the fabulous trickster, poetry reader, and poetry writer! See what he has to say about performing writing in front of a live audience in this interview recently published at Poets and Writers.
What are your reading dos?
Gosh—reading dos. I remember that the writing of these poems was driven by some kind of dynamic source—intellectual, emotional, physical. If I remember that, it animates the poems, even the quieter ones. Going to hear a reader read a poem is simply not the same thing as reading it yourself. So as a poet giving a reading, I see no point in being absent from the work while presenting it live (reading in Times New Roman, I call it). That's what the book is for. That does not mean that you have to shout, switch accents, and sing (though that's often an honest part of the composition for me and many others)—but I think being present is necessary and audiences can tell, even when your version of present is to read without much affect.

How do you prepare for a reading?
Most of my preparation is around getting my voice ready. I'll scat a bit so I know where my range will be and to get my tongue limber. It's funny, it also gets me surer of enunciation. Then, there are two rap tracks I perform: Mos Def and Talib Kweli are Blackstar's "Definition," and Latyrx's "Say That." Both are two-emcee crews, so it stretches me out a bit in terms of timbre, cadence, and breath control. As the work has gotten more mercurial, more shard-full, I sometimes do Nicki Minaj's verse from "Monster." Then, I pray that I don't get in the way of the work, that I don't embarrass my ancestors and contemporary friends and family, and give thanks I get to do this at all.

When it comes to picking my "set," I want to do a different one for every reading. But if I'm a bit nervous, I lean on past sequencing. I want to get out of that habit—explore the "deep cuts" (ha!) a bit more. [...]
Get out your notebook and start practicing after reading this interview at Poets and Writers. Cheers, Douglas!