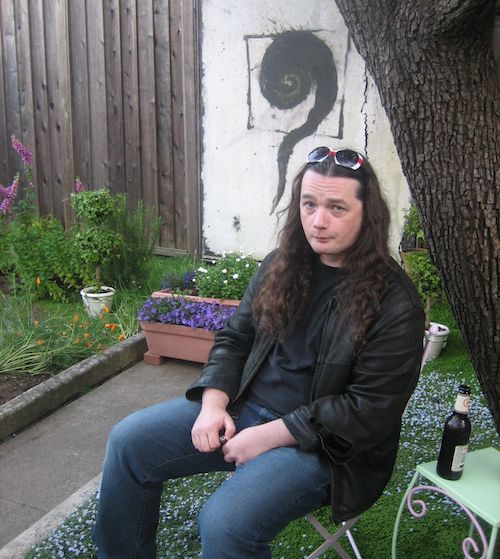 Hey Chicago, speaking of lectures at the Poetry Foundation... Garrett Caples, poet and author of newly published collection of essays, Retrievals, published by Wave, is giving a talk on Surrealism on November 6th! In the meantime, Chicagoans, you may look forward to this event of the future by retrieving the past with Caples, Dunagan, Lucas, and Ballard in their recently published conversation at Bookslut.
Garrett Caples, off the beaten path of many readers, is writing on subject material that itself is well beyond most pathways well-trodden. From an eclectic assortment of American Surrealist poets and painters to the unjustly debased original art historian Roger Fry and the Digital Underground hip hop mogul Shock-G, the recently-published Retrievals is a gathering of reviews, essays, and assorted notes attests to the originality of vision that grounds all of Caples's critical work.

On November 6, 2014, Caples will be delivering a talk on Surrealism at the Poetry Foundation in Chicago. He'll cover some material found in Retrievals, as well as extend his scope beyond its parameters. As this interview in part demonstrates (see the discussion concerning Shock-G versus André Breton), Caples is a wealth of information on this subject. Anyone in the Chicago area should check out his talk.

In consultation with Caples, I asked two mutual associates to join us for the interview: painter, poet, and musician Brian Lucas has not only been a close friend of Caples's for nearly twenty years, but he also has direct connections to a number of the individuals covered in Retrievals; poet, editor, and publisher Micah Ballard is a compatriot of mine whose second poetry collection, Waifs and Strays, Caples smartly tapped for inclusion in the City Lights Spotlight series. I thought having this small "crew" on hand would keep things mellow yet informed and on target.

We met up at Caples's home in the Mission district of San Francisco on Labor Day 2014. The interview opens up as the digital sound recorder picks up with Caples mid-discussion of background details surrounding some pictures of retrieval subjects included in the book: poet Barbara Guest pictured on a black sofa cordless phone pressed to her ear deeply immersed in the call, a youthful Garrett Caples enjoying a cigarette with poet Philip Lamantia in a nondescript interior office area, and poets Rich Tagett and Richard Moore mutually enjoying a shared seat in a garden bower.

Caples: The photo of Barbara Guest is just funny because it's my old apartment in downtown Oakland where I lived with my ex-girlfriend. Andrew Joron and I had taken Barbara out to dinner at Spettro's in Oakland, and her purse got lifted at the restaurant! So she's actually on the phone with the police in that photo. I didn't want to be openly taking pictures of her when she was doing that, but we had a camera on a tripod just standing there, it even had a little plunger so I just pointed the camera at her and then hit the plunger.

Lucas: Did she ever see the photo?

No, no... It wasn't even aimed, it was just an automatic photo...

Dunagan: So some of the photos are kind of illicit in that way?

Well, they're just kind of random things and times... [...]
More at Bookslut.